Salzburg is known worldwide. Known for Wolfgang Amadeus Mozart, the real and the original Mozartkugeln, Salzburger Nockerl, the Fortress Hohensalzburg and for The Sound of Music.
The last one especially in the United States, in Asia and in all countries around the world except for Austria. It´s kind of weird because some of the scenes play in Salzburg. At least that´s what I was told.
Sorry, but we Austrians never watched this film and we have no idea why it is so famous or what it´s really about. (Maybe it´s time to watch it.)
Salzburg is also called beer capital of Austria. Did you know that? I had no idea about it but since our last stay I know exactly why.
Why Salzburg is the beer mecca in Austria, and more things you can only see and do in Salzburg, you can see here:
Beer capital Salzburg
The Bottle Shop: Meeting Point for Craft Beer (and Cider) Lovers
After checking in at the Hotel am Mirabellplatz we literally go to the hotel´s backyard. That´s where we find the hidden Bottle Shop. Only a sign at the street shows the way to the inner courtyard.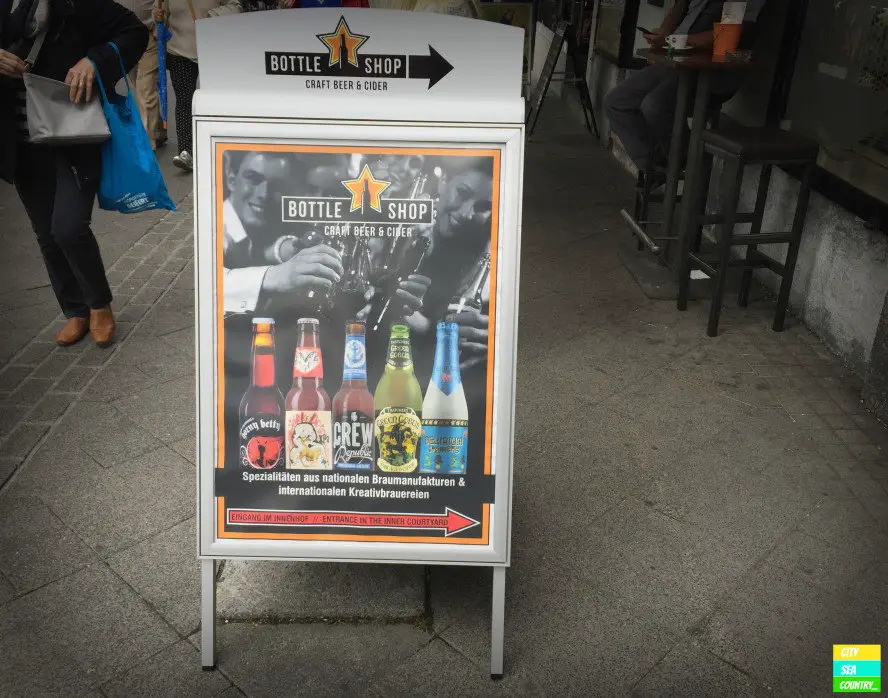 Down the stairs or along a wooden slide (whatever you fancy) we reach the cellar, where Christine Keil, the owner already is waiting for us. She proudly shows us her Bottle Shop . Beer from around the world I never heard of but that´s no wonder. Christine and her husband only sell beer from micro breweries. (You can purchase them online too; what a great idea).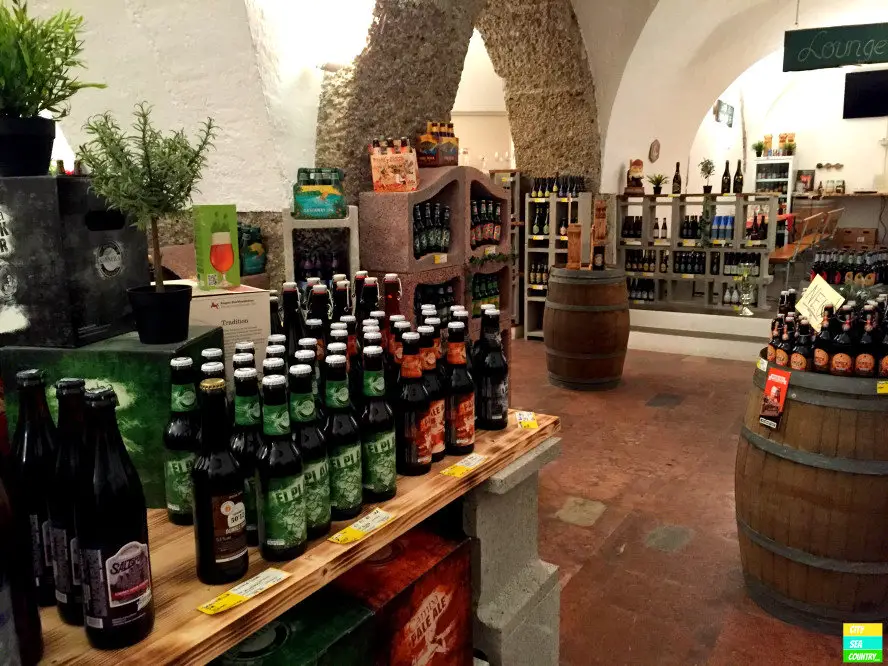 A journey around the world. Beerwise. In the Lounge area of the Bottle Shop we taste a little glas of beer before we leave for the guided beer tour with Martina Gyuroka.
Hundreds of years of history and hundreds of beer wisdoms
Martina is known as the Salzburger Bierguide and her guided beer tours in Salzburg are in various languages. It was not a second boring, listening to her stories and following her along into hidden places and the streets of Salzburg. She showed us the history of beer and the breweries in pictures, as well as the real places. Brewing was a women´s domain (until the monks interfered) and it´s not surprising that we were surrounded by women the whole day long.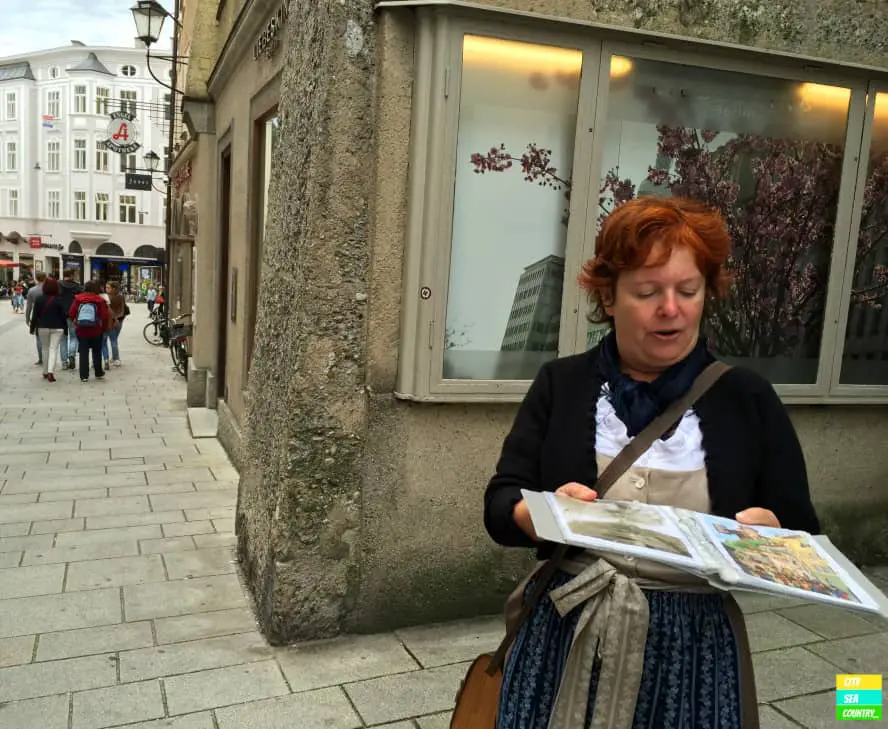 Martina is like a walking book and knows countless beer quotes and anecdotes around the liquid gold.
No wonder we ´re getting thursty after a while: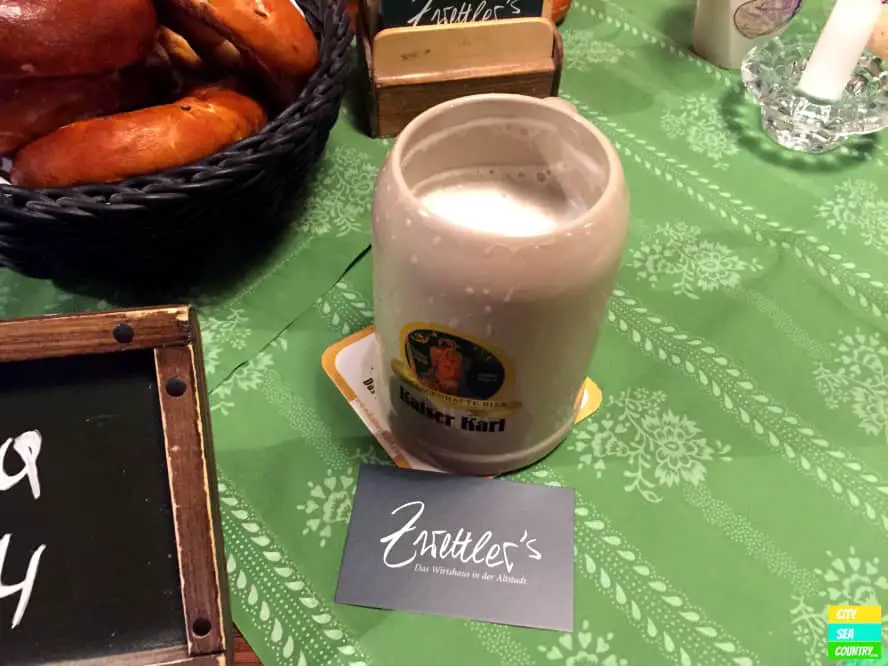 Before Martina left us at the Trumerei we had some beer and Brezen at the Zwettler´s.
Food Pairing at the Trumerei
And again. Another woman, this time Johanna Panholzer is awaiting us at the Trumerei to spend two hours with us. She is a beer somelier and has lots of interesting stories and facts about the different beer we have with each course. Another walking book.
It´s a pleasure listening to Johanna and as you can tell by her face she loves what she does.
And I love the 6 course menu. Especially because it´s all vegetarian.
The menu is delicious and I was more than surprised that a 6 course menu with different beer costs only €29 per person for a group (5 people +).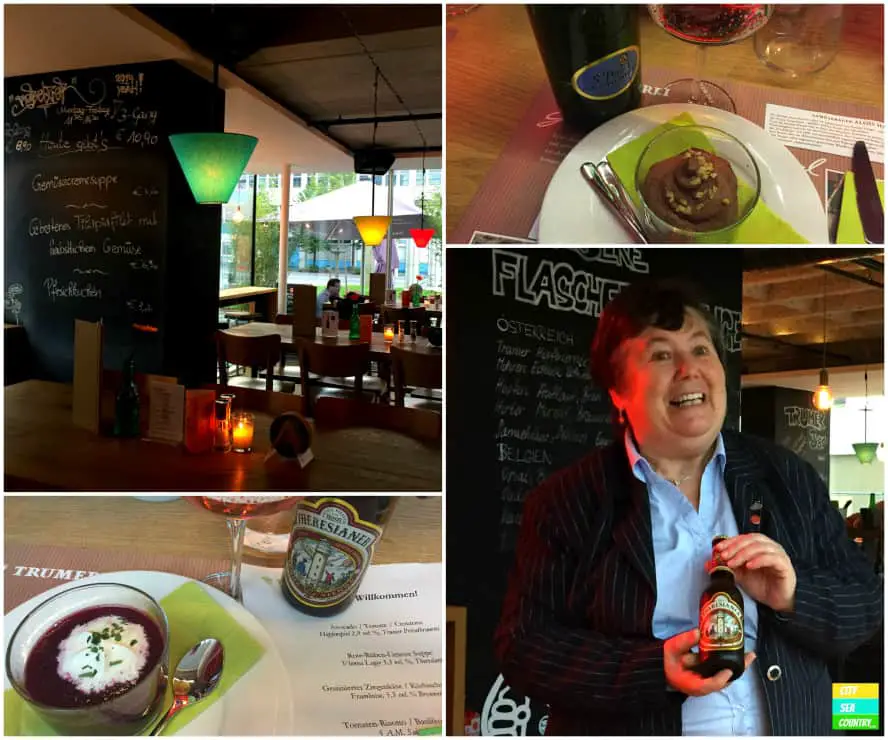 If I had to decide between a menu with beer or wine degustation I would definitely go for beer.
2. Sweet Treat: The Venus Nipple´s
While walking through the old town of Salzburg I asked Martina from Salzburg Tourism if she can tell me about some specialties besides the Mozartkugeln and Salzburger Nockerl. Specialties you can only find in Salzburg. She said: "Venus Nipple´s".
Venus, WHAT?
The name is hilarious and after visiting the Untersberg mountain she told the taxi driver (a woman again) to stop at the Gwandhaus. It´s a beautiful old building where you can have a cake, coffee and food in the backyard, where you can buy (expensive but awesome Dirndl dresses) AND the Venus Nipple´s.
Martina served us a plate full of the chocolates. My favorite is the white chocolate Venus Nipple with a berry filling.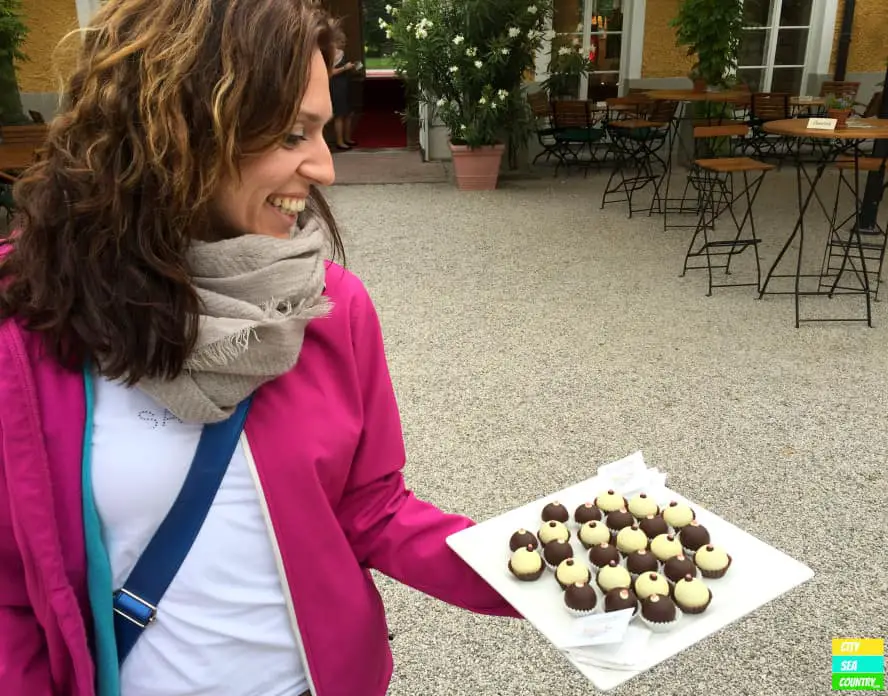 3. Apple Strudel Cooking Course with Johann Bauer
I love our Austrian dessert Apple Strudel (Apfelstrudel) and all the different variations. But the best of the all is the Apfelschlangerl my grandmother made. If you like to try it, here´s the recipe: > Granny´s Apfelschlangerl
Second best is the Apple Strudel we made with the help of chef Johann Bauer at the Stieglkeller. Since April he offers his cooking lessons in Salzburg. As you can see we had fun and the Apple Strudel tastet great.
If you love desserts, it´s definitely something to do while being in Salzburg.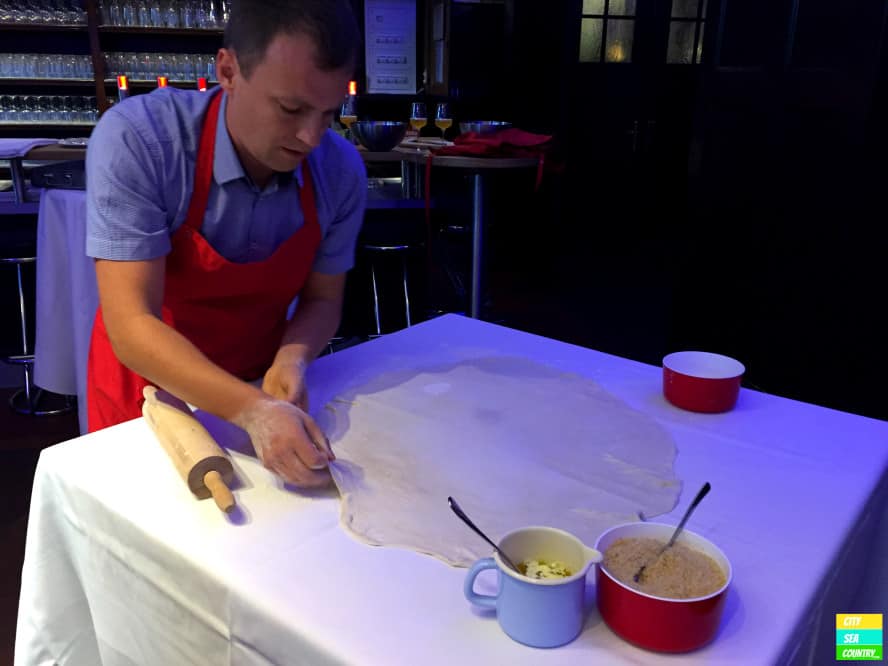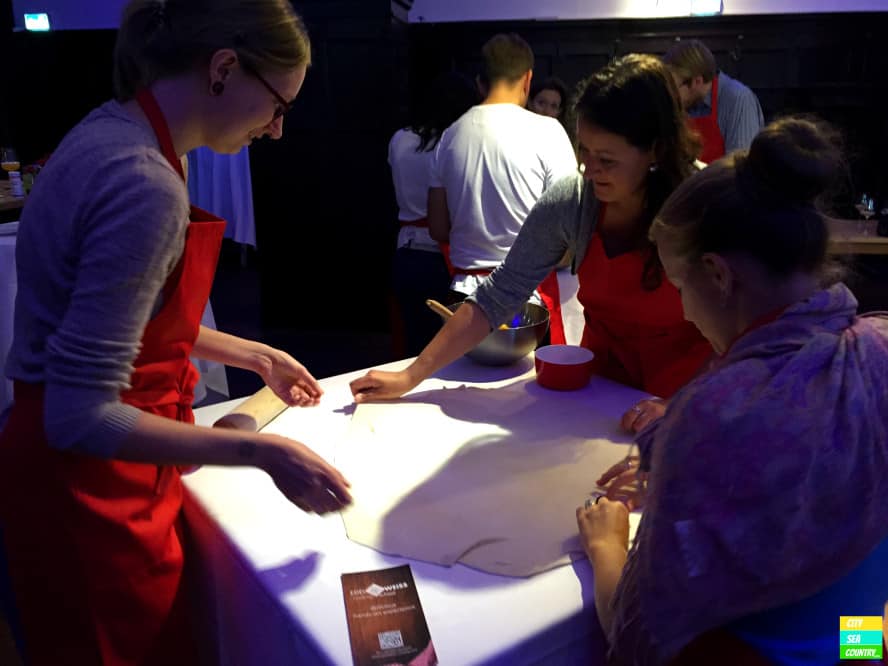 You can get more information about Johann´s various cooking courses at: Edelweiß Cooking School .
4. Trick Fountains in Hellbrunn
As you´ve already seen with the Venus Nipple´s, the people from Salzburg have a lot of humor. It looks like this was always the case. Hundreds of years ago the archbishop built castle Hellbrunn not as a residence but for his pure pleasure.
We visited the castle Hellbrunn already last December for the Hellbrunner Adventzauber. The main attraction was closed at this time but now in September we had a chance to see (and feel) it.
The trick fountains are fascinating and a little insidiously. If you don´t have humor or can´t stand to get a couple of water drops on your clothes, stay away.
Otherwise you will have lots of fun.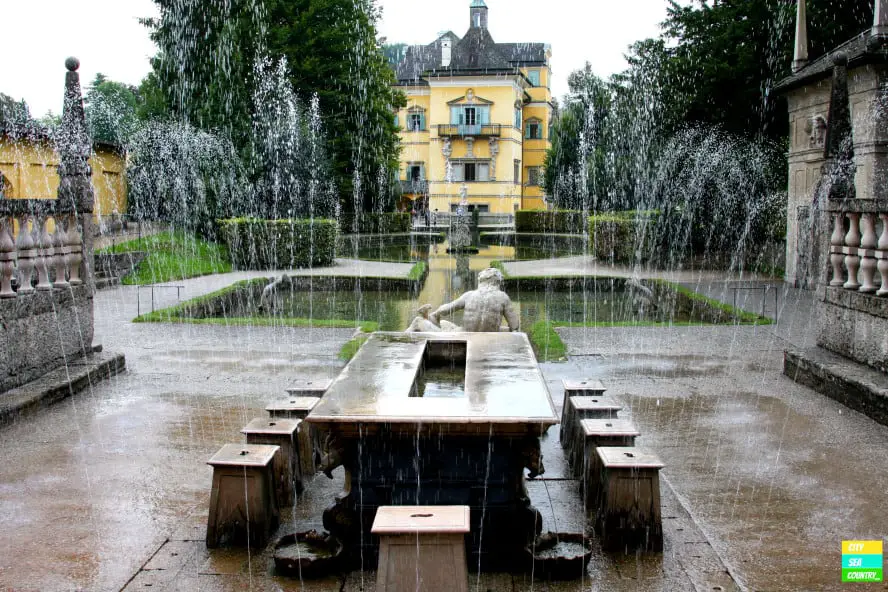 Taking a closer look: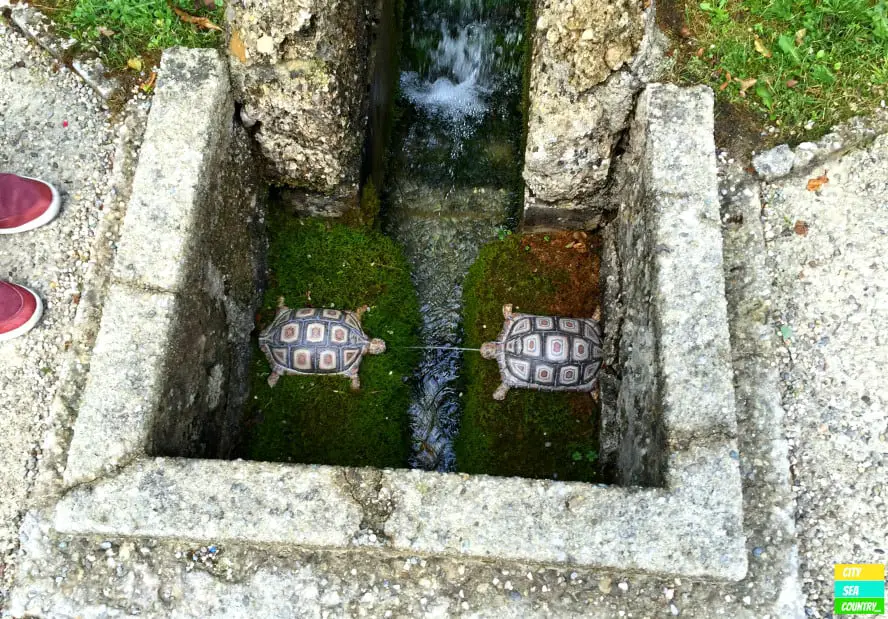 Someone´s showing his tongue: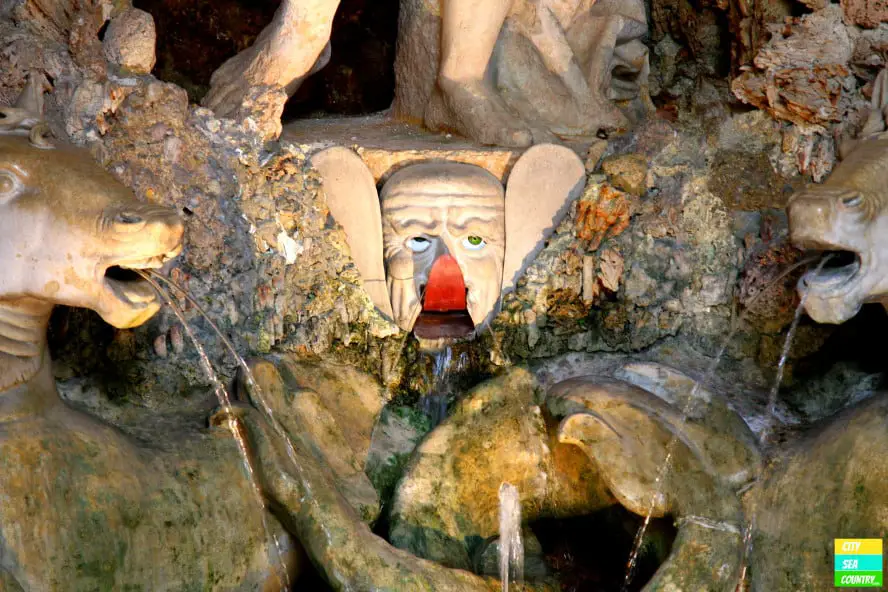 Salzburg, you amaze me.
Altough you put your tongue out or you scare me in December with your Krampusse and Perchten. I always like to explore new places in Salzburg. Maybe because of the quirky humor and uniqueness.
You might also like:
If you had to choose, what would be your favorite experience in Salzburg? Let me know in the comments below.
Thanks to Salzburg.info for the invitations. The opinions are our.
zuletzt aktualisiert am February 24, 2023