Last year we enjoyed the first gourmet days at the Kleinwalsertal in June and hiked to various huts and summits. This year I was invited to the Kleinwalsertal again in September and I was more than pleased about it.
Last year we stayed at the Walserstuba, a comfy little hotel with great, local food. This year we stayed at the largest apartment I´ve seen so far and tested various restaurants.
Here is my
Best Of Kleinwalsertal:
Staying at Apartment Talgrün / Berghaus Anna-Lisa
Our starting point and place to relax at the Kleinwalsertal. A 240 sq.m. large apartment:
Every blogger (couple) had their own bedroom and bathroom (4 bedrooms). I enjoyed the huge couch and the kitchen plus the dining table the most. I mean, the view of the mountains outside was incredible.
Staying at the Berghaus Anna-Lisa with family or friends would be perfect, I guess. You can enjoy your time together, enjoy your own cooked lunch or dinner, watch TV or have some private time inside your own bedroom.
1. Restaurant Wirtshaus Hoheneck in Mittelberg
Not far from our apartment is the Wirtshaus Hoheneck. Jürgen Denk offers a 4 course vegetarian meal with Austrian wine and other local specialties.
2. Waldhaus at the Breitachklamm gorge
From the bus station Waldhaus it´s a 10 minute walk until you reach the Waldhaus. To get there you have to walk down the gorge, but it is easy to get there.
If you have time you can also hike/walk along the Breitachklamm gorge and reach the Waldhaus after about 1 1/2 hours.
Sandra and Peter offer meals made from local products.
If you like travel stories you should talk with Peter. He has a lot to tell about his travels around the world.
3. Enjoying the Alps from the Bergstation Walmendinger Horn
After hiking barefoot in the morning we wanted to see the Kleinwalsertal from atop. While our blogging colleagues Fee and Lara walked up to the summit, Elena and I enjoyed the view while having a cup of coffee. Altough I enjoyed the view from the Kanzelwand last year, the view from the Walmendinger Horn is even more impressive.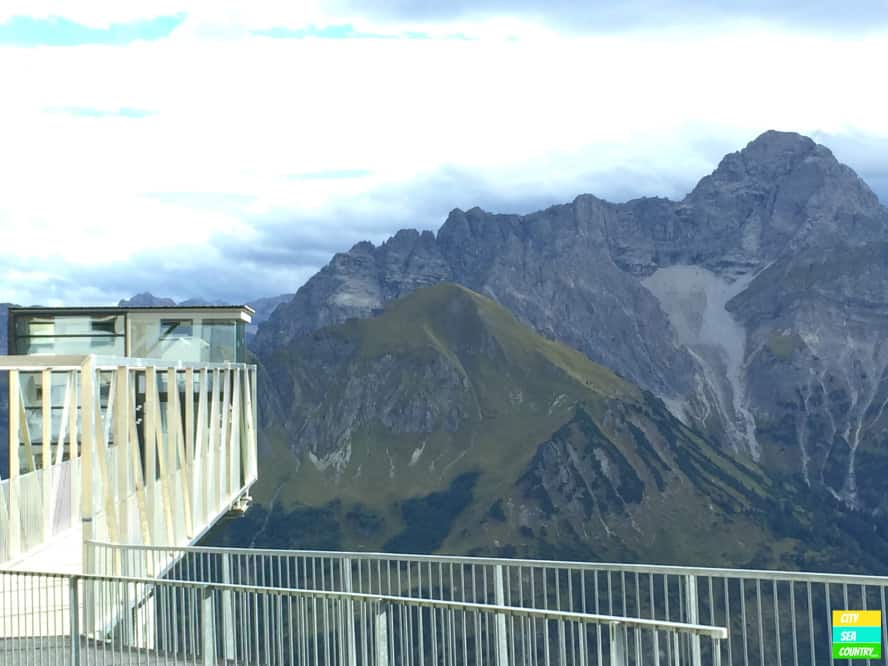 4. Home Made Walser Chääs Chnöpfle
If you´ve ever been to Austria I´m sure you heard about Kässpätzle. (There´s no way around). In the Kleinwalsertal they are called Chääs Chnöpfle. (Please don´t ask me how to pronounce it in English). 😀
At our last evening Elmar and Caro from the Kleinwalsertal tourism visited us at our apartment for a Chääs Chnöpfle cooking class. 9 people were swarming around the kitchen. In the end we had a fabulous dinner, enjoying the local specialty.
If you like to try the Chääs Chnöpfle I´m sure you´ll find them at various restaurants.
You might also like:
GOURMET DAYS AT THE KLEINWALSERTAL
Thanks to the Berghaus Anna-Lisa and Kleinwalsertal. The opinions are ours.
zuletzt aktualisiert am May 21, 2020