#ski_mission (Im)possible in Austria?
The first delicate green on the meadows, the first spring flowers stretching towards us and + 17 degrees Celsius (62,6 degrees Fahrenheit) in the middle of March. 

Liverworts along the wayside 
That´s how the Mostviertel in the heart of Lower Austria welcomes us.
The GPS shows 1:30 min. until we reach the destination Lackenhof, but where is the snow? Thomas and I don´t believe it anymore to find some snow, let alone white ski slopes.
We come from the western part of Austria, from the mountains, and even there spring is already coming.
Will our #ski_mission be successful or not? Up the valley…We arrive.
And really. A white strip draws our attention to the snow and the brownish green around seems to fade.
After we put off a lot more than we put on (because of the warm temperature) we get up into the ski area Lackenhof-Ötscher, accompanied by former World Cup Ski racer Andreas "Andi" Buder.
It appears surreal to have brown gras under the skis.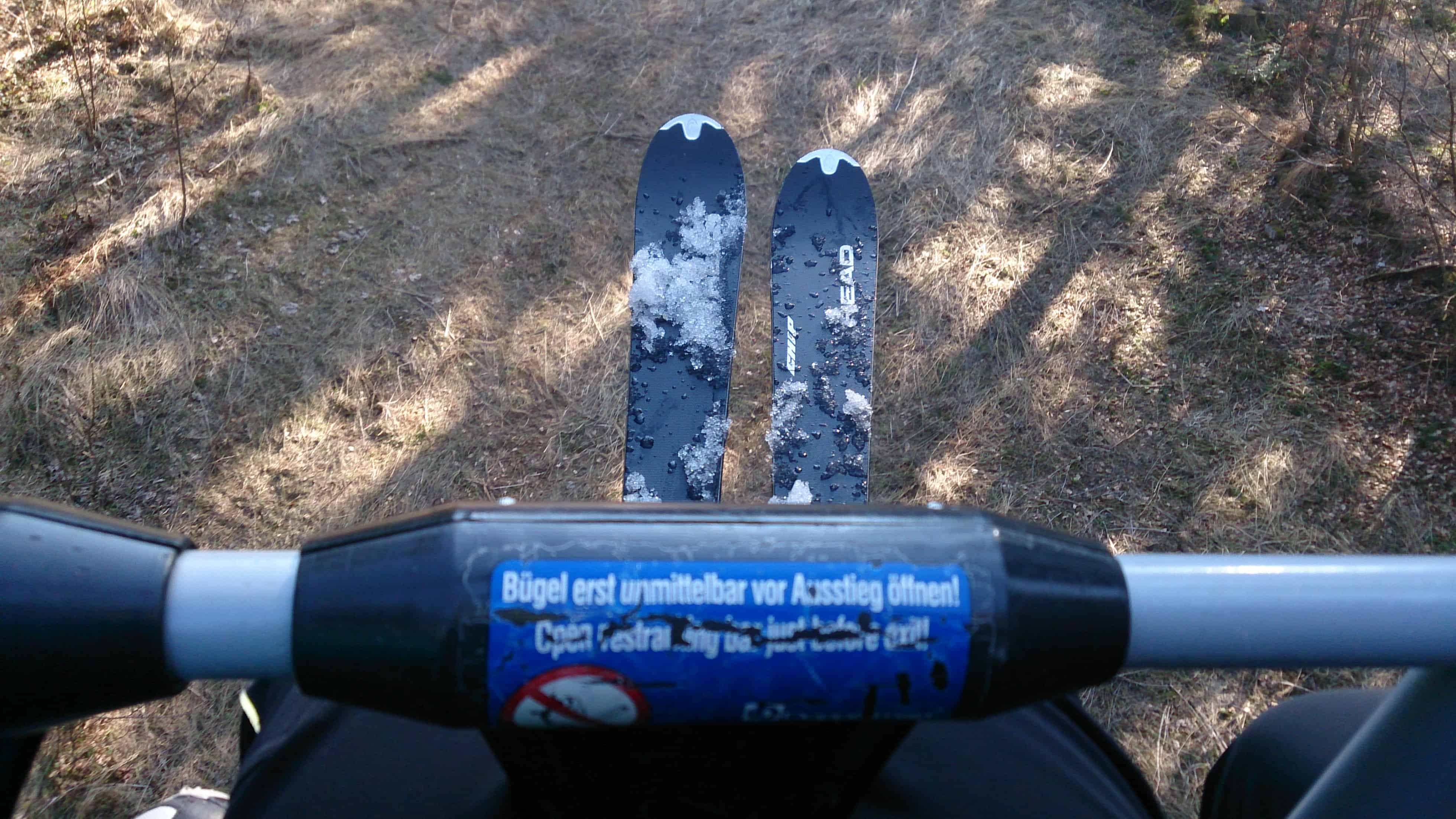 Snoooow…where are you?
Was it a crazy idea to go skiing and snowboarding in March?
Up. All the way up. Until we reach the top station of the Kleinen Ötscher at about 1400 Meter (about 4590 feet). And really…
Snow. Perfect slopes and a cheesy nice panorama. Postcard material.
Skier/Snowboarder-♡ what more could you want…
While Claudia and Elena head down to exchange Elena´s snowboard (part of the boards base was broken) for a rental snowboard, Andi shows us the skiing area.
Andi shows Thomas the ski area
Down the Distelpiste RTL, a FIS Giant Slalom Course and along the Distelpiste SL (Slalom) FAAAAAst. At least the former ski racer.               I can´t  keep up with him…
Down to about 800 m (about 2620 feet) we carve and board and enjoy the skiing slopes to the full.
Meanwhile Elena and Claudia are back – this time with a working equipment – and we explore the area together.
We enjoy our afternoon. The snow is great, the temperature is pleasant and we are the last to come down.
Afterwards and with a weird helmet hairstyle (or just a Bad Hair Day?) and after already saying Bye and Thank´s to Andi we drive to the 45 minutes distant ski area Hochkar, close to Göstling.
From Pear Schnapps, Most, Skiing And A Pinch Of Salt …and yes, there is a video included in the third part
Thanks to Mostviertel for this invitation and to Andi Buder for showing us the ski area Lackenhof-Ötscher.  All opinions are ours.
zuletzt aktualisiert am February 17, 2023