Nymphs from the hinduistic mythology and topless beauties in Angkor Wat – silicone madness in Angkors largest temple complex
This sounds like news material but I am not talking about the annual Playboy conference in Cambodia 😉 . Although it has to do with silicone implants and beauties.
At the entrance to Angkor Wat along the walls are the most photographed women of the past. The Apsaras and Devatas.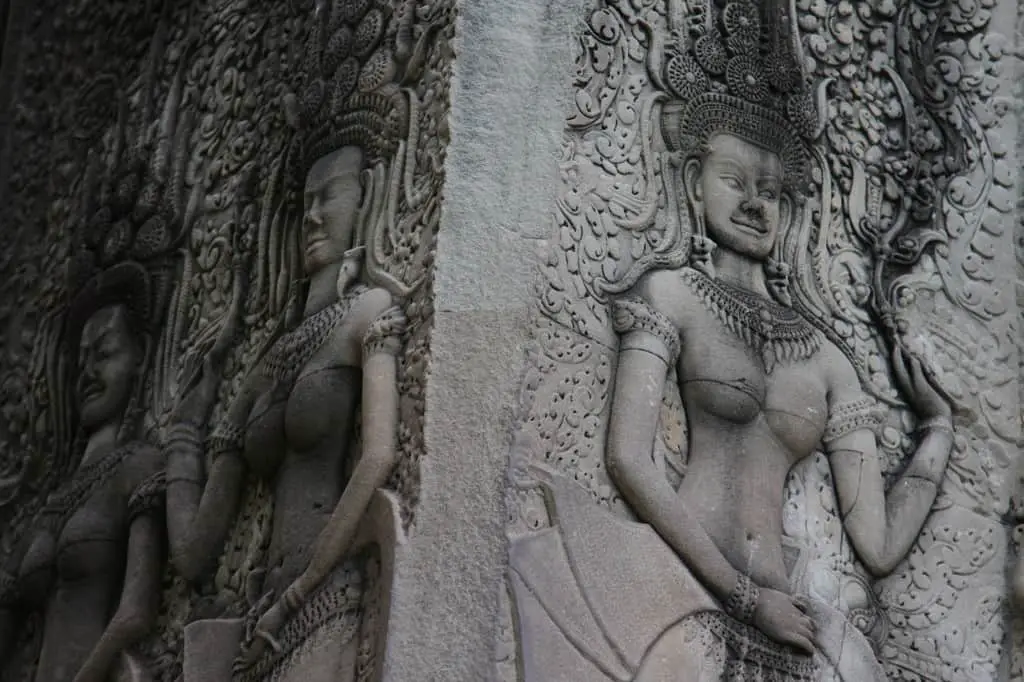 Apsaras are divine dancers, born out of the milk sea and are dancing on lotus flowers. The Devatas are female goddesses living at Mount Meru at the Indras Palace and are know to protect Angkor Wat. They are standing with fancy hair and every Devata has its own expression. Alone in Angkor Wat are about 1500 Devatas. Especially men are fascinated by the Devatas and Apsaras.
I listened especially when our guide in Angkor Wat started to talk about the Devatas and Apsaras. The architecture in Angkor Wat is filigree and delicate. Especially the bust which is partly hollow. To protect the bust of the Apsaras and Devatas they are filled with silicone. Plastic surgery for hundreds of years old women/goddesses?       …In this world there is nothing impossible. The Guide reassured me that it´s true. I had to laugh by thinking about it. Ancient women with silicone implants. If this is really true? Well, I can´t tell you because I can´t proof it nor prove it wrong. But it was a nice story and entertaining while my temple hopping in Angkor in Siem Reap. What do you think/know. Nonsense or truth?