Packing List for India: Must-Haves for Women
The majority of India is hot, humid, humid and hot.
When I was there in April I had to deal with 36° Celsius (96,8° F).
You should take clothes with you that keep you cool but the same time hide your best parts.
[et_bloom_inline optin_id=optin_1]
How to avoid feeling like a po*rn star:
Meaning, in this conservative country you should cover especially your knees and shoulders unless you want to be the next po*rn star. Running around with spaghetti straps leads to gestures you don´t want to see, to being photographed a lot and I guess travelling alone this way would be even worse.
This Shirt =  absolute NO-GO! (I learned it pretty soon)
So. What to wear and not feeling like a complete idiot at the same time?
I fell in love with long, loose linen pants. I wore them on every trip to Asia until they fell apart (gladly that happened at home when I picked something up from the floor….) I like them so much because they hide your legs but the same time you feel cool in them.
Packing List for India for Women
2-3 pairs of long, loose linen pants
I use black and white because they match with any other color but you need to be aware it is really dirty and dusty in India. So you wanna bring something with you to wash the pants.
I take any color with me I like but don´t take your most expensive or hippest ones with you. I always use cheaper ones because you might have to wash them in your wash basin (especially if you want to travel with only few clothes) and I´m sure you don´t want to ruin fancy silk shirts.
1 long dress (or long skirt)
Use a plain color (maybe black) and you look gorgeous anywhere. If it has no sleeves and shows your shoulders don´t forget a scarf to cover your shoulders.
1 long-sleeved shirt or thin cardigan
In the evening it might get cold and especially if there is air condition in some places. Be prepared.
1 pair of flip-flops or sandals
If you like flip-flops as much as I do they are great for India and will take you anywhere (unless you wanna climb a mountain, walk through forests or the jungle. You know what I mean.).
I wear them on the flight and use them for restaurants in the evening or to places you don´t want your toes to stuck out.
This will be your most precious item in India. You will use it to cover your shoulders, arms, your chest or even your head if you don´t want people to stare at you.
You can sit on it, use it as a pillow or a cardigan at night, use it as a beach towel…
1 not too fancy over-the-shoulder-bag
I like over-the-shoulder bags for trips because you can keep them close to your body and prevent pick-pockets to get to your stuff.
Accessories and Sunglasses
If you want to be pretty you can take jewellery with you. It is common in India to wear golden rings, golden necklaces and earrings. I never take valuable jewellery to any place. I always take pretty, cheap earrings with me. If I loose them I don´t get a heart attack.
I bring a foldable (collapsible) water bottle with me. Why? It is lightweight, you can roll it up and clip it to your bag or pants. It is also bpa free. I fill the bottled water into the foldable water bottle because this way I am sure it is clean and easy to take with me. I like to use a collapsible water bottle. You can purchase it at collapsible water bottle.
Anti bacterial handwipes and/or a spray

The anti bacterial hand wipes are perfect to use in India before eating and drinking and anytime you feel uncomfortable when touching something dirty.
If you feel really uncomfortable about money or your credit card in your bag put them into your bra. But be sure nobody is watching you.
Don´t forget:
cover shoulders and knees especially at religious buildings or you have to wait outside.
wear thin clothes
If you have some more must-have-items on your packing list please leave a comment.
 [et_bloom_inline optin_id=optin_1]
Pin and save it for later ↓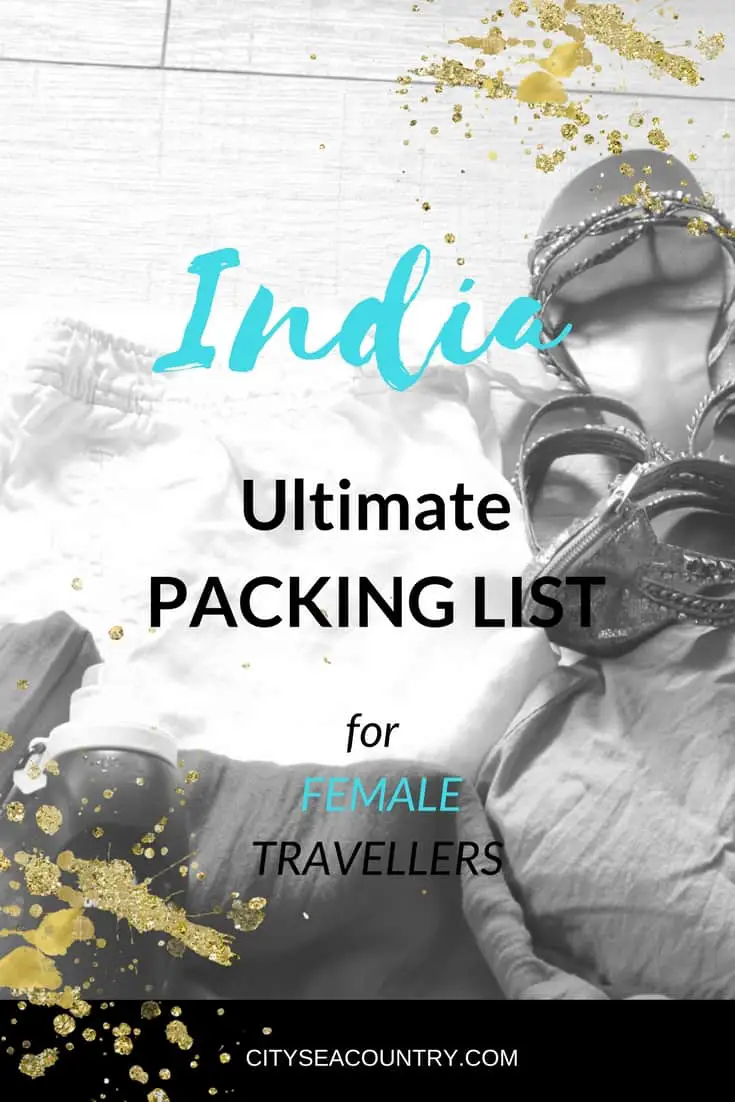 You might also like:
BEST PLACES TO VISIT IN INDIA – THE GOLDEN TRIANGLE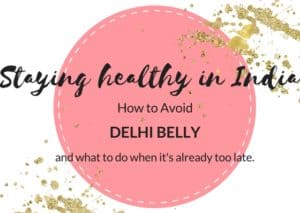 AFFILIATE DISCLAIMER
Some of the links included on this site are affiliate links, and at no additional cost to you, we earn a commission if you decide to purchase using these links. We truly appreciate you using these links as it helps us to maintain this site.