What to wear in India and what to include into your packing list for India? In this guide you will learn which essential items you should bring and wear in India and absolute no-go's.
The question what to wear in India is something that has to be well considered. India is a traditional country and there are rules you shouldn't break especially as a woman. 
Most of India is hot, humid, humid and hot.
When I was there in April, we had up to 43 ° Celsius (at home in Tyrol we had just reached the 10 ° Celsius mark).
During the high season India is pretty hot.
The best is to bring clothes that are light but at the same time not too revealing.
HOW TO DRESS IN INDIA: NO-GO'S FOR WOMEN
In the conservative country of India, knees and shoulders must be covered when visiting mosques and certain temples. In the Sunday mosque Jama Masjid in Delhi, every woman gets a cape to cover her knees and shoulders. Here you do not worry too much about your clothes, because no matter what you wear, this cape is a must.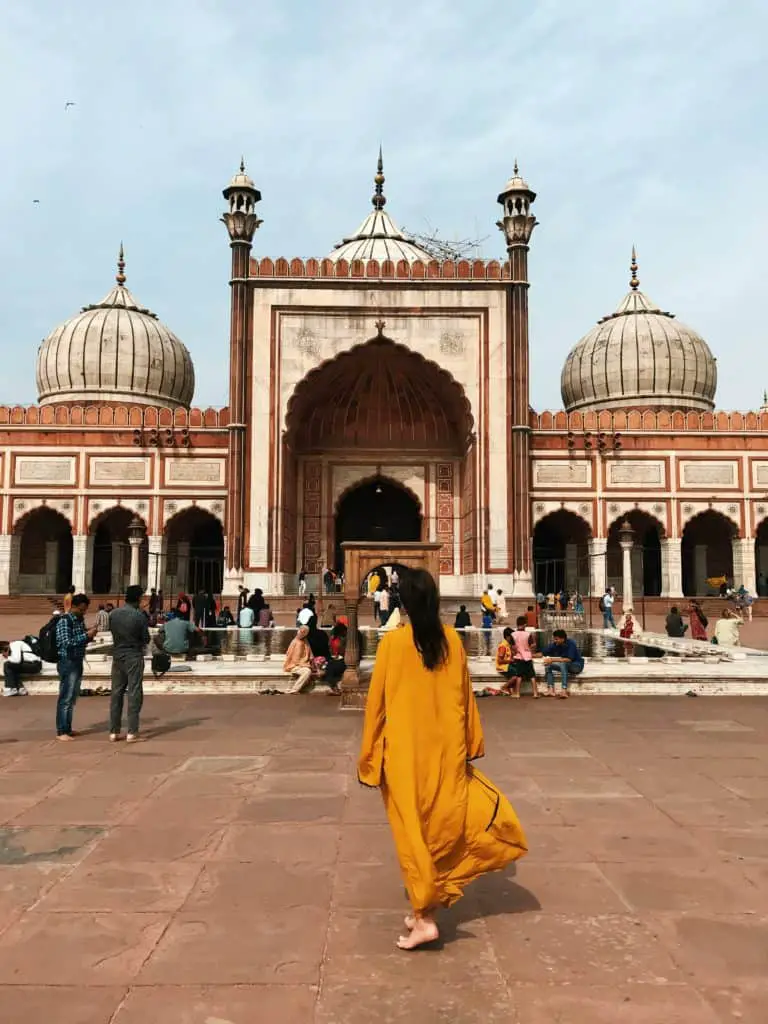 In many temples and at memorials like Mahatma Gandhi in Delhi you have to take off your shoes. You can walk barefoot, take socks with you or sometimes you also get temple socks that you put over your shoes (eg at certain points at the Taj Mahal or the Baby Taj Mahal Itmad ud Daulah).
I would not recommend ultrashort pants or skirts and revealing tops and in general revealing clothes, especially if you travel alone as a woman. (I would advise against that anyway).
So. What should you wear to feel comfortable and not attract too much attention?
I totally fell in love with long, loose linen pants and airy clothes. I put them on every trip to Asia until they fell apart. Luckily that happened when I bent down at home. 
I like these pants so much because they cover your knees and legs, but you do not sweat too much in them.
Most of the traveling women I encountered in India, they also wore long skirts or long, airy pants. Only a few wore short clothes.
It doesn't matter if you travel India by train, with a private driver, during a guided tour on on your own. These are the clothes to take with you:
TRAVEL ESSENTIALS FOR INDIA
2-3 pairs of long, wide linen pants
I prefer to wear white and black linen pants, because they match with every color. However, you should know that it is dusty and dirty in India. Nevertheless, it is possible that a white pants remains white. Otherwise I wash the pants with a washing paste in the sink.
It does not matter what color the shirts have. India is very colorful. The main thing is that the shirts are made of a breathable material.
1-2 long dresses (or skirt)
Take a light dress with you and you look great everywhere you go. If it is an off shoulder dress it is not a problem. But it is best to take a scarf with you as a precaution. If necessary, you can put it over your shoulders. I find long kaftans (like the one I'm wearing in the picture) a great choice to wear in India.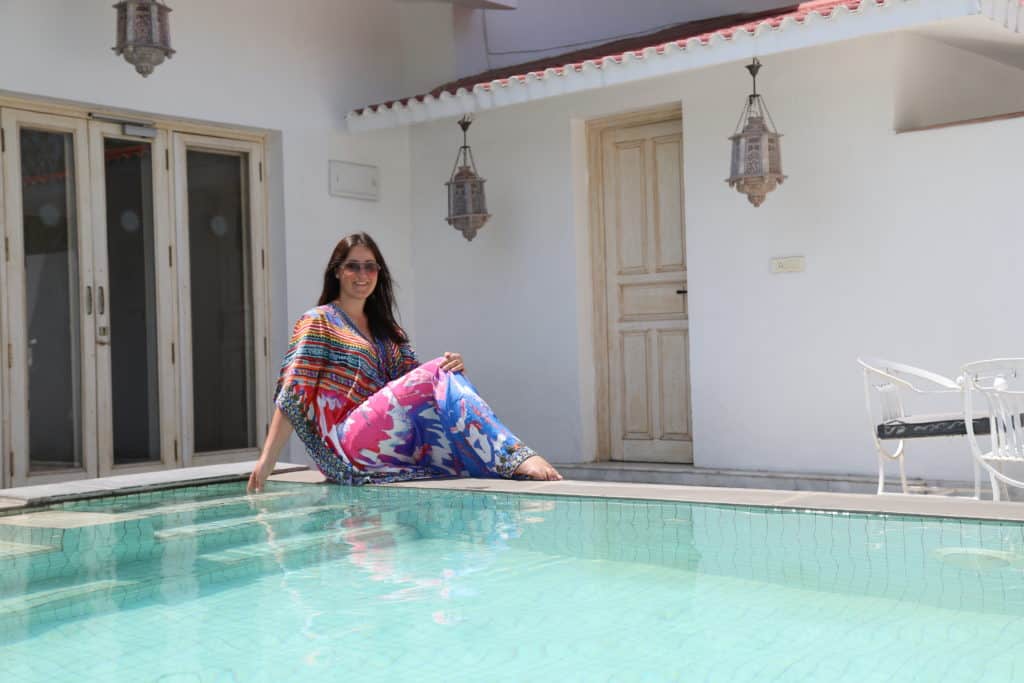 ↑ You can order these colorful kaftans here.
1 long-sleeved top or a cardigan
In the evening it can be a bit cooler. Also if you are in an airconditioned building (hotel) a long-sleeved top comes handy.
1 pair of flip flops or sandals
If you like flip-flops as much as I do, I can only recommend bringing them to India. They will carry you everywhere (unless you want to climb a mountain, walk through the jungle, …). I had sandals with straps and had to open and close my shoes every time we had to take them off at a temple. It is easier to put on open shoes.
1-2 pairs of closed, "beautiful" shoes
I carry sneakers during the flight (means more space in the suitcase / backpack) and take a pair of "nice" shoes with me to wear them for dinner in the restaurant / hotel.
1-2 large cotton pashimas
They will be your most important piece in India. Whether you use them as a shoulder cover, arm cover, chest cover or for the head to protect you from a sunstroke. You can use the shawl, wrap or pashima (nice ones are available here) as a seat pad, as a "cushion", in the evening as a jacket substitute, as a beach towel ….I think you get the point. They are extremely versatile. I always had one pashima or shawl with me in my bag.
I like cross body bags when traveling because they are close to the body, hands are free and thieves have a hard time stealing from you. This is very helpful, especially in India.
Accessories and sunglasses
If you want to be pretty you can also take jewelry with you. It is common in India that jewelry is shown. Golden rings, gold chains and earrings can be seen everywhere. Nevertheless, I take only cheap jewelry with me. If I lose it, I will not have a heart attack.
A foldable water bottle is not only lightweight, but can also be stowed easily. Especially in India, where it can be very hot, a refillable bottle is necessary while traveling. I like to use these foldable bottles, even in airplanes. They should be BPA-free and you can roll them up when empty and hang them on to your bag or pants with a carabiner. Thus, I always have enough liquid at hand. With the hot temperatures in India, it is essential to drink liquid all day long.
Disinfection wipes or spray
To prevent the Delhi Belly, I brought disinfection wipes and a spray to India to clean my hands on the way before eating, as well as while using public toilets. 
If you feel very uncomfortable about taking your money or the ATM / credit card in your pocket, then you can also put it in your bra. Just watch out that no one is watching you. 
On my last India trip (private trip for two with our own guide and driver) I always had my wallet in my shoulder bag and had no problem.
If you have not booked a private trip or tour in a group I would be even more careful. There are thieves, but you can find them in other countries as well.
As everywhere else, a little common sense and caution is required.
Related Posts:
GOLDEN TRIANGLE INDIA TOUR ITINERARY                 
AVOIDING THE DELHI BELLY – STAYING HEALTHY IN INDIA
Pin and save it for later ↓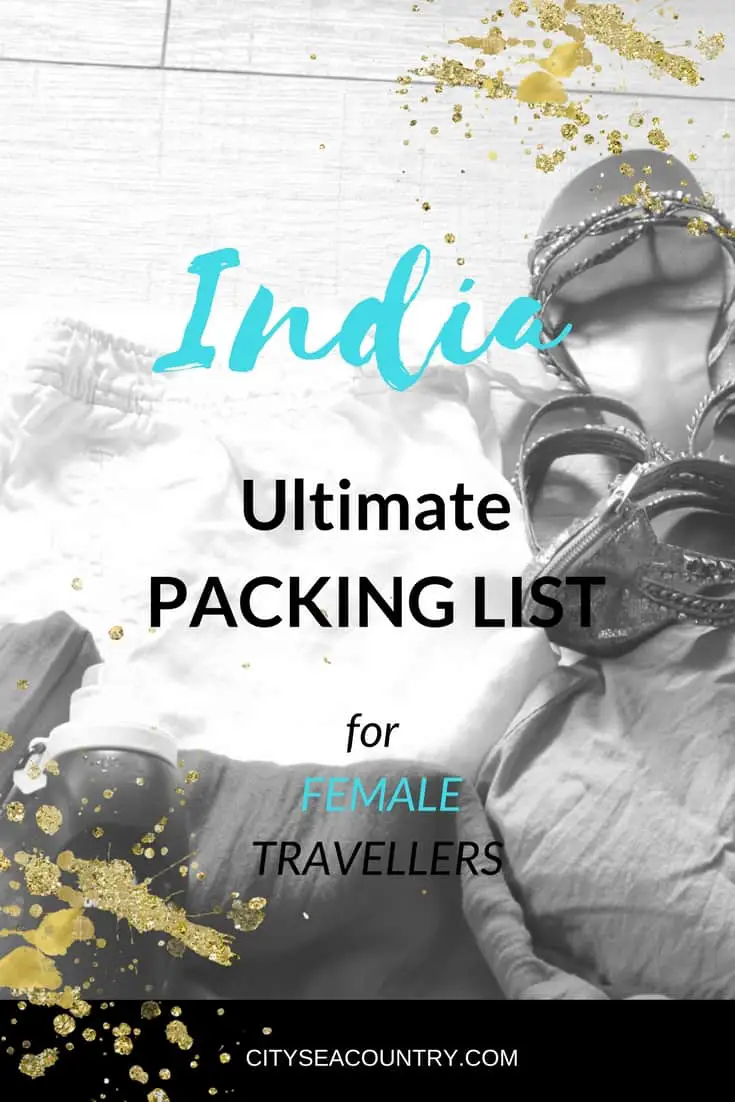 AFFILIATE DISCLAIMER
Some of the links included on this site are affiliate links, and at no additional cost to you, we earn a commission if you decide to purchase using these links. We truly appreciate you using these links as it helps us to maintain this site.
zuletzt aktualisiert am February 24, 2023