A boat cruise along the Mekong to Luang Prabang is a special experience. The country of Laos slowly passes by and there are enough worthwhile stops along the route. You can find out here about the things to see and do on a boat trip on a long boat from the Thai border to the beautiful city of Luang Prabang:
Boat Cruise on the Mekong: 2 days from Houay Say to Luang Prabang
From Chiang Rai I had a bus transfer to the Laotian border. After entering Laos we continued on the long boat to Luang Prabang which we reached after 2 days.
Food is served on the long trips and there are also toilets on the boat. The boats normally stop in the evening at Pakbeng where you will sleep in Laotian guest houses.
You can book a boat cruise along the Mekong here.
2 Days on the Mekong – a Boat Cruise
Laos is still one of those underrated countries in Southeast Asia. Still it's a country worth considering to visit. Especially a boat trip along the Mekong river is a great place to start seeing this beautiful country.
When I was traveling around Laos, I started the journey by entering the country from Thailand.
The first thing I did was going on a boat trip. After the boat trip ended in Luang Prabang, we traveled around exploring cities and breathtaking nature like natural turquoise pools or historical sites.
Day 1: Chiang Rai/Chiang Khong (Thailand) and from Houey Say (Laos) to Pakbeng (Laos)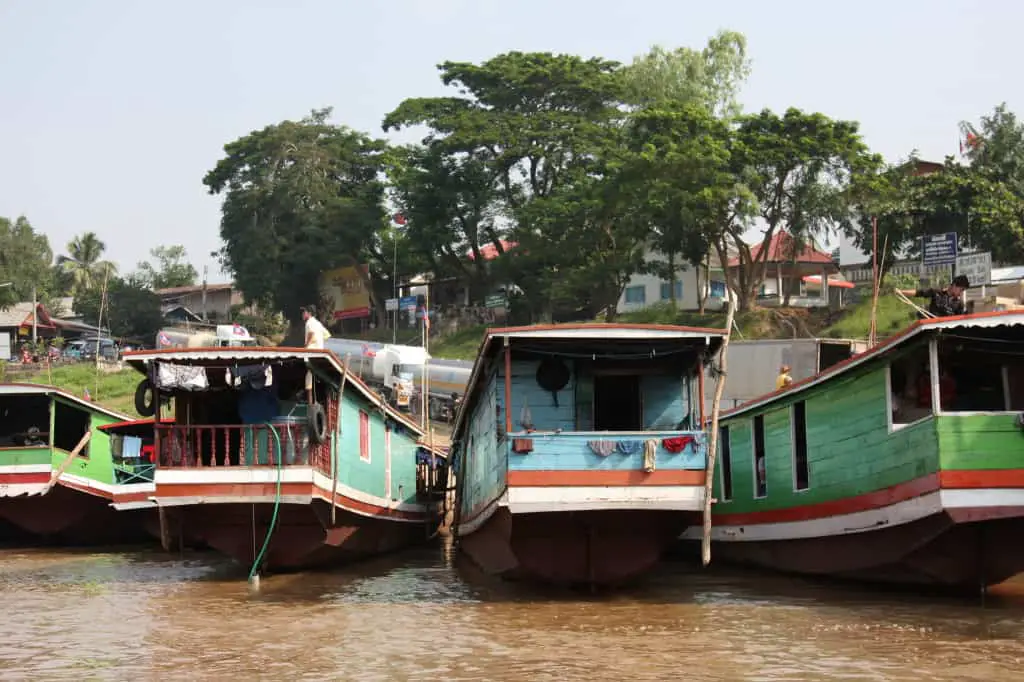 Traveling to Laos is a little adventure. From Chiang Rai in the Northern part of Thailand  to Chiang Khong is a 2 hour bus ride. Being there I had to drag my luggage (suitcase and a hadbag stuffed for three weeks) after the border control down a hill, along a sandbank and on a small, unsteady boat where only a couple of people had to sit one behind the other. After a short trip across the river my wet feet touch Laotian ground.
(Update: Now there is a bridge across the Mekong between Thailand and Laos.)
The Mekong is the natural border between Thailand and Laos. Dragging my luggage again over sand and up a hill and I am there. At the border control in Laos. You have to wait a while to get your visa (35 $) and you need to offer a photo. In Houei Say (Houay Say, Huay Xai, Houayxay) our group gets on our 40 m long boat. It´s comfortable. There are tables, chair, a huge dining table and gladly a toilet.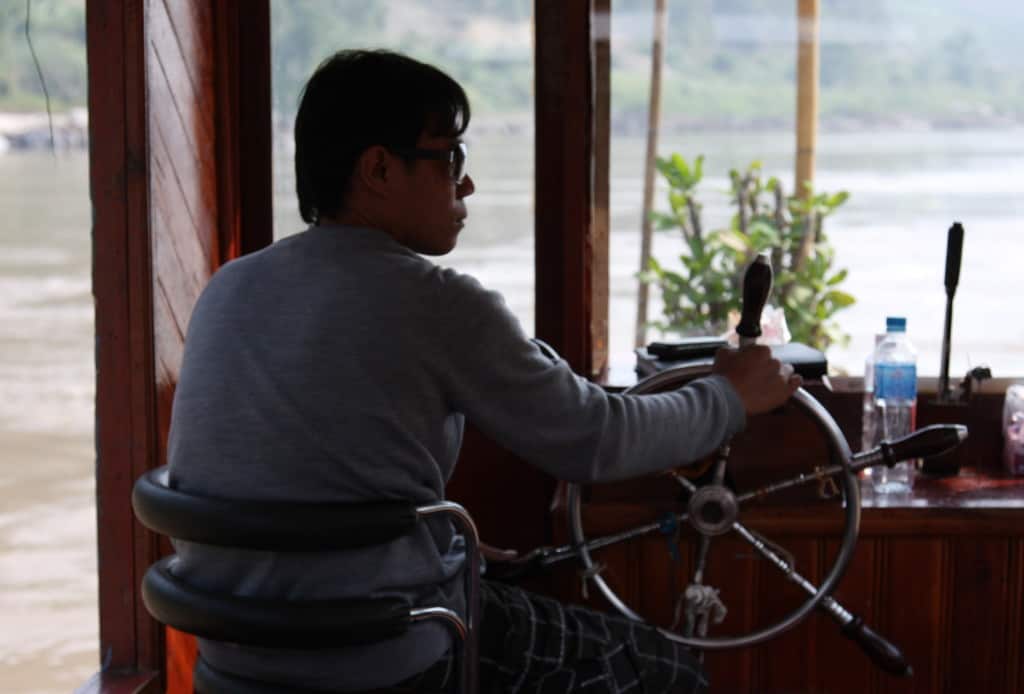 We are heading with a speed of about 25 km/h down the Mekong to Pakbeng (135 kilometers).
Villages along the Mekong
On our way down the river we stop and visit some villages. What I recognize is people having TV´s but when it comes to medicine or sanitation there is only little available.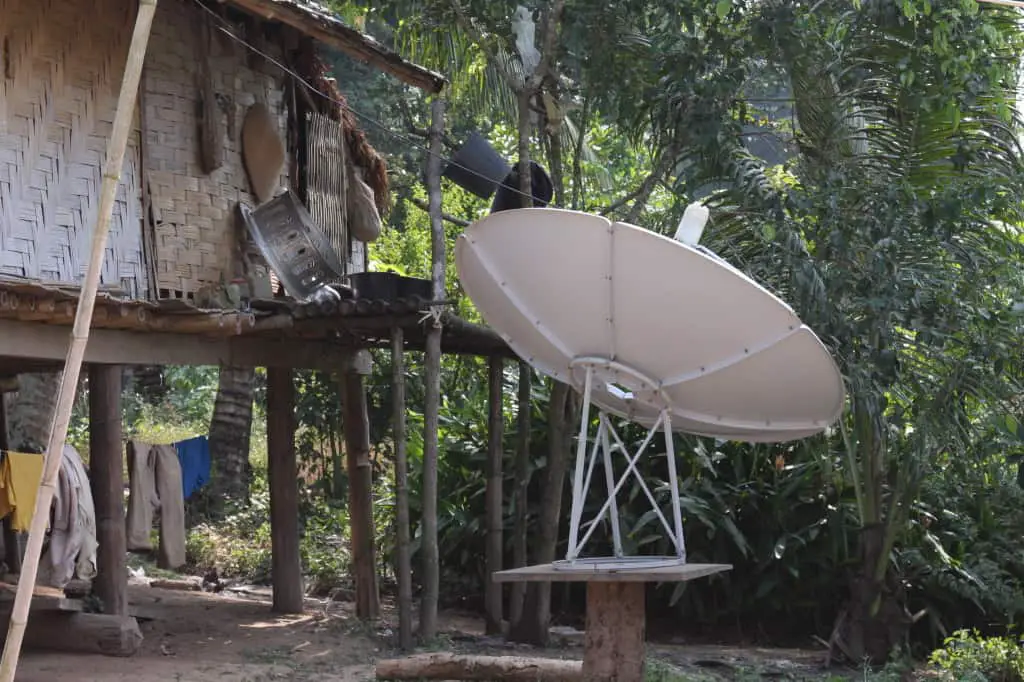 2 worlds collide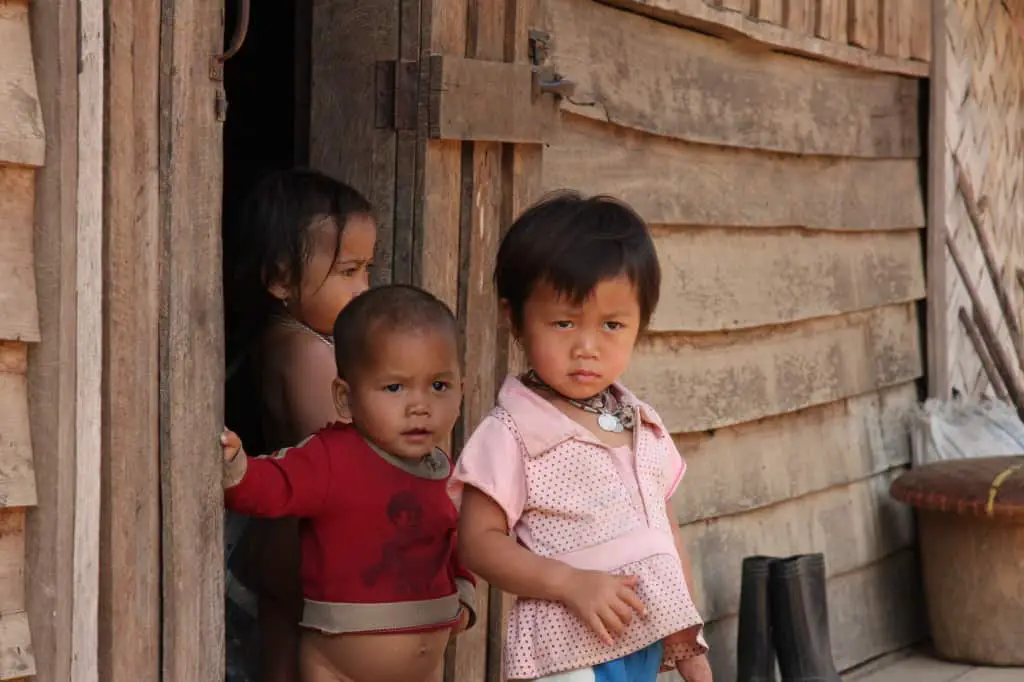 In the evening we arrive at Pakbeng. At the shore teak roots were embarked. Loaded with my luggage again I had to climb up a steep hill to the place my bed was waiting  for me. The bed and my first roommate. A gecko. At first I wanted to turn around but someone told me geckos live on insects. When I met a big spider in the hallway I was glad about my roommate.
Day 2: Pakbeng to Luang Prabang
The Morning Market In Pakbeng/Laos
The best way to explore exotic food and products is by going to local markets. The colors, products and odors can be overwhelming in good and bad ways but you should not miss it. The best time is early in the morning to get a real feeling about life in Pakbeng at the Mekong River.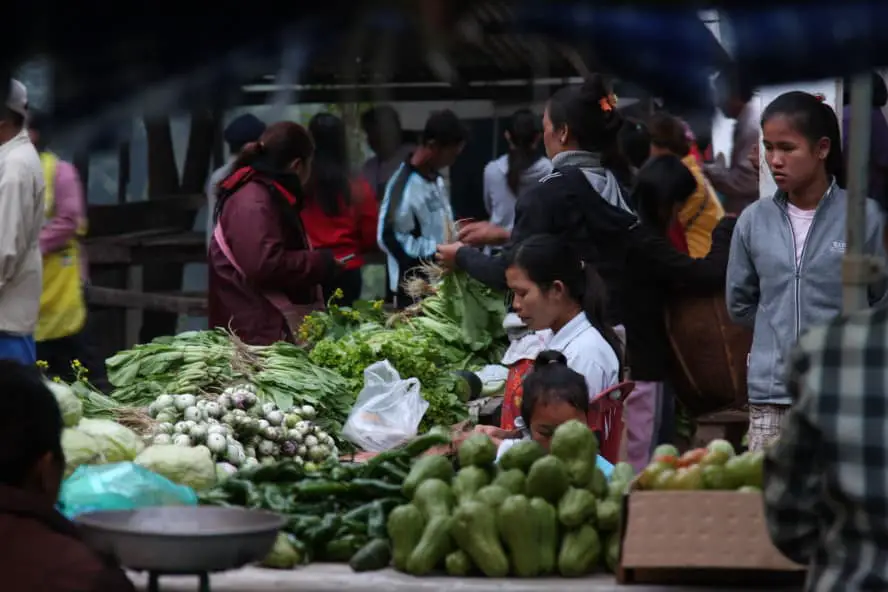 While I was wandering around trying to avoid to hit my head on the roofs of the market I encountered amusing stuff and things forcing me to turn around immediately. Meat lay on the ground surrounded by flies. A Laotian stripped down a bull skull at the end of the market. The sound of cracking bones gave me a shiver.
I made my way back to a woman and watched her cooking.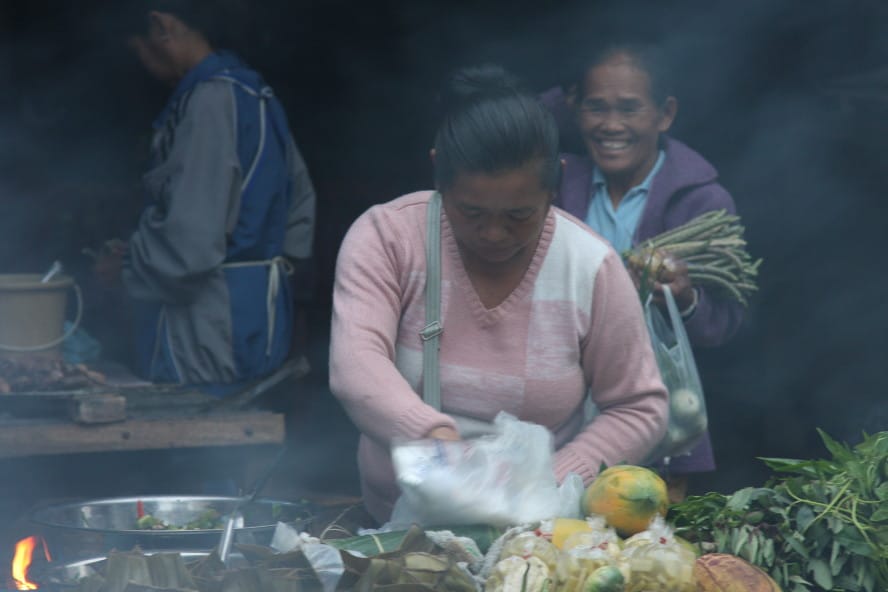 Outside the market a man was carrying a bench while driving his moped, an elderly woman wore socks in her flip-flops altough it was hot and I saw the "original Red Bull".
Until this day I had no clue that this energy drink originates from Asia. Maybe because of the fact I don´t drink energy drinks. They taste to me like liquid gummy bears.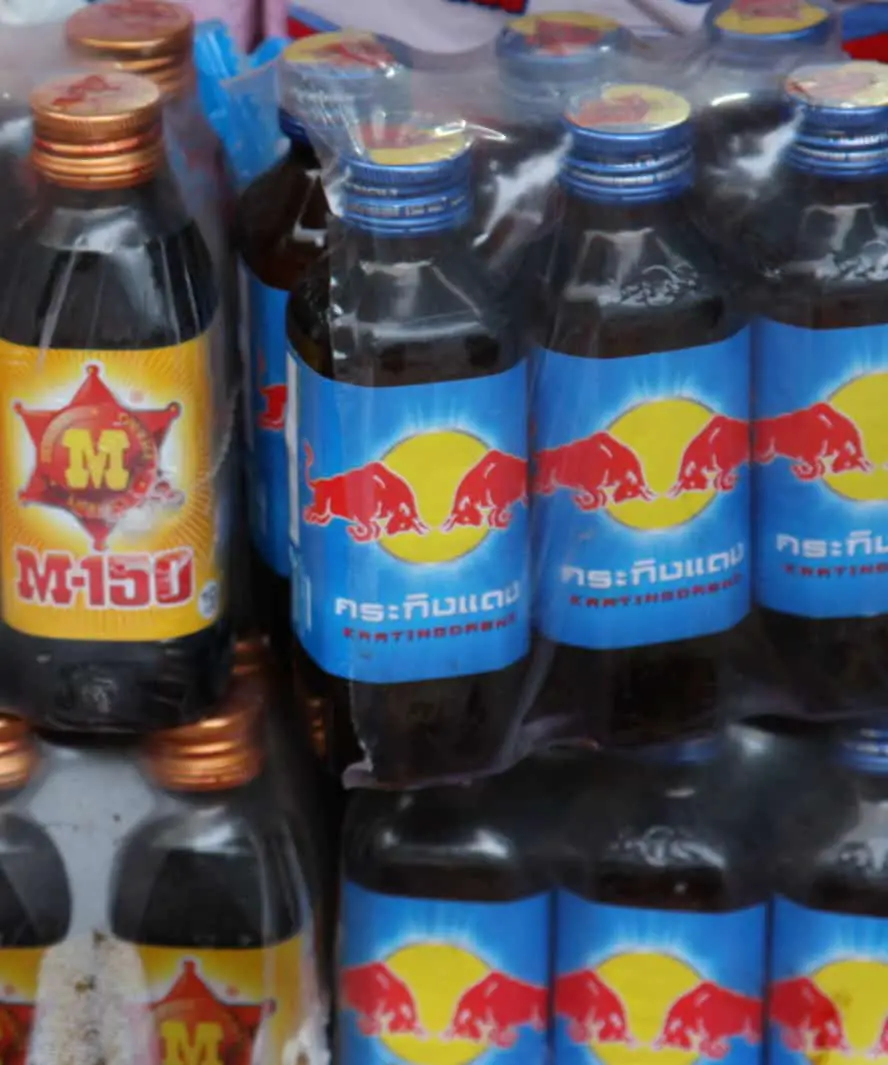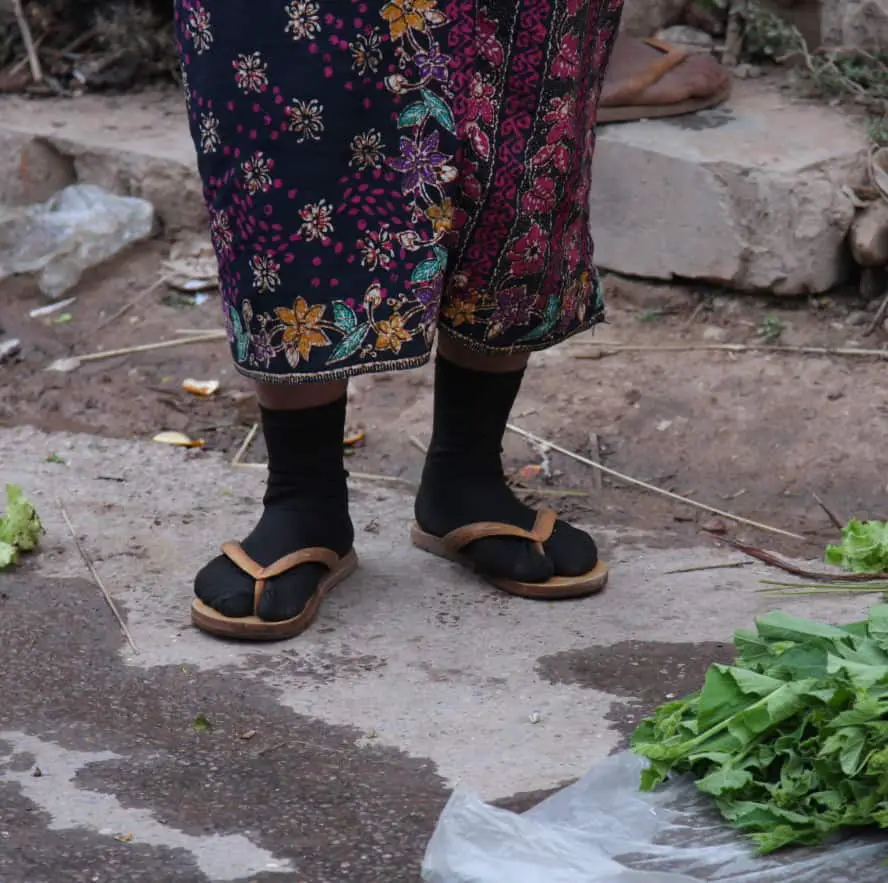 Afterwards we went aboard and tried some rice schnapps (50% alcohol). In this little village there are three monks.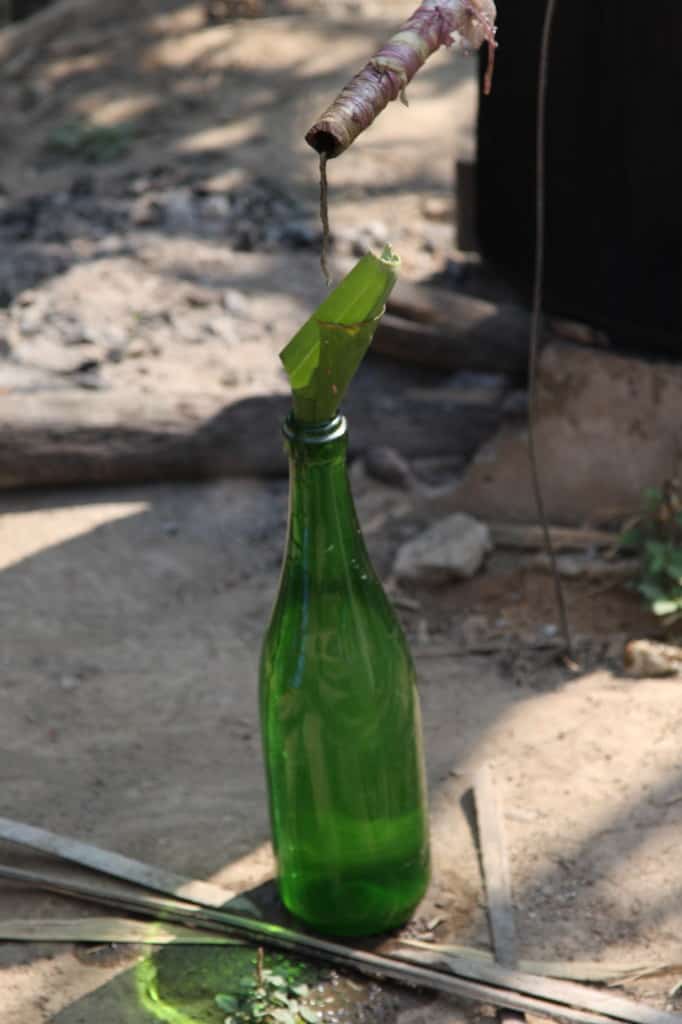 Pak Ou Caves Tham Thing und Tham Phoum
Close to Luang Prabang are the two caves Tham Thing and Tham Phoum situated in a cliff along the Mekong. The first is filled with about 5000 Buddha statues. I was so fascinated by all the different sizes and materials the Buddhas are built of. To get inside the caves you have to climb up steep steps. Besides the figures which most of them are made out of wood is a place to wash and clean the Buddha figures.
Check out the current prices and availability for a Mekong boat cruise.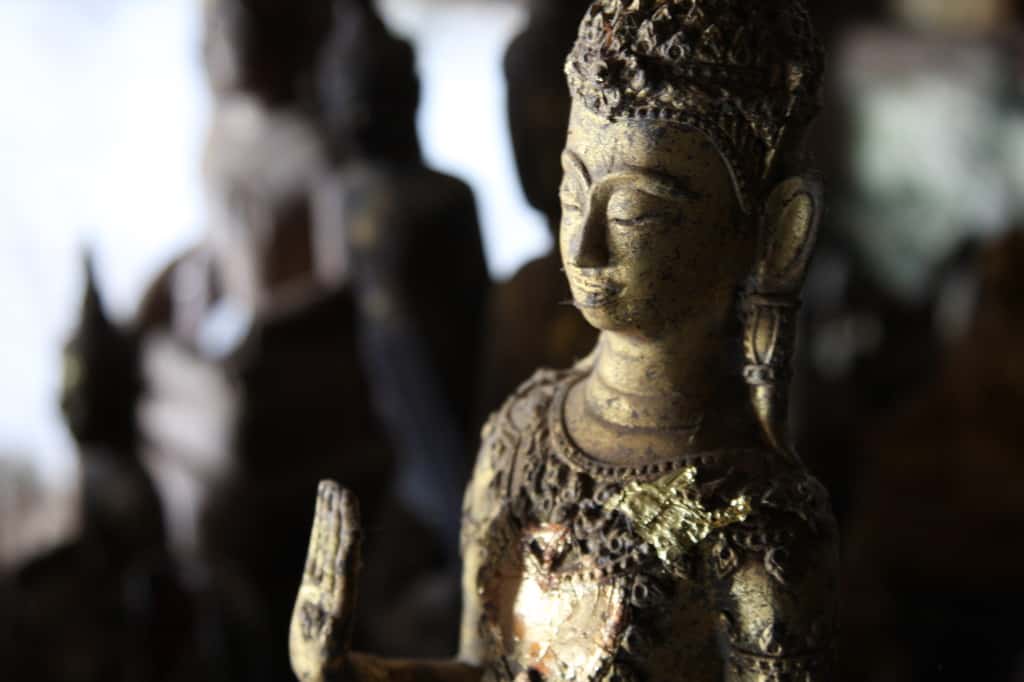 Further up is a second cave. Monks lived there long ago. The wooden door at the entrance of the cave is richly decorated.In this cave most of the Buddha figures were stolen.
At the end of our boat trip right before Luang Prabang an awesome sunset showed up. To see a sunset on the Mekong is indescribable and a picture will never catch this special moment…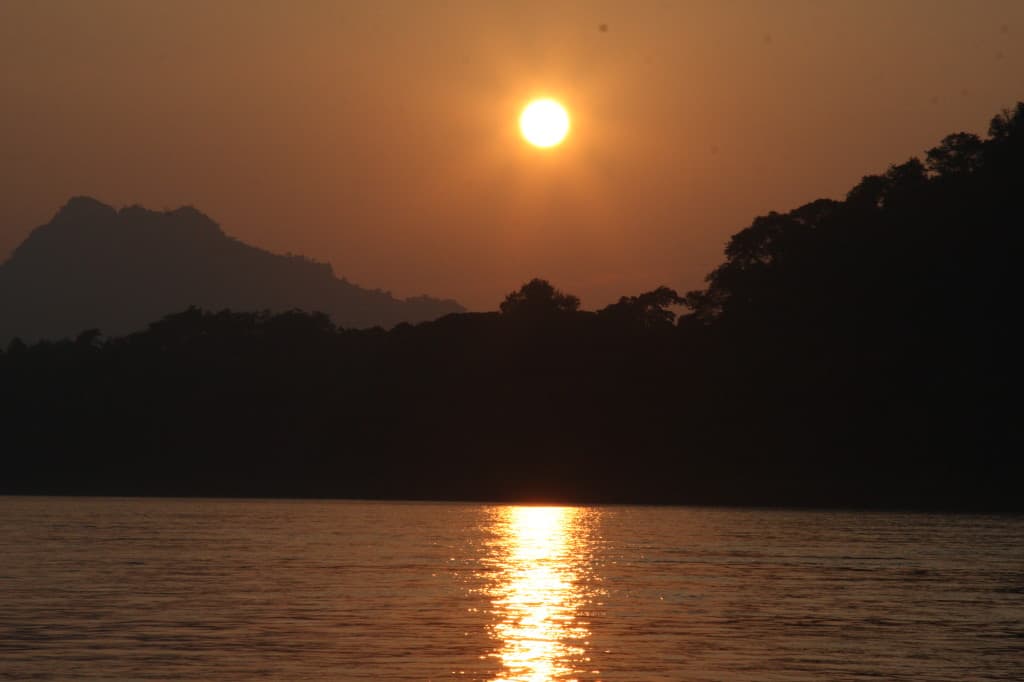 You might also like:
AT THE KHOUANG FALLS – TURQUOISE BEAUTY AND LAZY BEARS
All about LAOS
zuletzt aktualisiert am February 24, 2023