Biking the Lindkogel-Route at 34 degrees Celsius and why we think it still was cool
34 degrees Celsius, 34 kilometers, 6 guys and I, 600 meters altitude to overcome and 3 flat tires. This was our mountain bike tour in the Wienerwald along the Lindkogel-Route in Baden, Austria.
I was kind of worried because it was one of the hottest days this year in Austria. That´s why I was glad we started one hour earlier as planned (9 am) and that Klaus from the Tourism Board in Baden was smart enough to bring a mountain e-bike for me. It was the best idea ever. I left my own hard trail in the van and followed the guys.
A triathlete, a sport coach, a soccer player and three trained bike enthusiasts. :/
They rode their bike from the beginning at a fast pace. Too hard for me to keep up on a bike, but as I mentioned I tried an e-bike and could follow them easily. Yeah!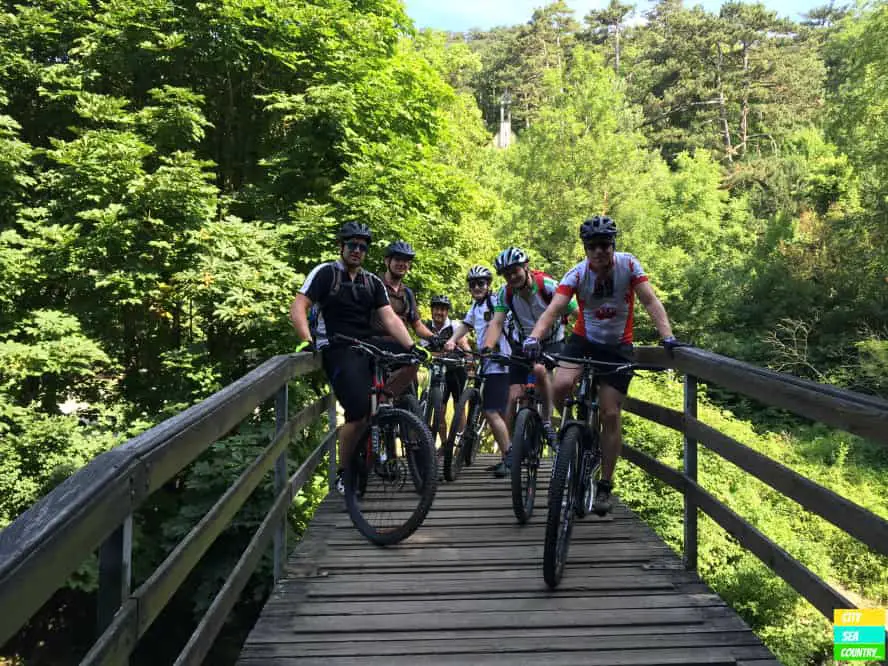 We started at the At the Park Hotel in the center of Baden. After two minutes we already biked in the shade of trees and calming rivers.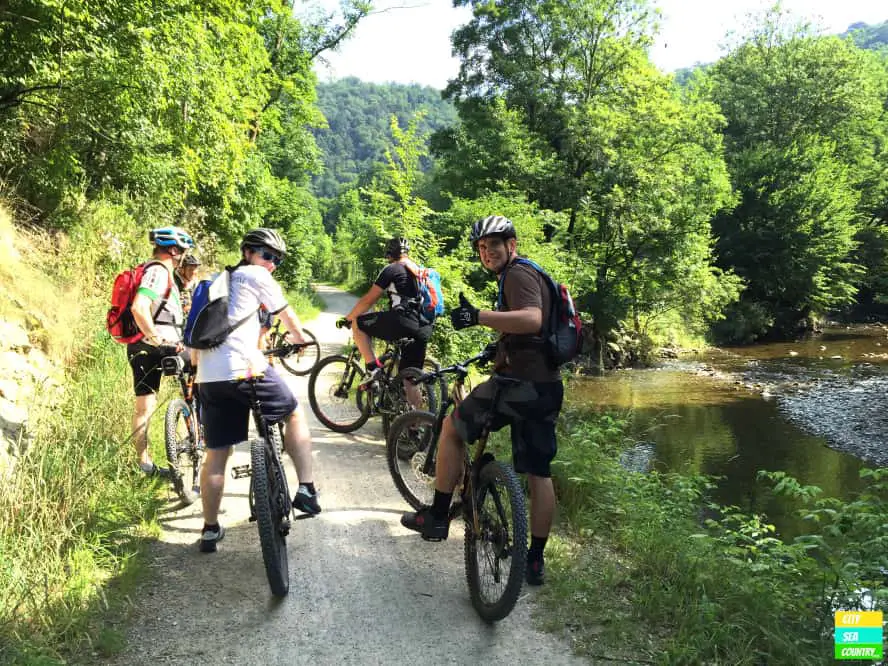 Early in the morning, families already placed their picnic and barbecue gear along the Schwechat river. It is the local recreation area. (Too bad we don´t have time to enjoy the river and a bath.)
We are on our way along a gravel road. Biking up steady at about 8 km/h, until I had to try the "turbo" gear. With 23 km/h I overtake the guys and wait for them, taking pictures.
Along the Lindkogel-Strecke we bike up high along gravel roads.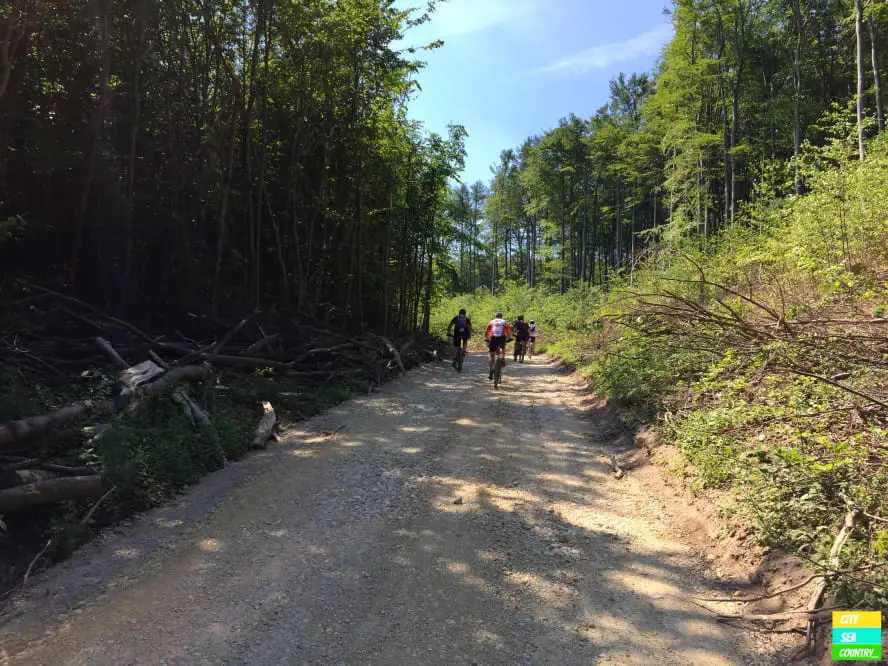 At about 2/3 of the route up to the "Eisernen Tor" we ride for a short time in the blazing sun. At this part of the route you can see Vienna and Austria´s highest skyscraper in the far distance.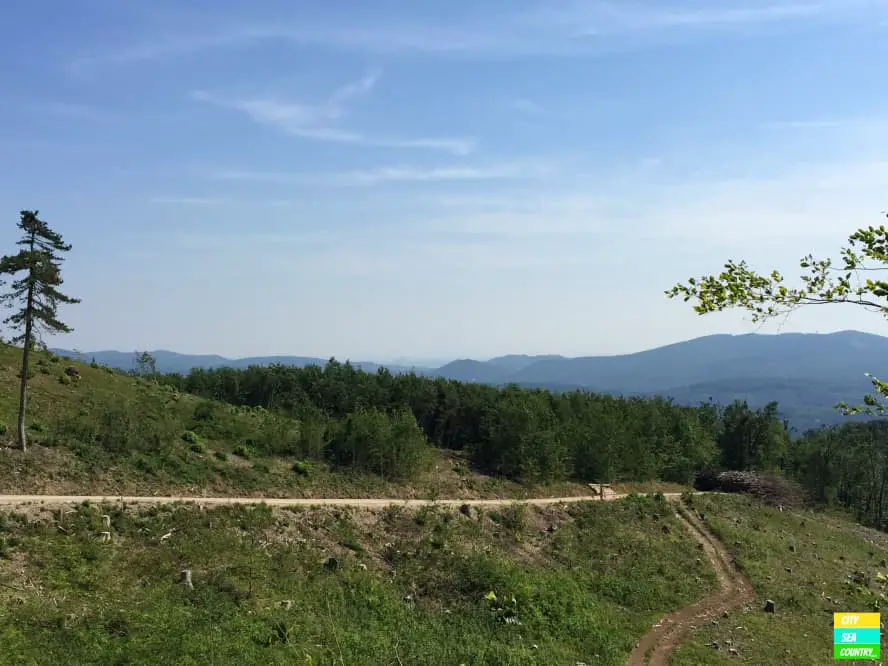 Right before we reach the summit we have to overcome a last steep incline. Roots and some rocks have to be mastered.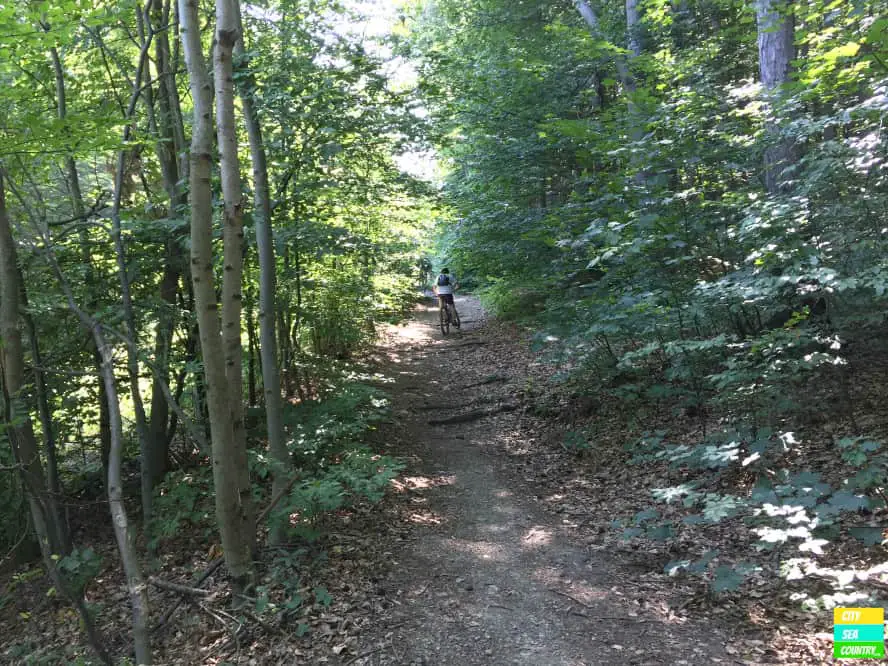 We made it and were rewarded with this view.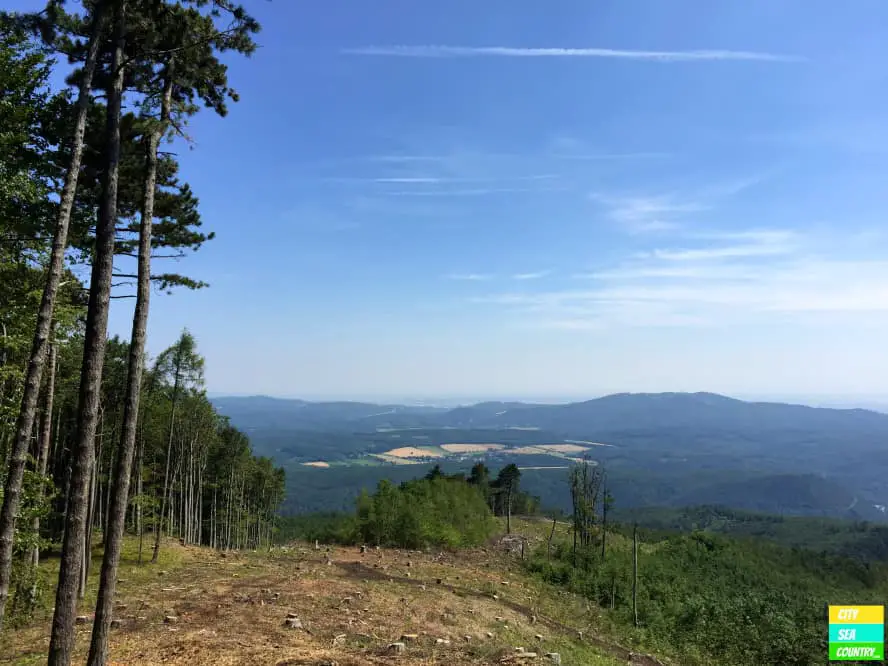 At the 'Schutzhütte Eisernes Tor' our group of 7 stops and have a refreshing Radler (beer mixed with a lemon soft drink or the Austrian Almdudler). Afterwards we walk up the stairs of the Sina-Warte, an old tower. If you are there be sure you don´t miss it because you can see Baden, Vienna and the Austrian Alps from top of it.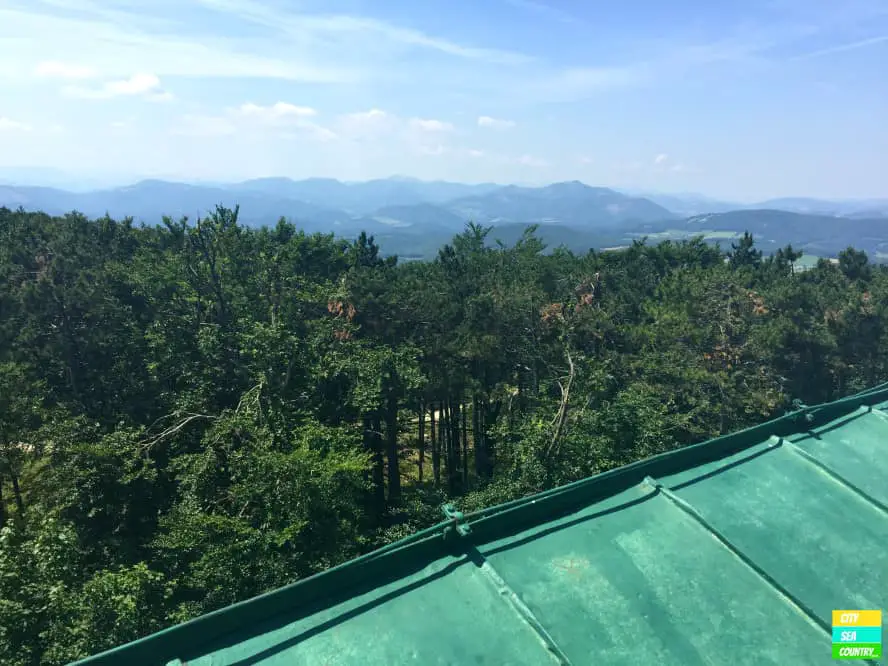 From now on the descent is along a path interlarded with rocks and roots. For me it´s hard to keep up with Thomas and our group. That´s why we bike down in two groups. The 'wild' ones and the slower ones.
It doesn´t take long and we have flat tire number two. This time at Sven´s bike. I pass him because I am the slowest anyway and find Thomas and Axel bent over flat tire number 3. While they fix it I´m sitting under a tree in the shade.
When we're finally ready we bike down a last gravel road again until we reach Sooß, a little town. From there it's about 10 minutes back to Baden where we pass the Grand Casino and the Kurpark. We reach the At the Park Hotel a little tired but happy.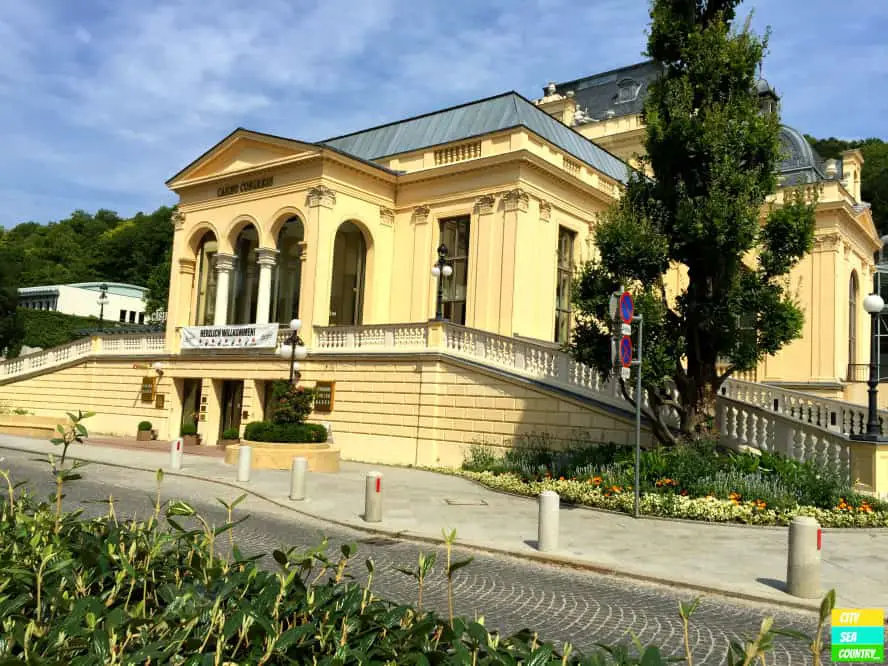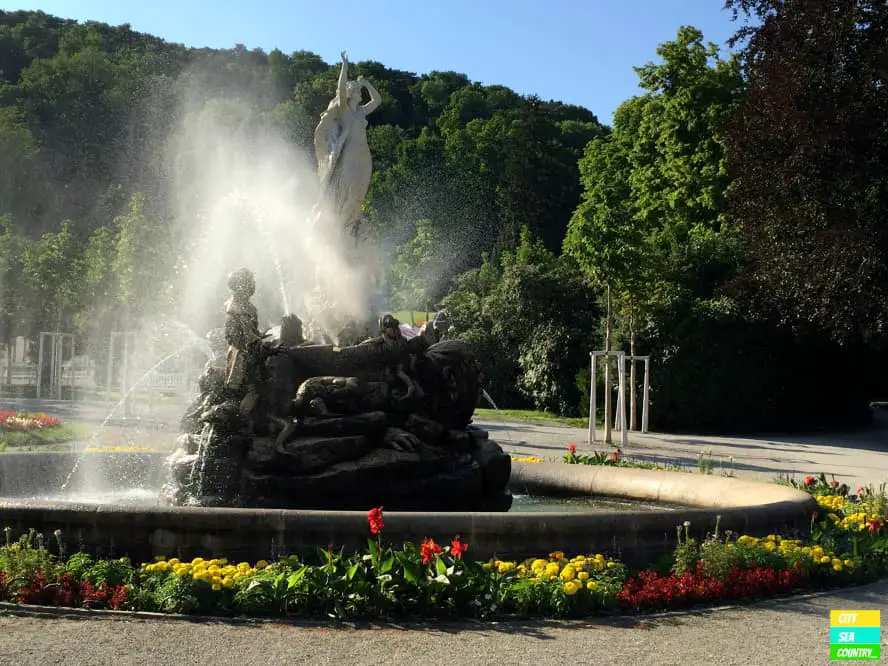 Watch our group of 7 in action (for best quality switch to HD):
Lindkogel-Route Facts:
a 'Power-Route'
Asphalt, gravel roads, partly demanding rides over roots and rocks
approximately 600 meters altitude
about 34 kilometers
don't forget a repair kit, helmet and gloves
bring enough liquid with you
Conclusion:
Thumbs up for this route. It´s a varied route with some challenging sections. Beginners should start with an easier route. (There are lots of routes in this area). If you are not sure which route is the best you can rent a tour guide in Baden.
You might also like:
HOTEL TIP: AT THE PARK HOTEL IN BADEN
Thanks to Casino Urlaub and Baden Tourism for the invitation. The opinions are as always ours.
zuletzt aktualisiert am Januar 12, 2023