An Austrian Recipe
Ingredients for the Dough:
300 grams (2  1/2 cups) all-purpose flour
120 grams (1/2 cup) unsalted butter
6 tablespoons sour cream
3 egg yolks
1/2 teaspoon salt
Ingredients for the Filling:
1 tablespoon cinnamon
juice of 1/2 a lemon
4 tablespoon brown sugar (I use Agave Syrup – it tastes the same and is a lot healthier)
6 large apples, cored, peeled and thinly sliced (use apples like Pink Lady or Granny Smith; they should not be too sweet)
Directions:
Mix the flour and salt together. Using a pastry blender or two forks, cut in the butter until the mixture resembled coarse meal. Add the sour cream and egg yolks and transfer the dough to a floured workspace. First the dough will be very sticky so keep some flour close by. Just go on until you have a nice dough. Let it rest for about half an hour.
Meanwhile core, peel and thinly slice the apples. Mix them with the lemon juice, cinnamon and brown sugar (agave syrup).
Cut the dough into two pieces and roll the dough on a floured space. Talk half of the apple filling and put it in the middle of the dough. Fold the dough (as seen in the picture and then close the left and the right side) and do the same with the second piece and the apple filling.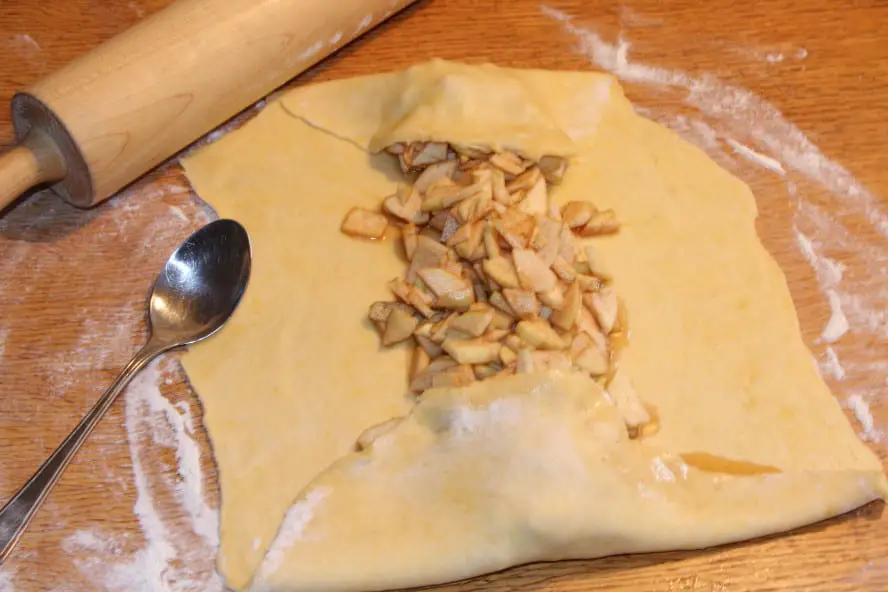 Put the two pieces onto a large baking sheet and bake it for about 30 minutes at 180 degrees Celsius (350 degrees) in the oven.
This is the delicious result: