The pros and cons of blogging: Before you start your own blog / travel blog you should know all about the good and bad about being a blogger.
I'm blogging for more than six years now, and I'm going to share with you all the mistakes I made, about the disadvantages of blogging, and how you can avoid them. I'm also going to reveal all the amazing stuff that happened because of having a blog (= the advantages of blogging).
If you want to go ahead and start your own blog after reading this article, I have some resources that help you get started from scratch (and make money).
Pros and Cons of Blogging
As with everything in life, there are two sides of the coin. It's the same for blogging. You, for yourself, have to decide, if having a blog and being a blogger is the right kind of thing for you.
This is why I wrote this article for you. So you can decide if blogging is what you want to do.
Now let's dive into the advantages and disadvantages of blogging.
WHAT ARE THE ADVANTAGES OF BLOGGING?
1. Starting a blog is easy
Today, starting a blog, is fairly easy. The times are gone when you had to hire a programmer or start learning to code to set up a website. 
Nowadays you buy a URL, get hosting and set up WordPress. And you can start blogging. In theory, it all takes a couple of hours and you're good to go. 
2. Starting a blog isn't expensive
To start a blog you don't have to take a big risk, or need a lot of cash up-front. 
What I still recommend is to get clear on what your blogging strategy is, and what kind of blogging tools and resources you need for it. 
I made the mistake not to think about where I want my blog to be in a couple of months, yet alone years. When I started at the end of 2013, I ran my website more as a hobby, and to see where it will take me. Big, HUGE mistake. 
I used free themes (= the look of your website) and didn't pay much attention about how the readers will find me. 
While it makes sense to start with as little investment as possible, there are still some blogging tools and resources you should invest in. Right from the beginning. 
In the end, they will save you so much time (and money), and help you to get more traffic sooner than later.
You can read here all about the best blogging tools and resources I use, and the ones you will really need to be a successful blogger.
3. Your blog = your online business card and storefront
Your blog is your virtual business card and it shows your readers and audience plus also potential clients who you are, what you write about, your offers and what your speciality is.
If you want to run your blog as a business and make money with it, you should focus on your readers, but also keep in mind that potential partners will check your blog out.
This is a good thing because many opportunities can come from it. Through my blog publishers and TV stations found me, plus I was invited to take part in paid trips and lots more. All because they found my blog online and were able to contact me.
4. You can create a full time business out of it
As a professional blogger you can create a full time online business and make money. There are so many ways to do so. It is not limited to your actual blog. If you think outside the box and use your blog – as mentioned above –  as your online business card, lots of opportunities can come from your blog.
Besides blogging on my website here, I make money from:
paid trips

affiliate programs

advertorials

writing for travel guides, magazines and other platforms

sell photos

create content and videos

sell my own programs, workbooks

mentor and coach bloggers and

location independent entrepreneurs

/ business owners
There are so many ways to make money online. The sky is literally the limit.
5. You become an expert in your field
You can establish yourself as an expert in your niche pretty fast. This is especially true if your blog is about a specific niche. Being a travel blogger for example means you compete with thousands of other bloggers, but if you only blog, let's say about safaris in Africa, you are serving a specific audience and they will see you as an expert and authority in this area. 
It often happens that bloggers with specific niches are invited to give speeches about their topics, or are invited to trips, become ambassadors for certain brands,…
If you're talking to everybody, you're talking to nobody. = choose a niche
6. You can make money and create passive income
In point 4 I already mentioned how I make money through and with my blog. But there are so many more ways to make an income online and create passive income. 
Besides all the ways I listed up above, you could write an ebook and sell it, create travel guides, online courses, online programs, do coaching, become a speaker, run seminars and workshops or retreats. 
All you have to do is think outside the box and be creative.
What I really love is that you can literally make money while you sleep = passive income. You can do so by selling ebooks, online programs and have affiliate links in place.
The more you create content and publish posts and articles on your blog, the more your passive income generally grows.
7. You can work whenever you want
When I was still working as a teacher and principal what I didn't like at all was the fact that I had to be at a certain time at a certain place. 
The time freedom of working on the blog whenever I want is, besides being able to live location independent, the best thing ever.
Especially if you don't like to get up early or have to commute to a place to work, having a blog is amazing. 
8. Living the location independent lifestyle
One of the best parts of having a blog is that you're able to work from anywhere in the world. All you need is your laptop and an internet connection. This is especially perfect if you have a travel blog like I do.
I'm by the way not a digital nomad. I have my homebase in my home country Austria, but I can go and stay wherever I want to.
If you're interested in the location independent lifestyle and want to have your own online business, you can check out my other website, where I also offer private mentoring and coaching: TheFemaleTravelpreneur
9. A blog can bring you amazing opportunities
I already wrote about it but I want to mention it again. A blog can bring you opportunities you would never think about. There are amazing projects out there and partners you can collaborate with. You might also find other business ideas. 
I know so many blogging colleagues and friends that started with a simple blog and are now published authors, sought out speakers, do SEO for big companies, sell their own digital products, be photographers for amazing companies and lots more.
10. You grow personally. A lot.
Having a blog and working on it full-time means you're running an online business. 
You have to learn a lot. Every day. You grow personally and you have to step out of your comfort zone every minute. 
This is actually a good thing (unless you are in the middle of a big change, or if something happens you didn't see coming).
Since I'm running online businesses I grew a lot and today I do things I never would have dreamed about six years ago.
I live in a completely different world and I wouldn't change it for anything.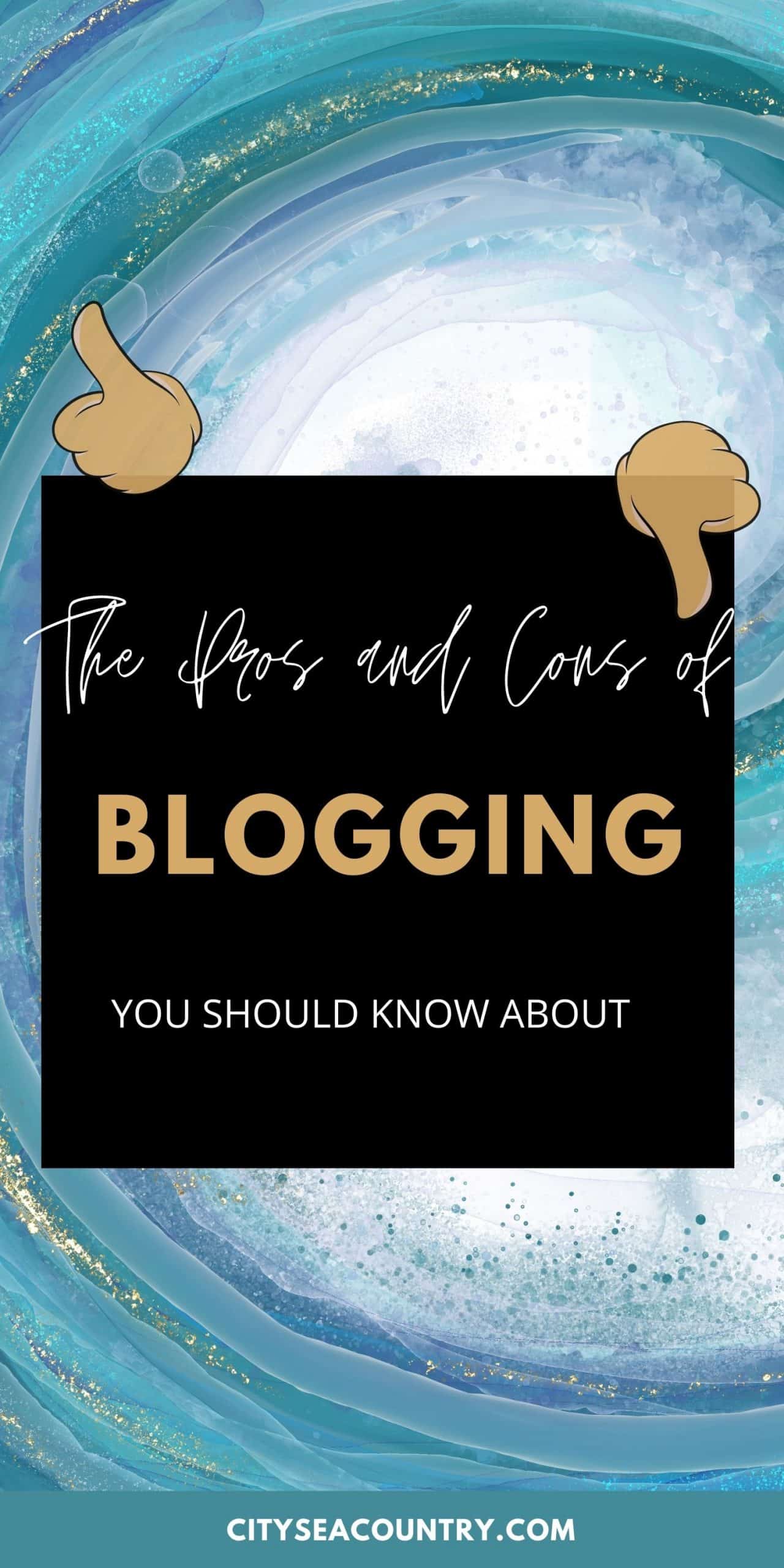 WHAT ARE THE DISADVANTAGES OF BLOGGING?
1. It takes time to build a successful blog
From the outside and for someone who never had a blog it looks easy. You just put out a couple of stories or articles. Anyone can do that. (That's what you sometimes hear from people who have no idea of what a blogger actually does.)
It's true that everyone can do it, and a lot of people start a blog. Once they realize how much work it means and that it takes time to build a successful blog, a lot of them stop blogging again.
It takes time until your blog gets a decent amount of traffic (readers). Google won't put you in spot one on page one for no reason. You have to work to get there. Which means a lot of learning, testing, tweaking. Especially how to use SEO (search engine optimization).
2. Writing can be hard work
Long gone are the days when you wrote a short article with 300+ words and you're good to go. 
Writing a long and in depth-article can take up to three days, especially when you're a travel blogger. Besides writing you have to edit and upload images. It is even more work when you create videos.
If writing doesn't come easy and naturally to you, it will take a lot longer.
Also, if you are in a competitive field like travel blogging, writing also involves, doing keyword research and implementing SEO.
If you want to learn everything about SEO you should check out Sharon Gourlay`s free SEO bootcamp. 
3. You need to think long-term and have a strategy in place
Without a strategy in place you will get lost. Before I was clear that I wanted my blog to be my source of income, I posted an article here and there, and whenever I felt like doing so. I had no clear intention or purpose of the article, yet alone for the whole website.
If you want to go all in, you need to have a strategy in place. You also need at least a
This helps you to stay on track. You know when you need to publish for example sponsored posts or when your next article is due. A content plan and calender also helps you with being consistent in publishing.
I personally have a calendar in paper format (in my bullet journal) and Trello boards.
There's a lot more to it, of course, but that would be too much for this article.
4. It takes time to make money online
As it takes time to get traffic to your site (= readers), the same applies to earning money. There are no overnight successes and the make money fast scheme is just not true. Behind every "overnight success" are months and years of work involved. 
So don't be frustrated if money doesn't come in at day one.
5. Blogging = a lot of maintenance
To drive traffic to your site your content needs to be relevant and fresh. The more blog posts and pages you have on your blog and website, the more content you have to update, so that Google sees your content as relevant. 
This can become a lot of work but it's not as bad as it sounds. I use Trello boards to know what I published when, and I put a date to the published blog post when I have to update it again.
I usually update blog posts once a year, or whenever I have new information, I traveled to this country again and want to include more photos or facts. The work on a blog never stops.
It is easier if you have evergreen content (= information that doesn't change a lot), but there is always something to update or do behind the scenes.
6. The technical side can be frustrating and time-consuming
The technical stuff can be very frustrating. Especially if you're not a tech geek. But the good thing is, that there is always someone you can ask or google the answer to your tech issue.
I'm not really into this technical stuff, but even I can handle it. 
7. 100% Responsibility
As you are your own boss if you blog full-time, you are 100% responsible for your actions and your blog business. Being an entrepreneur is full of ups and downs. One minute you are confident and everything feels amazing, and the next minute you feel overwhelmed, frustrated and doubt yourself. 
But that's the reality of being a business owner and entrepreneur.
You are also responsible for your income, for your taxes and for your team (if you have one).
Not everyone is made for this life. You have to be flexible, need a long breath and faith.
8. Haters and trolls
The more you put yourself out there, the more you will be criticised. You might get hate mail and nasty comments. 
I like to keep it like Brené Brown:
"If you aren't in the arena also getting your ass kicked, I'm not interested in your feedback."
9. Seems like everyone and their dog now has a blog
Because today it is very easy to start a website and blog, thousand of new blogs are popping up like mushrooms every day. And it seems like everyone out there is blogging about something. 
You can start doubting if it is worth starting a blog, when everyone is starting a blog too.
But because many of these newbie bloggers didn't know or underestimated the time and effort it takes to run a blog, especially if you want to become a professional blogger and make make with blogging, a lot of them stop blogging again.
Many blogs that existed a year ago, are gone today. 
So if you are willing to be patient and to put in all the effort, then blogging is also a lot of fun, and it will pay off for you.
If the disadvantages didn't put you off, then I recommend you go ahead and read the following article and step-by-step guide:
HOW TO START YOUR OWN BLOG AND MAKE MONEY 
THE BEST BLOGGING TOOLS AND RESOURCES
Was this article helpful for you? Thanks for supporting my work:
Buy me a coffee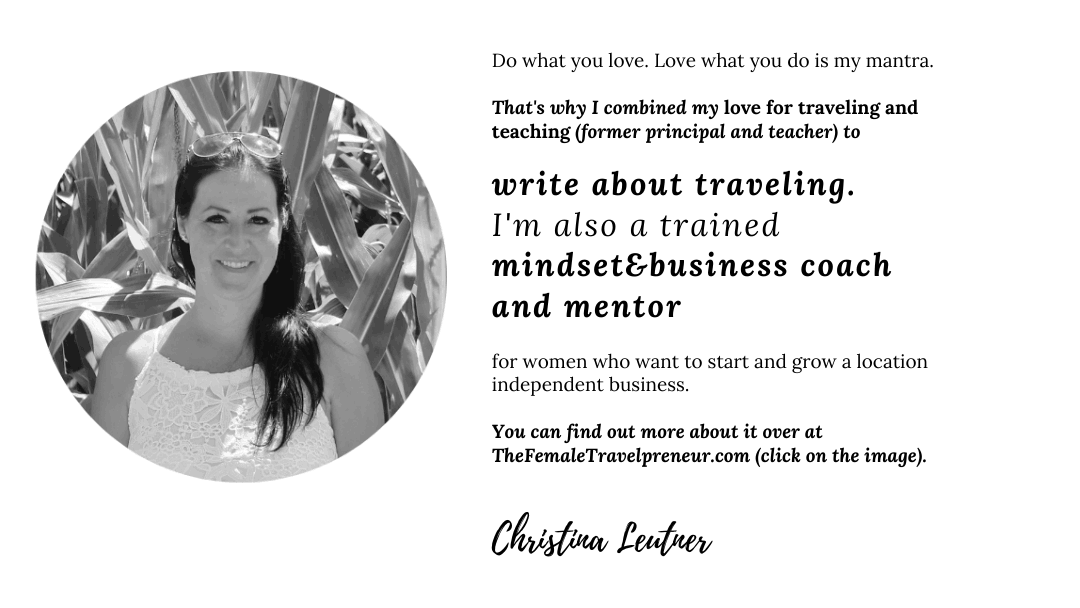 Disclaimer: Affiliate advertising is used on this site. When purchasing via a link,  I will receive a small commission, but you don't have to pay more for the item.
zuletzt aktualisiert am June 29, 2022