This article is called starting a travel blog and make money but it is a guide and how to for any blogging niche.
Starting a travel blog no longer means you're writing about your trips and sharing it with your family. Starting a travel blog today means running a business and make money doing what you love. There are different ways how you can create an income with your blog and I show you the most popular and profitable ways:
How to Become A Travel Blogger
To become a travel blogger, the first step is to start a travel blog = have a website in place that is set up correctly for making money. 
If you don't have a blog and website yet, please go to my step by step article on How To Start A Travel Blog. It gives you all the details you need on how to start travel blogging. You will learn exactly how to set up travel blogs that make money. Because this should be your goal.
You can also download my free ebook in pdf format that teaches you step by step (and gives you the best resources and tools you need) to become a successful travel blogger.
If you already set up a blog and website you can skip step one and continue reading about how to make money from a travel blog.
Make Money Travel Blogging
Starting a travel blog and having the goal to make money means investing time up front. If you think you can start a blog and have success over night, I have to be honest and let you know, that starting a travel blog business is a marathon, not a sprint.
Starting a travel blog is a marathon, not a sprint.
It will take months until you will see the first results. I want you to know this up front, so that you are prepared and know that it is normal. I don't want you to give up before you see results.
If you are committed in becoming a successful travel blogger, and this is what lights you up: Go for it!
There are different ways of making money with a travel blog (and blog in general). 
Pick the one(s) that speak to you the most. 
Here are different ways how you can make money with a travel blog: 
How To Make Money As A Travel Blogger
If you want to become a full time travel blogger or make enough passive income so that your monthly expenses are covered, there are different ways.
How do travel bloggers make money? These are the best ways to start with:
1. AFFILIATE MARKETING
Affiliate Marketing means you refer products via links and make money when your audience buys through this link.
To do so, you have to sign up and get a referral link. The commissions you receive vary from platform to platform. They can vary from 3% up to 50% per referred product. 
Affiliate Marketing is the easiest and best way to make passive income when you're just starting out with travel blogging.
Most of the time, you can sign up for their affiliate programs at the bottom of the home page.
Popular and great platforms for bloggers, especially travel bloggers are:
Booking for Hotels & Accommodations
Viator (Tours, Activities, Trips)
GetYourGuide (Tours, Activities, Trips)
You can also find products and programs to promote via platforms like
CJ.com
ThriveCart.com and many others.
If you are a travel blogger I highly recommend signing up with Travelpayouts. You sign up once for free and you have access to brands like Booking, Agoda, Rentalcars, GetYourGuide, Viator, TripAdvisor, Kiwi and many more.
To receive more money from your affiliate networks  you can sign up for free to Wise (= no fees like you have with PayPal). I love it.
Be sure to include in your posts that your article contains affiliate links and that you receive a commission when people purchase via the link.
2. CREATE AND SELL YOUR OWN PRODUCTS AND PROGRAMS
Creating and selling your own products helps you to make a lot more profit. In fact you can keep all the profit, unless you have affiliates selling your product for you as well. But this is still a good thing. Affiliates spread the word for you and they take a lot of marketing effort away from your shoulders.
To get more eyeballs on your products you can join ThriveCart. You can sell your product via them and others can sign up to be your affiliate and sell your product for you. 
Your own products can be ebooks, online courses you teach about certain topics, workbooks. 
You can also sell your own physical products through your website or on Amazon. If you want to create a private label product and sell it successfully on Amazon I can recommend the course: ASM. I bought it I think in 2015 (they update it regularly) and learned step by step how to find products, where to source them and how to sell them on Amazon. I eventually stopped because I didn't like doing the customer support but if you are interested in going down this route, this might be an option to think about. 
Another way to earn money from being a blogger is by offering retreats, seminars and workshops around certain topics. There are quite a few travel bloggers out there who offer retreats or even tours.
3. SPONSORED POSTS
Earning money by writing and having sponsored posts is also popular. There are many companies out there that are looking for bloggers who write and publish paid articles. The advantage for companies are that they reach a specific audience (= your audience) and they get a link to their website. (Always make sponsored links nofollow / sponsored or you might get de-indexed by Google).
Don't sell them follow links unless you want to get problems with Google.
Sometimes the companies only want a link, sometimes they want you to publish a pre-written content, or you can write the article yourself. It is up to you how you handle it and what you want to offer.
I always write the article myself, because I know best what my audience wants to read.
If you are interested in doing sponsored posts, you can learn more about it in Sharon Gourlay's free chapter of her How To Make Money From Blogging eBook called Making Money From Sponsored Posts.
4. JOIN AD NETWORKS
When you reach a certain amount of sessions per month (= readers on your blog) you can apply to ad networks like Mediavine or Ezoic. For Mediavine you need 25,000 sessions per month. To join Ezoic the amount is less (about 10,000 per month). 
Once you join one of the advertising networks, advertising is automatically placed on your website and you earn a certain amount of money per 1000 page views. The amount you earn varies, but I know bloggers with a lot of traffic who earn 10,000$ per month via ad networks. It's not a guarantee that you will earn this much amount too, but it's a great way to earn passive income once you have decent traffic to your blog.
5. PAID TRIPS AND COLLABORATIONS
While paid trips and collaborations are fun, definitely, it takes some time until you will get invited. The first press trip I took part in, was six months after I started my travel blog (end of 2013). And as I had no idea back then how this blogging thing worked, I have to say I was lucky, that I was invited back then.
If you are looking to get invited to blogger trips / press trips and even paid trips, a good way to start is to become friends with other bloggers. Especially ones who are ahead of you. Thanks to blogging colleagues I was invited to paid trips and collaborations because companies and destinations were looking for other bloggers and my blogger colleagues (and friends) recommended me. They know that I deliver what is expected and that I'm reliable and professional. And this is what makes you stand out in the online world.
You can also pitch companies and destinations and find PR agencies that work with bloggers. If you have zero audience, only little traffic and close to zero followers online, it will be harder to be invited and to work with companies. 
If you want to go down this route, you should concentrate first on building a following and traffic to your blog website.
6. FREELANCER / SELLING YOUR SERVICES
As a travel blogger or blogger in general you learn a lot of different things. You learn to take photos, create graphics, write and research articles, you do social media marketing, email marketing, do SEO, know how to  and lots more.
The more you are blogging, the more experience and expertise you get. You can offer social media marketing for companies, other bloggers and entrepreneurs. You can write for other blogs and websites, become a Pinterest expert (FB, Instagram expert,…), you can be a Virtual Assistant. 
The sky is the limit. Just think outside the box. Find out what you are really good at and what you want to offer.
Your blog is not your only income source, it can and should also be your business card, where potential clients see how you work.
How Travel Bloggers Make Money
These are some of the most popular ways on how travel bloggers make money. If you're starting from zero, I highly recommend you start with including affiliate links to your content.
READ NEXT:
HOW TO START A TRAVEL BLOG (AND WEBSITE) FROM SCRATCH
BEST CAMERA FOR BLOGGING (AND VLOGGING) GUIDE
HOW TO WORK FROM ANYWHERE IN THE WORLD: STARTING YOUR ULTIMATE FREEDOM LAPTOP LIFESTYLE
BLOGGING RESOURCES AND TOOLS I CAN'T LIVE WITHOUT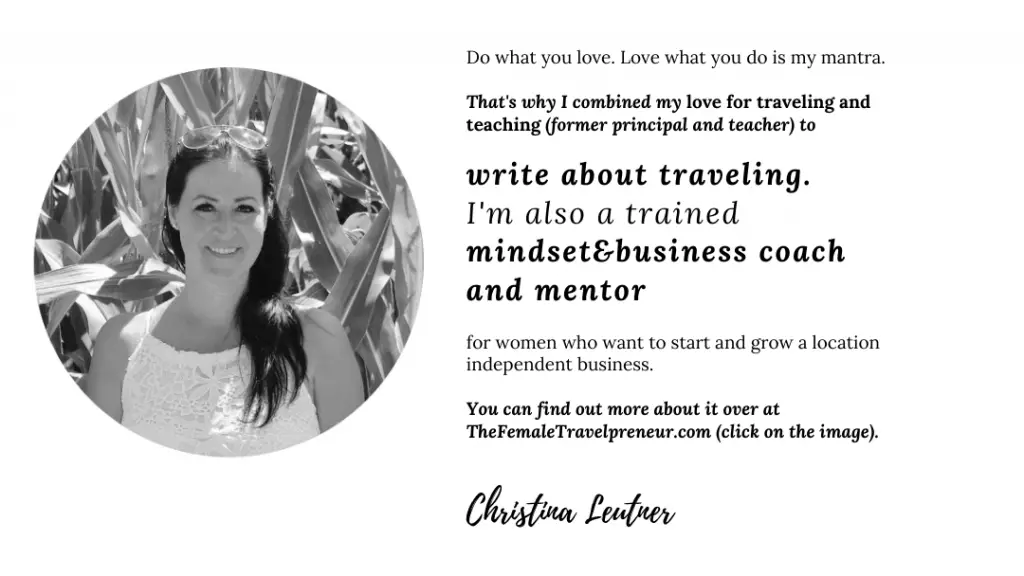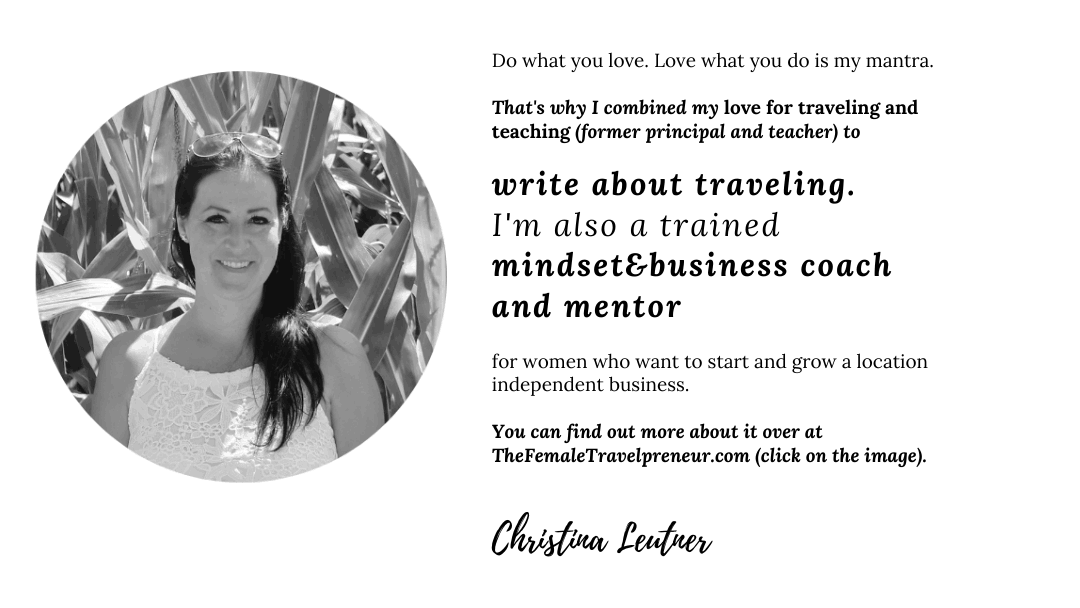 Disclaimer: CitySeaCountry is a participant in the Amazon Services LLC Associates Program, an affiliate advertising program designed to provide a means for sites to earn advertising fees by advertising and linking to amazon.com and its partners. Amazon and the Amazon logo are trademarks of Amazon.com, Inc. or its affiliates.
Affiliate advertising is used on this site. When purchasing via a link,  I will receive a small commission, but you don't have to pay more for the item.
zuletzt aktualisiert am February 4, 2023