Long queues, unhealthy and overpriced meals, running late, and dealing with checked-in baggage are just a few things that can stress you out on your trip. 
Anyone who has undergone the same situation knows that these are enough for one to feel tired and stressed out, and that is never a good way to start your vacation.
So, whether you are flying home for the holidays or you will be traveling halfway across the world for a trip of a lifetime, being prepared and organized is the key to the good flight experience. 
Here are 16 essential tips in flying that will help you move smoothly on airports, stay comfortable during your flight, and arrive at your destination safely:
1. Ready the necessary travel documents
If you are traveling domestically, then you need to present a government-issued ID in airports. Your driver's license or passport will do.
Meanwhile, if you are planning a trip abroad, then you must secure a valid passport. If you are planning to travel outside your country, then you need it to prove your identity, enter other countries, and re-enter your country again.
Also, ensure that your driver's license, as well as a state license, is not expired.
2. Avail travel insurance
As exciting as traveling might seem, it does come with a lot of risks.
By having travel insurance, you are essentially securing yourself from risks like lost or stolen baggage, flight and hotel cancellations, and, more importantly, medical costs that you might incur while you are on the road.
You must avail of travel insurance, even if it means that you have to tighten your travel budget a little. It is because the loss is greater if something unforeseeable happens along the way. 
Imagine how difficult it would be to have a medical emergency in another country, or a natural disaster will force you to leave the accommodation you have already paid. 
Flights can be canceled, pieces of baggage could be lost. These unexpected circumstances happen, every single day. Hence, it is imperative that you have travel insurance.
3. Get vaccinated
Some regions across the world would require you to have immunizations before traveling. You should schedule a prior visit to your doctor and discuss your existing medical conditions, as well as your travel plans. 
Keep in mind that there are a couple of immunizations that would require more than a shot; there are also some meds like anti-malarial drugs that need to be taken weeks in advance. 
4. Don't forget to bring medicines
While some travelers might not even think twice about tossing paracetamol and other over-the-counter medications in their travel bags, traveling with medications requires a lot of thought and careful pre-planning. 
You might not even be aware of it, but some of your prescription medications and over-the-counter drugs might be banned or illegal in the location that you are headed. 
5. Arrange your finances
Do not leave if you do not have several money options, like debit cards, credit cards, ATMs, and hard cash. 
If you are traveling within your country, do not forget to withdraw cash in advance to avoid incurring additional ATM surcharges in another destination. 
Meanwhile, if you are traveling abroad, you can bring US currency in case you will need to exchange it for additional cash. Some countries in the Caribbean and Canada accept US currencies as well. 
Before going on your trip, you also need to inform your credit card company of your travel plans. That's because a lot of credit cards have identity protection plans that protect you from theft or fraud. 
6. Pack wisely
Check the baggage allowance of your airline in advance to know the size, weight, and number of carry-on bags that you are allowed to bring. 
If you have check-in bags with you, check the weight, size, and cost of baggage since most airlines are now charging fees if the weight of your baggage exceeds a certain limit. Know the ideal carry-on size of your luggage as well. 
7. Follow the 3-1-1 rule
Most airports would allow each passenger one quart-size bag filled with liquids and gels, and that includes toothpaste, liquid deodorants, lotions, and the likes. Every item should be 3.4 ounces or less than that. 
Medications, juices for infants, and infant formulas and exempted from this rule, so you might need to separate these items. 
8. Check-in online
If you are in a hurry, then you can save time by checking online, provided that your airline will allow it. With it, you could usually print or download your boarding pass. 
So, if you are traveling with just your carry-on luggage with you, you can skip the long lines and head directly for the gate and skip the airport counter. That means you do not have to come early to the airport!
Most airlines would allow you to check-in online as early as 24 hours before, as their systems work around the clock. They would also send an email to remind you, so make sure that you do not forget to check it beforehand!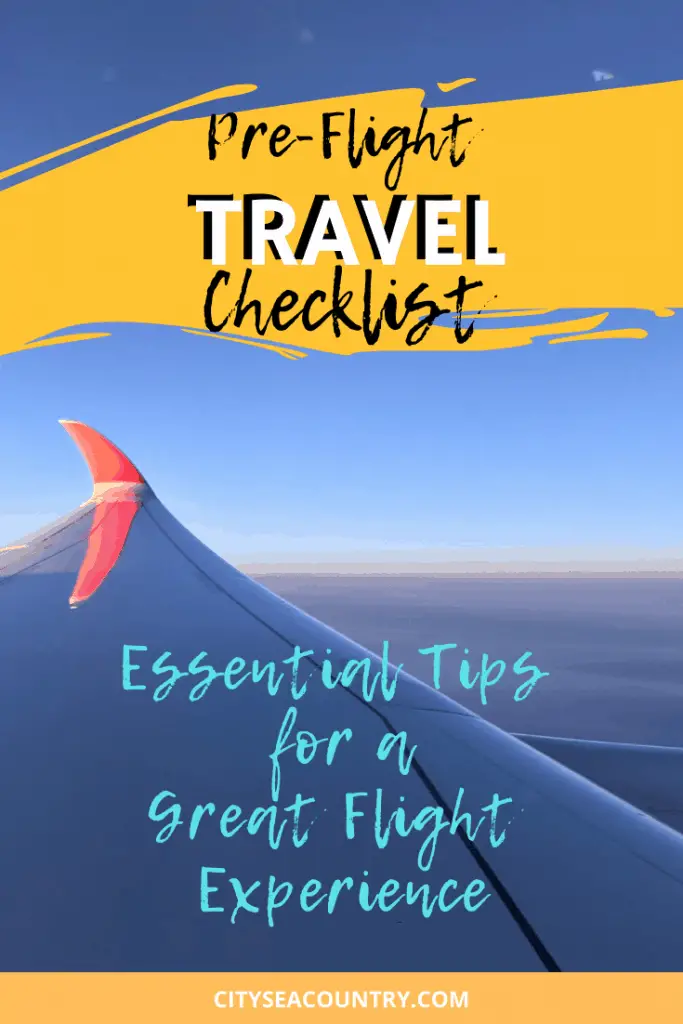 9. Prepare a snack
Packing your own food for the airport might sound like a silly thing to do.  Most travelers could pay for their meals at the airport, so why bother? 
Well, packing your healthy snacks and meals helps you resist the temptation of buying something unhealthy at the airport. 
If you are also traveling on a budget, this helps you avoid buying overpriced airplane food allowing you to spend on a nice dinner when you arrive at your destination. 
Moreover, if you have also committed to staying on track with your diet or follow a specific meal plan, bringing your healthy snacks allows you to stay on track. 
10. Wear comfortable clothes
Whether you are a regular flyer or you are looking forward to your first big trip of the year, deciding what clothes pack is only half the battle. You also need to figure out what to wear at the airport. 
Ideally, you need to pick an outfit that is tailored to your journey. If you are on for a short flight, then comfort is not an issue here. If it takes a lot of walking to the plane from the pick-up zone, then you might have to consider wearing comfy shoes.
Meanwhile, if you are going for a longer journey, then your comfort should be the absolute priority. Airplane seats can be cramped, and being uncomfortable in your entire flight might dampen your spirits once you arrive at your destination. 
11. Make your luggage stand out
There is a chance that two passengers of the same flight will have the same, identical luggage. To avoid opening your luggage in front of everyone to prove that the luggage is indeed yours, ensure that yours will stand out from the rest. 
Put a tag on the handle, place a sticker, or add anything unique so that you can easily identify it from the luggage wheel. 
12. Arrive early at the airport
Another helpful tip is to have an ample amount of time to get to the airport. If you need to take a long journey before getting there, then travel the night before and consider staying in accommodation near the airport overnight. 
If you are on an international flight, arrive at least three hours before. Meanwhile, if you are traveling domestically, arrive two hours beforehand. Check with your airline for their minimum times.
13. Prepare for airport security
You also need to arrive at the airport early to avoid long, winding, security lines.
Fortunately, there are a couple of travel programs that can help you breeze through customs and security lines. 
For instance, programs like CLEAR and TSA Pre✓ helps propel passengers to the front and through security lanes.  
14. Keep any identification at hand
Travelers under 18 years old are not required to provide identification if they are traveling with a companion. However, those that are 18 years old and older have to show their valid ID at the airport. 
For international travel, ensure that your passport has six blank pages and should not expire before your trip ends. For domestic travel, make sure that you bring a valid ID. 
15. Fill up departure card
If you are leaving one country for another, then you will know that there is an arrival card upon arrival to a country that requires your departure information written on it before you can leave the Passport Control. 
You need to fill this up with your information in the Passport Control desk. Otherwise, you might have to get back in line again or be left scribbling information hurriedly onto the departure card. 
16. Wait to board your flight
A lot of passengers might feel bored when waiting to board their flight. 
You can try doing various things to keep yourself busy, like taking advantage of the free airport Wi-Fi, go shopping (or window shopping) in airport shops, grab a book or magazine to read, check if you have access to airport lounges, and a lot more. 
Flying can be a little chaotic, especially if you've come unprepared. But mix it with a little preparation on your end, and you can turn that entire experience with relative comfort and calm for a more memorable trip.
This is a guest post written by Geraldine Mills
Related Posts:
zuletzt aktualisiert am February 27, 2023