Santorini is arguably the most famous Greek island with the typical image of the cobalt and white Greek chapel overlooking the deep blue caldera being used on websites and in magazines all over the world. Millions of visitors flock here each year to spend a relaxing week in the sun, as a day trip on a cruise ship journey, or some even just to have their wedding photographs taken!
Thankfully, Santorini is a fairly small island, so even if you only have one day here, you'll be able to enjoy the highlights and snap some of those quintessential images. 
This one-day Santorini Itinerary takes in Oia and Fira, the island's two main towns as well as some options for historians and oenophiles.
Santorini's History
Santorini is actually an archipelago made up of a collection of islands, but Thíra, the main island, is what most people refer to as Santorini. This crescent-shaped island is located in the Aegean Sea, around 200km southeast of Greece's mainland. 
The islands of Santorini that can be seen above the water today are the remains of the larger, original volcanic island, which collapsed into the caldera during the huge Minoan Eruption around 3,600 years ago. 
The archipelago now consists of Santorini (Thíra) and Therasia the two inhabited islands as well as Nea Kameni, Palaia Kameni, Aspronisi and Christiana. 
The underwater islands that lie deep within the caldera are often referred to as the mythical Lost City of Atlantis, although this is a much-debated topic!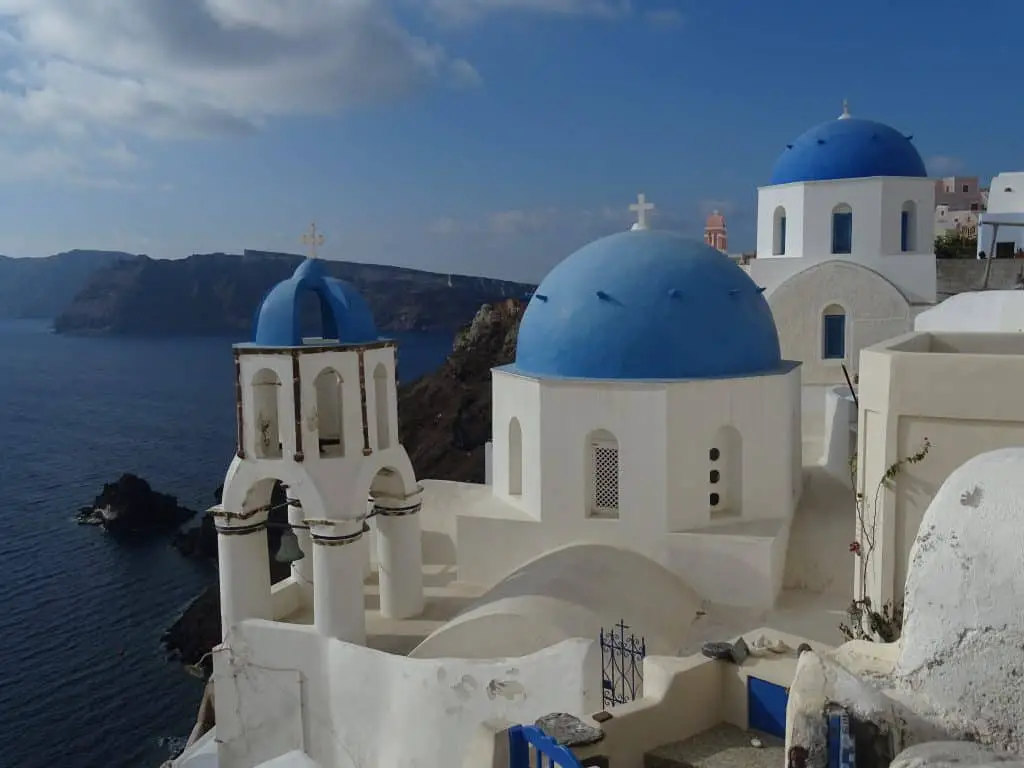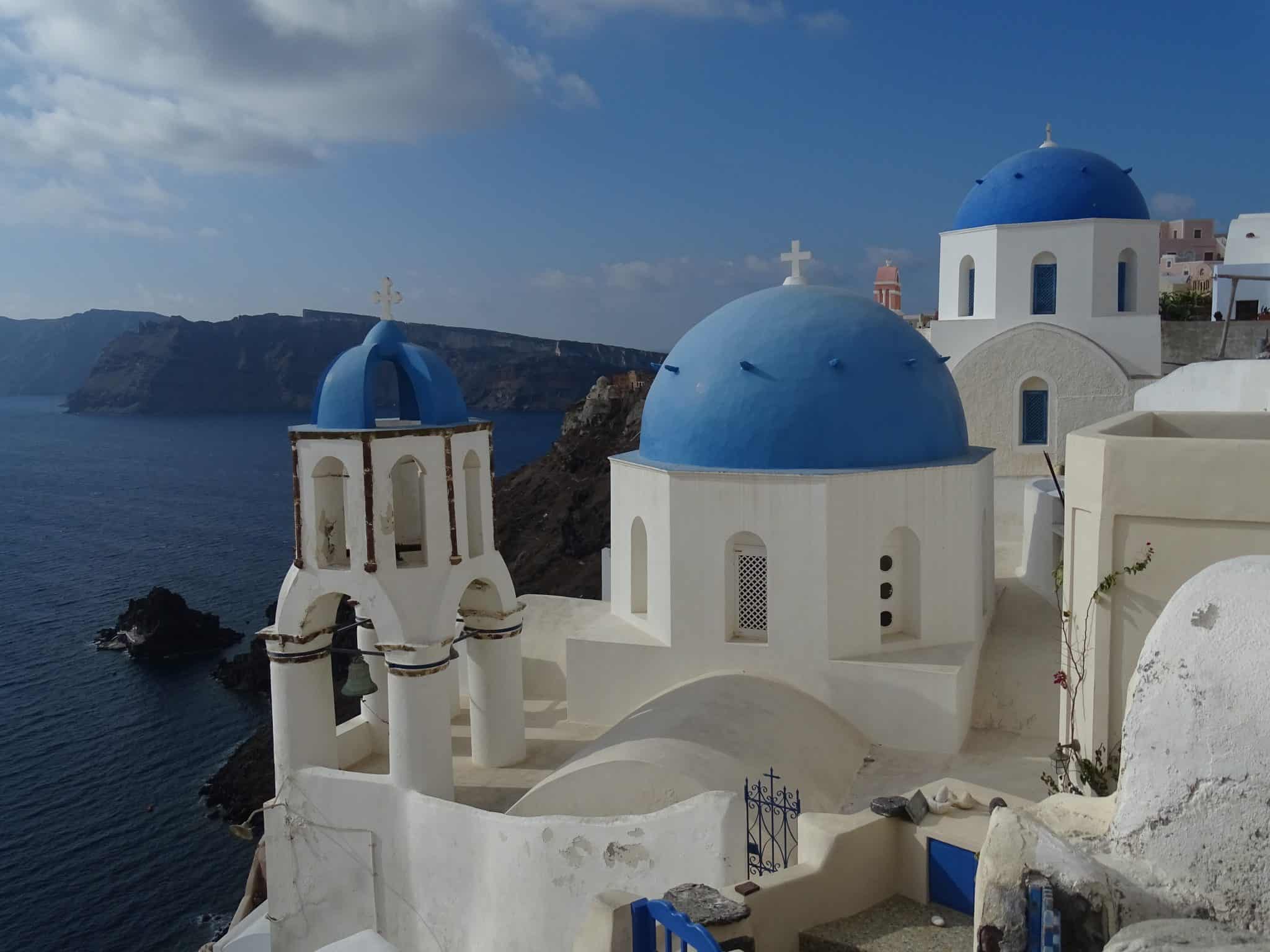 Visit The Akrotiri Archaeological Site
History lovers will be fascinated by the Akrotiri Archaeological Site, aka the Pompeii of the Aegean, as it is a large, well-preserved archaeological complex that offers a wealth of information about Ancient Greece. 
Covered in a mound of volcanic ash in the late 17th Century BC, Akrotiri is a preserved prehistoric settlement that was home to the Minoan civilisation.
Today, the site is covered with a roof and surrounded by walkways and information boards to give visitors a comprehensive insight into what the archaeological remains show us about Minoan history. 
Akrotiri was one of the most important urban centres in the Aegean during the Late Bronze Age and the ruins include a number of notable features such as an intricate drainage system, quality ceramic pots and vessels and beautiful old frescoes.
Akrotiri is located in the south-west of the island of Thíra, just south of the village of the same name. 
The site has a large parking lot and there is also a public bus that runs from Fira throughout the week (€2 approximately 20 minutes).
Go To A Vineyard
An alternative, or additional experience on Santorini is visiting a winery, a great option for oenophiles wishing to try some decent Greek wine. The island of Santorini has been growing grapes and producing wines for centuries, but it is only recently that these vineyards have really been put on the map.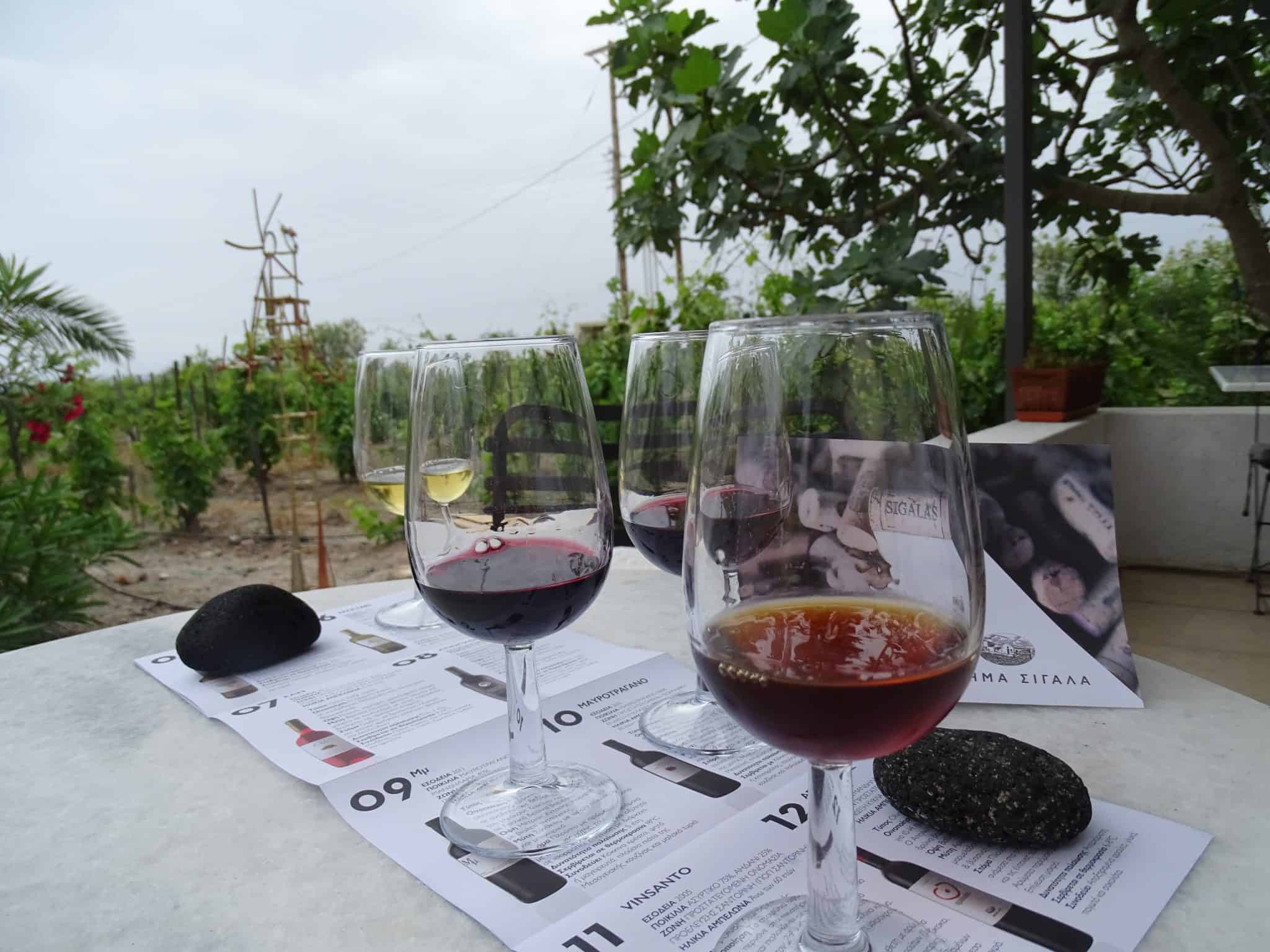 As Santorini has such a unique landscape with windy cliff sides and volcanic soil, the grapes on the island have been trained to grow in a different format to normal vines. Instead of vines growing in traditional rows, Santorini's vines grow in coils, wrapping the branches and leaves in a circular shape around the grapes to protect them from the island's wind and heat. This method is quite different to styles you will see elsewhere in Europe and it makes Santorini's vineyards well worth a visit. 
If beer is more your tipple, take a visit to the Santorini Brewing Company, a local brewery which produces three beers named after the island's mascot, The Donkey. This is the only brewery on the island and their beer is pretty tasty!
Explore Oia
Oia, the town perched atop the cliffside overlooking the caldera, is the most famous town in Santorini and one of the most photographed destinations in the world. 
This quaint town is filled with white-washed buildings, blue-domed churches and blooming bougainvillea all with the deep blue caldera as the backdrop.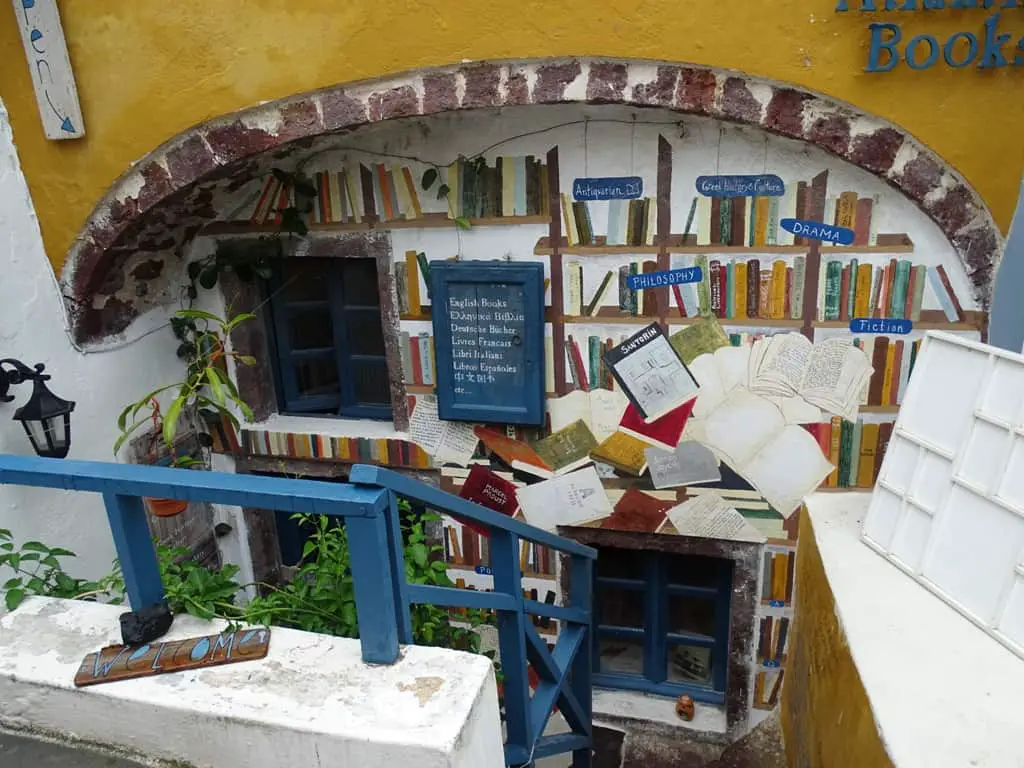 The town features a plethora of bars, cafes and tavernas, all of which boast stunning viewpoints, so the best way to explore the town is to meander from café to café admiring the view as you go. 
Oia is also home to an array of boutiques selling everything from local artwork and ceramics to designer swimwear and sunglasses so there are plenty of shops for you to dip in if you want to avoid the strong, midday heat. 
If you're staying longer than just a day, or aren't leaving the island until late, you'll want to head to Oia for sunset as this is one of the most spectacular and romantic spots on the island. 
Be warned though, Oia does get exceptionally busy for sunset in summer months, so you'll need to be there early to bag yourself the best spot!
Discover Fira
Next on your one-day Santorini itinerary is the town of Fira, the island's capital. This is where the cruise ship tenders come into land so it will inevitably be your starting and ending point for the day. You can choose when you want to explore the village but again, it's another great spot for sunset so come here for sun down if you can. This area is quieter than Oia for sunset but still offers incredible, photogenic views!
From the water, Fira is a steep 260m climb up the cliffside, which you can either walk, take a donkey ride or catch the cable car. The cable car journey is wonderful as you can slowly travel up the hillside, gawping at the landscape and taking hundreds of photographs along the way.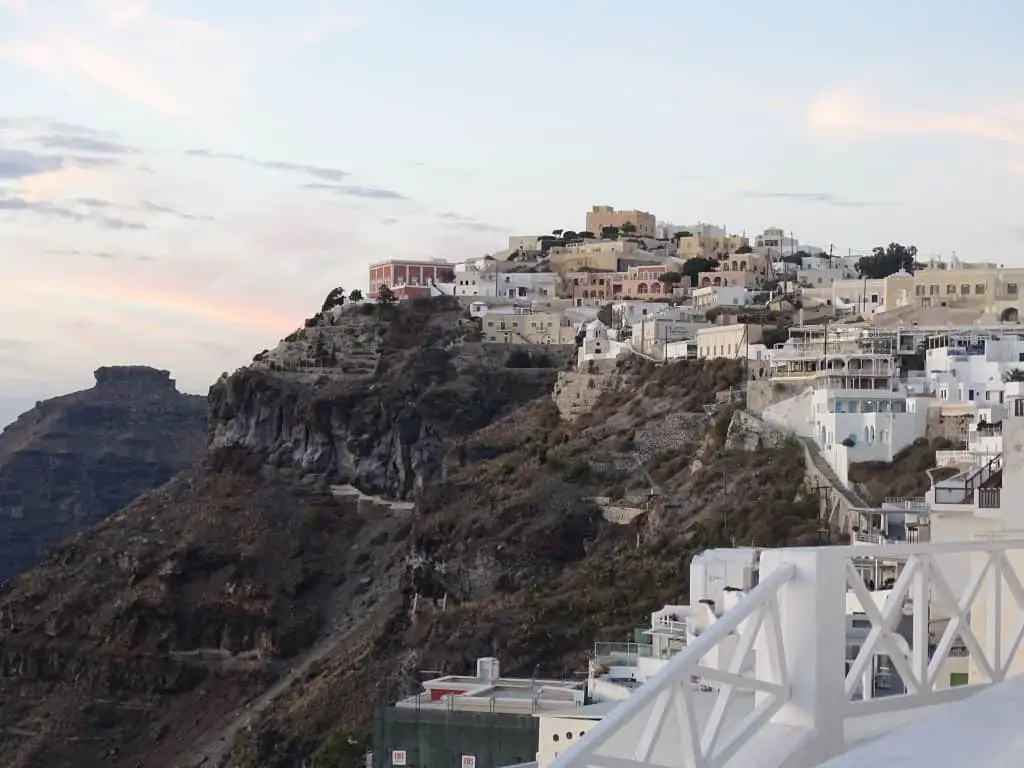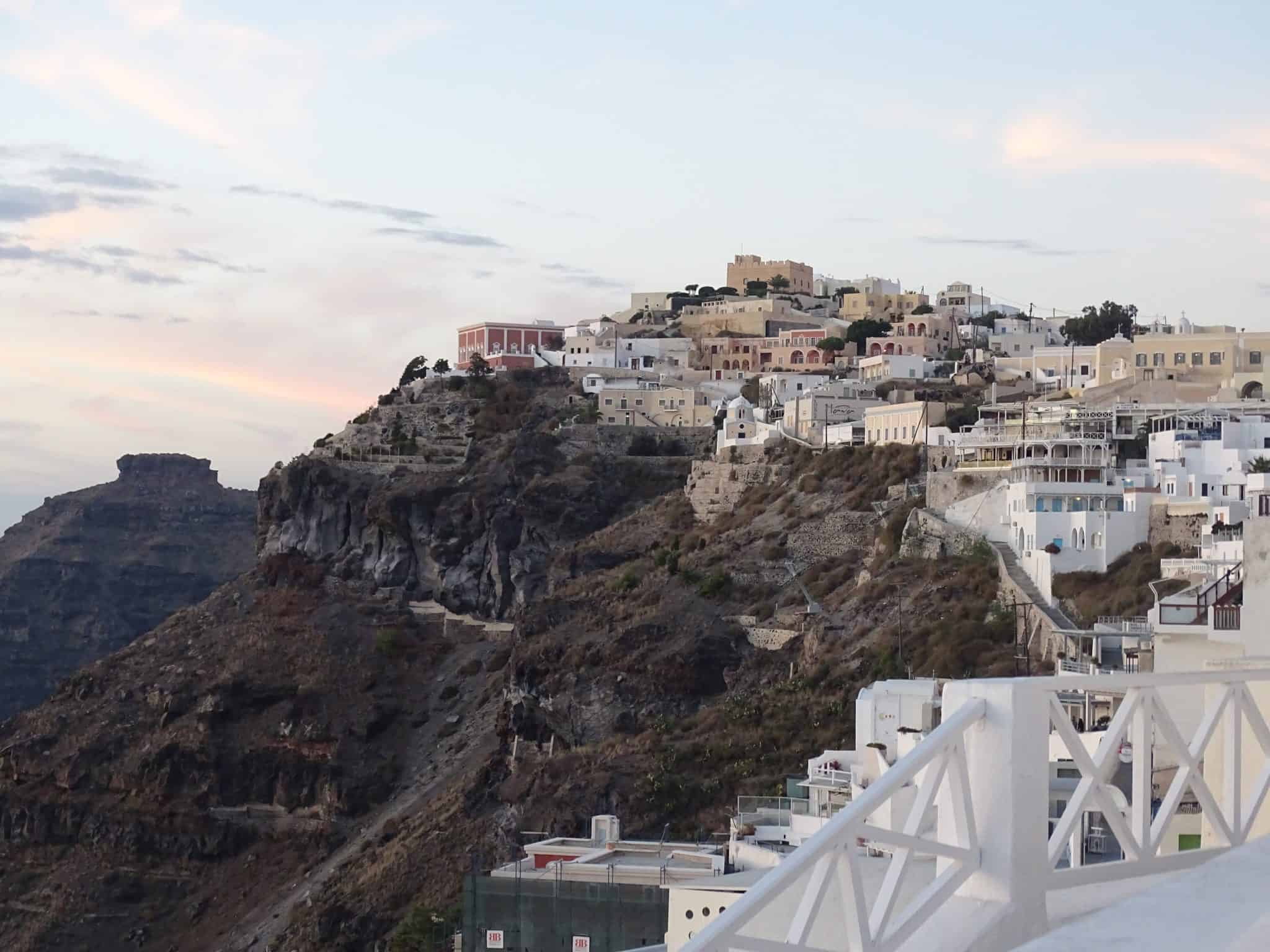 It's worth pointing out that there are around 600 steps between the dock and Fira, so you might want to choose this option on the way back down! From Oia, Fira is a 20-minute bus ride, or a 10-minute taxi ride away.
The main thing to do in Fira is to admire the view, walking around the village backstreets, discovering pristine chapels, elaborate floral terraces, myriad cats lounging in the sun and some gorgeous archways that frame the landscape perfectly! 
Similarly to Oia, Fira has a whole host of shops, bars, restaurants and cafés but it also features a couple of small museums too if you want to learn more about Santorini's history.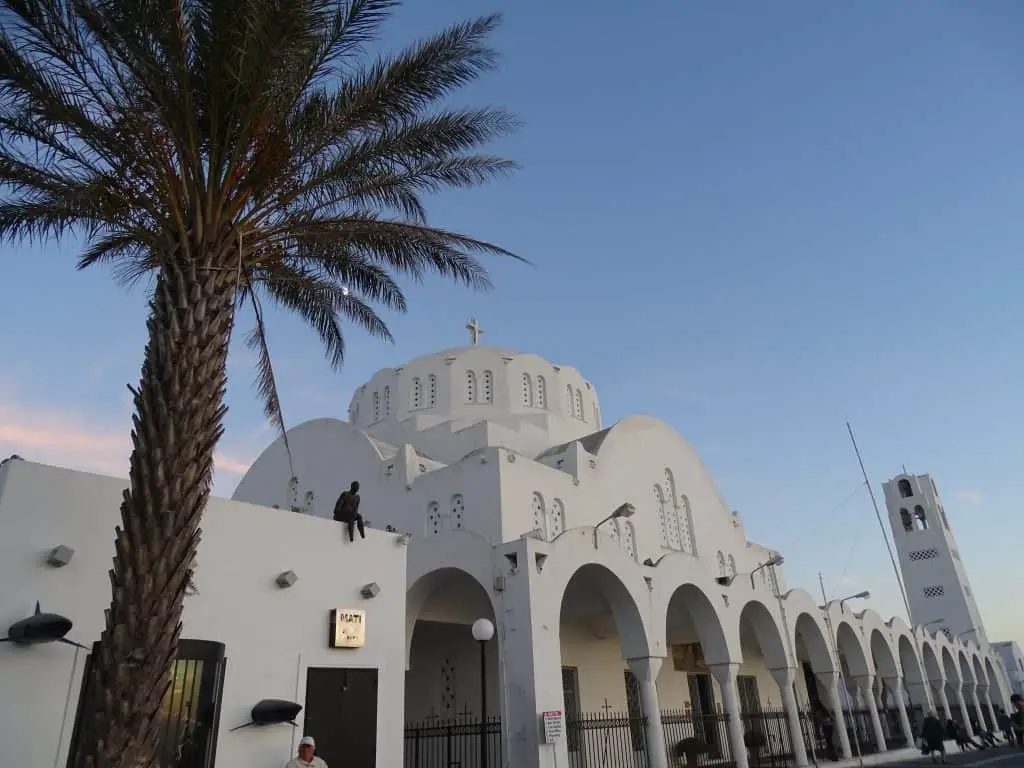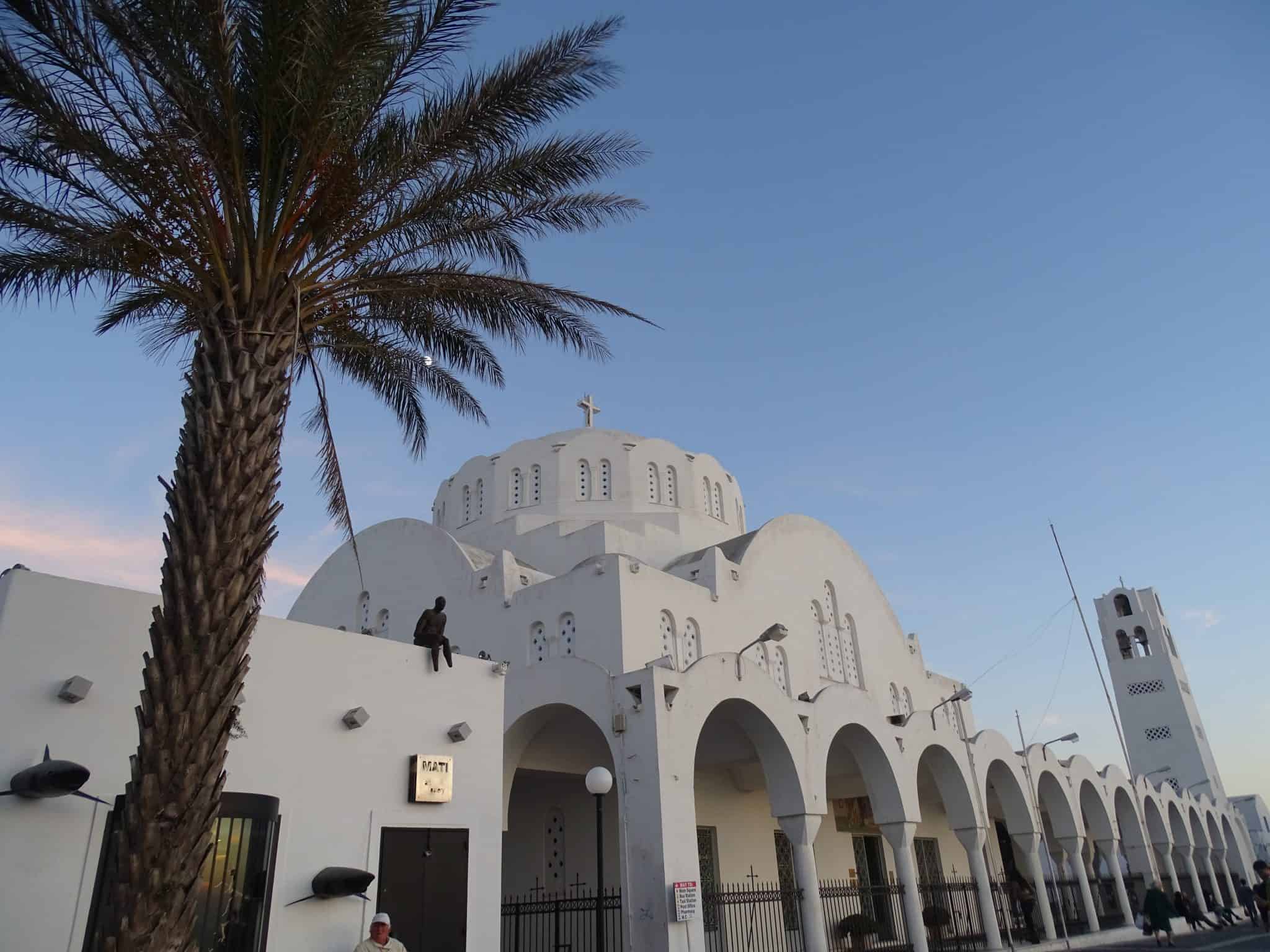 Santorini's Beaches
Unless you particularly want to see volcanic, black sand, then Santorini's beaches aren't really recommended as one of the island's highlights. As the island's towns are located on the cliffside, the beaches take some effort to get to, and aren't necessarily as nice as many of Greece's other beaches. 
If you're travelling Greece on a cruise, the chances are you'll have some much better beach destinations on your agenda, so it's worth making the most of your time in Santorini to visit the island's towns and attractions. 
How To Get Around Santorini
Getting between the towns, sites and vineyards on Santorini is fairly easy as most of the island is connected by public bus. Most journeys take between 10-40 minutes on the bus, depending on the distance you're travelling, and cost between €1-5. 
Alternatively, you can easily hop in a taxi around Santorini if you want a quicker, more direct journey. A taxi from Oia to Fira, for example, costs around €20, which is still pretty cost-effective if you're travelling as a group or family of four. 
If you want to take all of the organisation out of your trip entirely, then you could opt to take a Santorini tour which will allow you to visit all of the island's highlights with a tour guide in air-conditioned transport. This is perfect if you know you have a set time limit in Santorini but still want to make the most of your trip.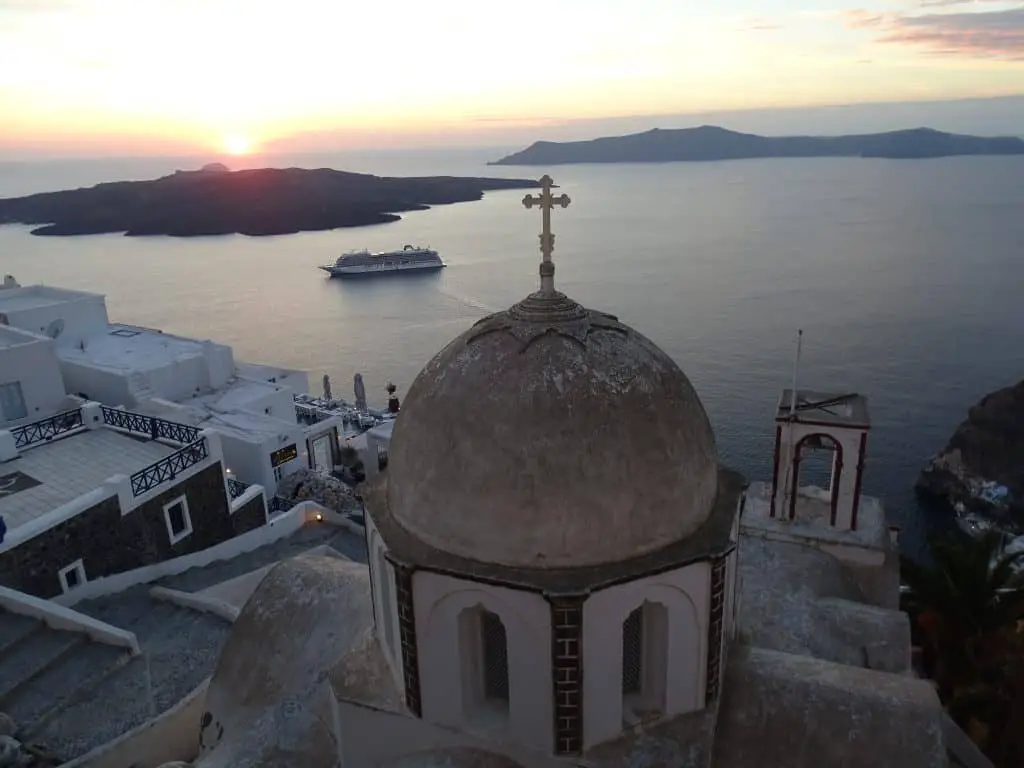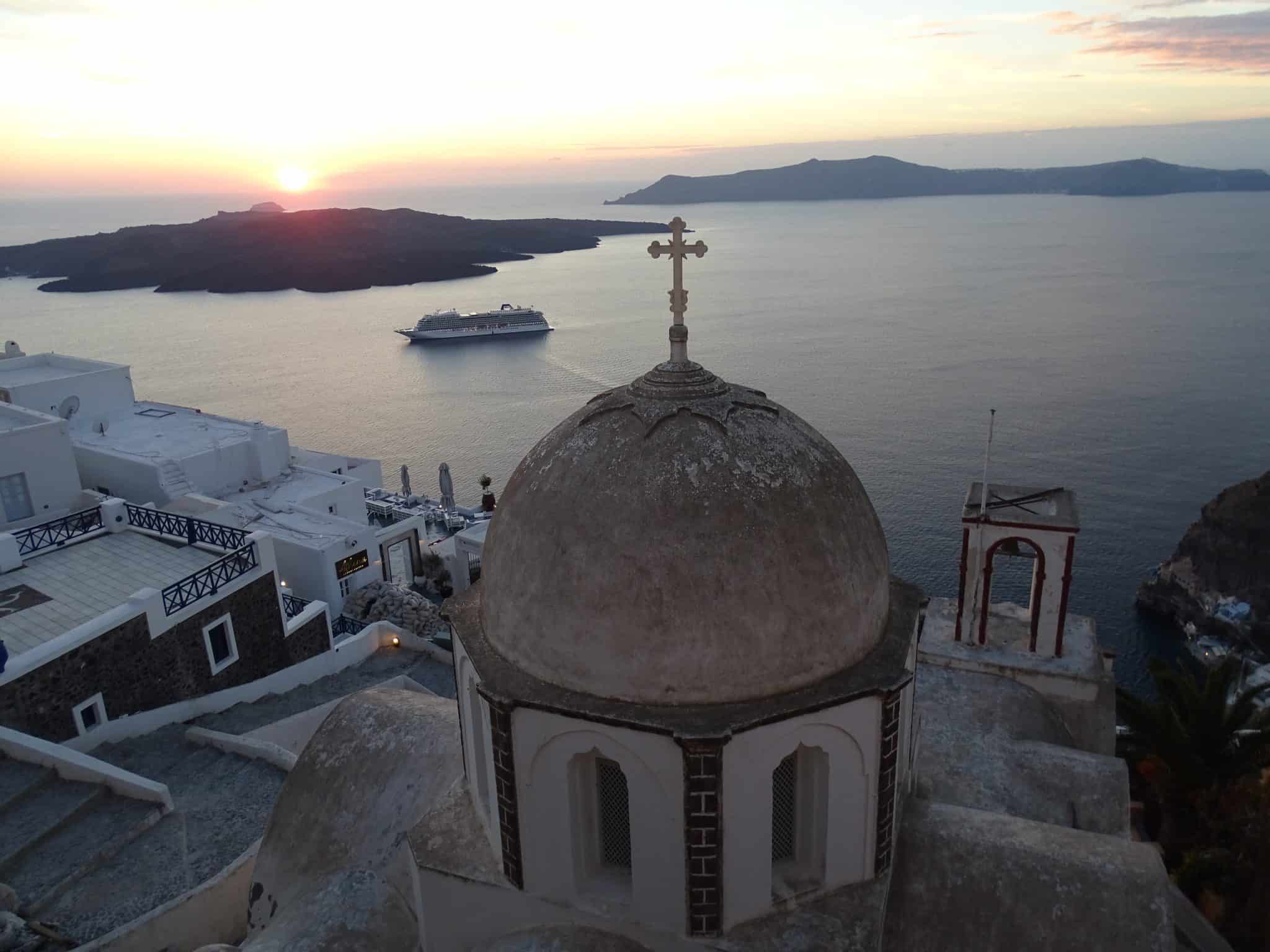 While it doesn't seem like there is that much to see and do in Santorini, be assured that it is the views that make Santorini worth a visit. You'll be amazed at how the hours simply slip away while you're appreciating and photographing the landscapes and kicking back with a coffee just taking it all in! 
A trip to Santorini is all about soaking up the atmosphere, enjoying traditional Greek hospitality and taking hundreds of Instagram-worthy photos that will make your friends and family jealous. 
Most people end up falling in love with the island of Santorini instantly and wish they had longer to spend admiring its beauty! 
Guest author: Chrysoula is a travel blogger with a professional background in Tourism and Marketing. Her blog Travel Passionate is in English and French and is focused on luxury travel, cultural and culinary experiences around the world. She enjoys exploring off-the-beaten-path destinations and she is interested in presenting the best locations, attractions and accommodation in each area she visits. Travelpassionate is a trusted resource for travel tips and destination guides that aims to inspire others to travel and experience different cultures.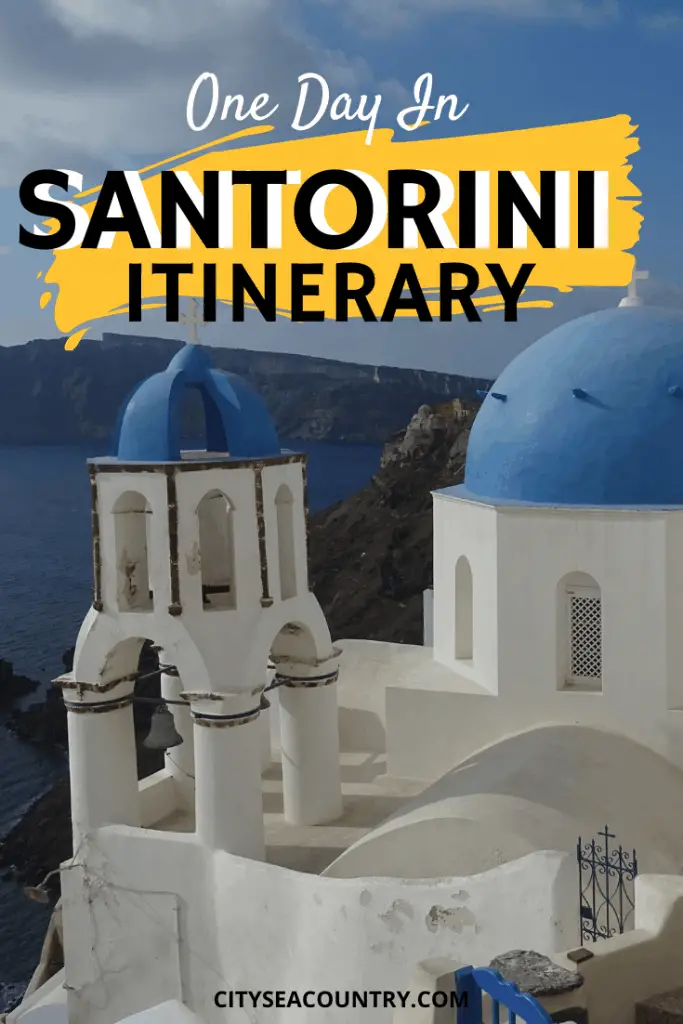 zuletzt aktualisiert am February 23, 2023