If you ever visit(ed) Austria you know how important food is for us Austrians. If not, then it´s time to visit the country in the Alps ASAP.
We spent a weekend in the region Tyrol West to show you our favorite local specialties. You really should taste them when you visit this area of Austria. Why? Because you can only try and buy them in this area. Nowhere else.
1. Tiroggl – a special bread from a special area
The Tiroggl bread is special because it is made from local grain. This is special because if you´ve been to Tyrol before you know that there is hardly any area where grain can grow (especially not with altitudes from 700 to 1000 m).
Alfons Wachter from the bakery in Zams told us a lot about the bread he created together with other local bakers. And as you can tell he is damn proud of it. It tastes great even though they don´t use spices for it. Only flour, mountain water, sour dough and salt water.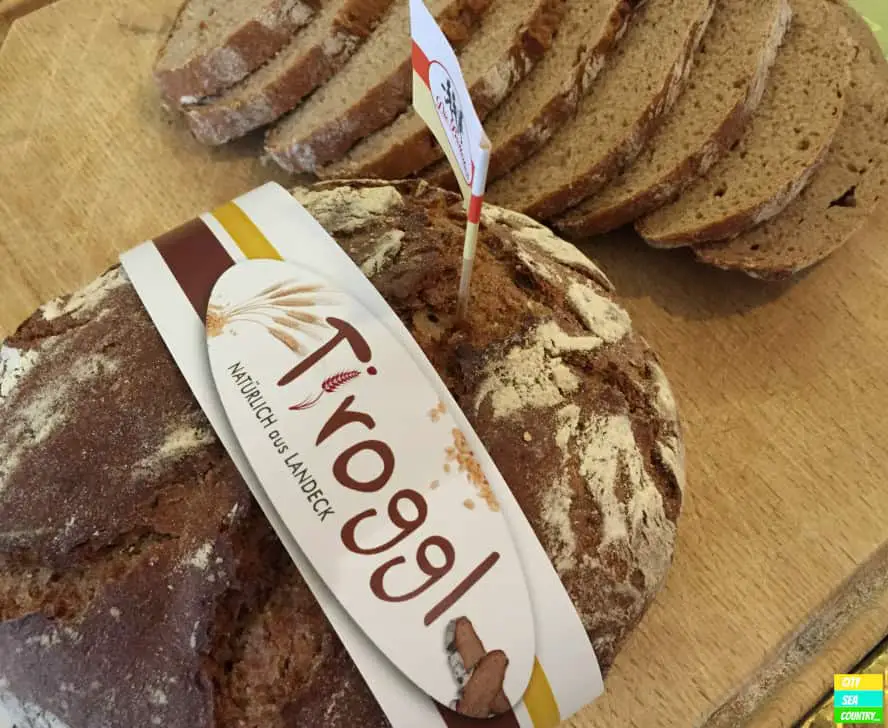 2. Tiroler Edle – Chocolate – do I have to say more?
The Tiroler Edle is made from milk from Tyrolean cows. This breed is called Tiroler Grauvieh. In the little chocolate shop in Landeck Hansjörg Haag showed us and gave us different flavors to try. And they were all YUMMI!
What an interesting idea. Chocolate combined with gentian schnapps. How unusual.
My favorite flavor is the Tiroler Edle with walnuts. I was even able to spot the walnut tree where he made the walnut chocolate from.
But the most sold chocolate is the Tiroler Edle with cranberries from Tyrol.
3. Local specialties
If you like to have a great dinner with local specialties you should book a table at the Hotel Schrofenstein**** in the heart of the town Landeck. We enjoyed a soup with wild herbs and onion sprouts and homemade noodles with chanterelles, zucchini, tomatos and fresh herbs and salad. Too bad we were too full to try the vegan chocolate cake.
The menu also offered some dishes with the famous plum called Stanzer Zwetschke. The main reason we traveled to the region Tyrol West. But we wanted to taste the plum right from where it comes. From the little village Stanz.
4. Stanz brennt – A festival about the Stanzer Zwetschke (plum)
At the foot of the Lechtaler Alps at 1000m altitude the village Stanz is located. With only 600 inhabitants they have more than 50 distilleries. 
The view from Stanz alone is incredible enough to spend some time there but we wanted more. We wanted to mingle with the locals and visitors enjoying the festival Stanz brennt. Walking along hundreds of plum trees we arrived at the festival and were invited to try a schnapps.
As it was too early in the morning we walked around, listening to some folks music and stopped for lunch. Sweet plum dumplings. How I love them!
Jam, marmelade, vinegar. All made from the Stanzer plum. But we also tasted and bought some salt with local herbs and finally walked to the first distillery.
The distillery Feindestillerie Christoph Kössler offers lots of different schnapps flavors. I tried a plum schnapps at the award winning distillery while others enjoyed a raspberry or juniper schnapps.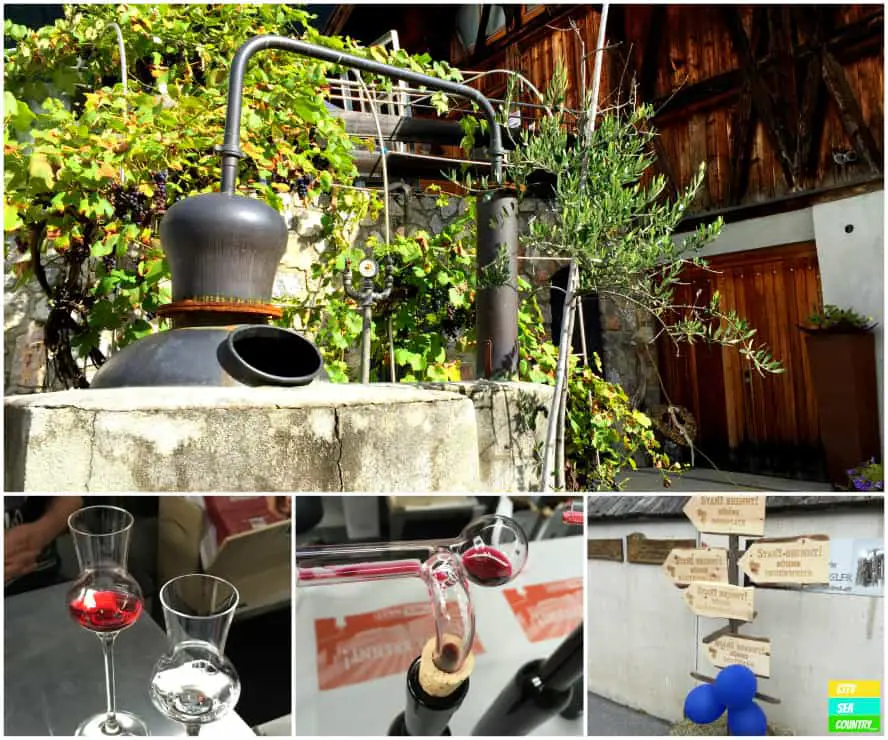 I liked the look of the distillery Brennerei Giggus.
Gladly we didn´t have time to visit the remaining 48+ distilleries. 😉
So, if you come to Tyrol West you should definitely taste these specialties:
Tiroggl – bread from the region Landeck/Tyrol West
Tiroler Edle – chocolate from the chocolatier Haag in Landeck
local specialties from the Hotel Schrofenstein in Landeck
plum in all of its forms, especially plum dumplings and plum schnapps
WHAT WOULD BE YOUR FAVORITE PRODUCT? Let us know in the comments.
You might also enjoy:
GOURMET TRAVEL TIPS FROM THE WALDVIERTEL
GOURMET DAYS AT THE KLEINWALSERTAL, AUSTRIA
Thanks to Tirol West and the Hotel Schrofenstein for the invitation. All opinions are ours.
zuletzt aktualisiert am December 21, 2022