You cannot stay at Neuschwanstein Castle, but there is a hotel very close by. It offers views of the Neuschwanstein Castle, the Castle Hohenschwangau, the Alpsee Lake, and the Alps.
Neuschwanstein Castle is nestled on top of a hill overlooking the Alps, the gorgeous Alpsee lake, and the yellow Hohenschwanstein Castle.
While it would be amazing to sleep in King Ludwig II's fairytale-like castle, it is only open for visitors.
But the good news is there is a hotel very close by, which I would call the Neuschwanstein Castle Hotel. 
That's not the actual name, but it's the one closest to the Neuschwanstein Castle. It is also way more comfortable than the cold Neuschwanstein Castle. (I was freezing during my two visits even with winter clothes on.)
* contains affiliate links
Where To Stay Near Neuschwanstein Castle
If you want to stay at a hotel with all the comfort and the best views of Castle Neuschwanstein you should book a hotel room at the AMERON Neuschwanstein Alpsee Resort & Spa.
The AMERON Neuschwanstein Hotel has a fitness center, sauna, and spa center. The hotel has its own private parking spots, a terrace, a bar, and a restaurant. Some of the comfortable rooms offer views of the Neuschwanstein Castle, Hohenschwangau Castle, or the Alpsee Lake and the Alps.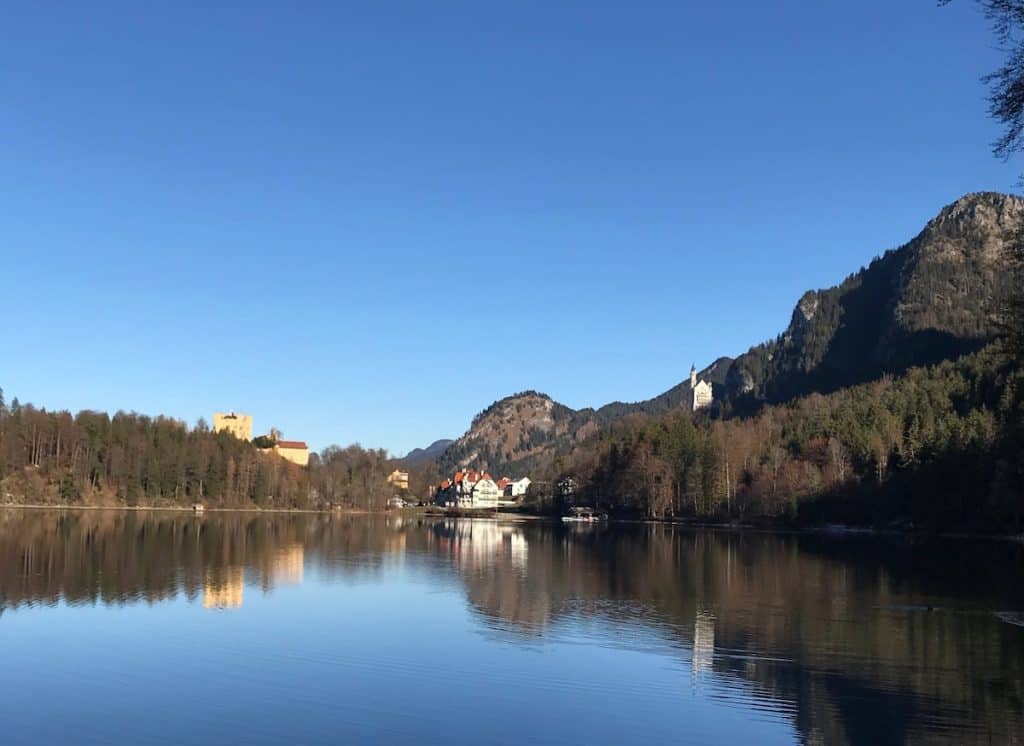 The hotel has a superb rating of 9.0 out of 10 stars (1,500+ reviews) on Booking; The location is rated at 9.8.
What guests are saying
"The views and facilities are exceptional…In particular, the staff was absolutely fantastic."
"…comfortable rooms, great views, parking, good restaurant."
→ check out availability and current prices
Not what you're looking for? Here are more
Hotels Near Neuschwanstein Castle
The next best options for staying as close as possible to Neuschwanstein Castle are the following hotels:
Hotel Das Rübezahl: While it is not as close as the AMERON hotel, the Hotel Das Rübezahl is popular for its view of Castle Neuschwanstein from afar. It is located in Schwangau, 1.7 miles away (2.7 kilometers) from the Castle.
→ check availability and current prices
Das König Ludwig Inspiration Spa: This hotel is located 3 kilometers away from the Castle Neuschwanstein and is known for its comfortable rooms and the large spa and pool area. The hotel is within walking distance of Lake Forggensee, a popular place for biking, walking, and swimming.
→ check availability and current prices
Conclusion:
While you cannot stay in the Neuschwanstein Castle or the Hohenschwangau Castle you can at least stay there close by and have all the comfort and luxury King Ludwig II could only dream of.
Want to make the most out of your visit to Castle Neuschwanstein?
Read more about it here:
Tips for Visiting Neuschwanstein Castle (Local's Guide)
zuletzt aktualisiert am September 13, 2023