Vientiane, die Hauptstadt von Laos ist reich an Kultur und Architektur. Die laotische Stadt ist französisch als auch buddhistisch geprägt und bietet somit eine exotische Mischung.
Was es alles in Vientiane zu sehen gibt und eine Übersicht über die schönsten Vientiane Sehenswürdigkeiten und Tipps für eine Reise in die laotische Hauptstadt findest du hier:
Die schönsten Vientiane Sehenswürdigkeiten
1. Pha That Luang – das Wahrzeichen und Heiligtum von Laos 
Der Pha That Luang wurde im 16. Jahrhundert erbaut und ist aufgrund seiner strahlenden, goldenen Farbe nicht zu übersehen. Frauen sind angehalten lange Röcke zu tragen (auch bei Tragen von langen Hosen sind sie ein Muss) beim Besuch des Pha That Luang. Vor den Toren des Pha That Luang gibt es Zelte in denen die farbenprächtigen Röcke ausgeliehen werden können.

Nicht vergessen: Die Schultern bedecken!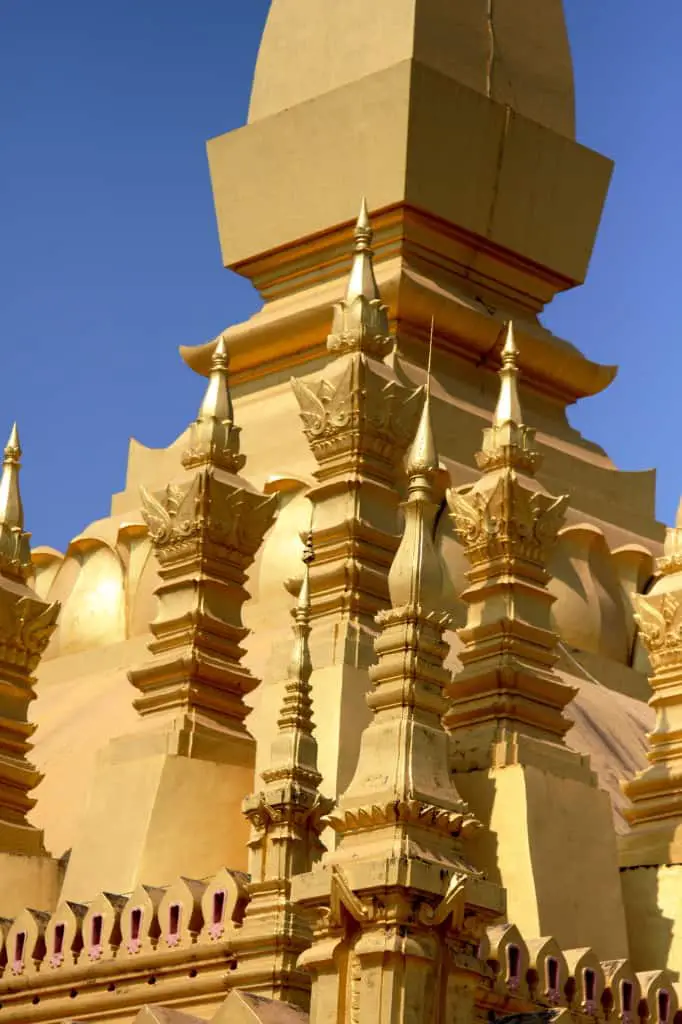 Er ist umgeben von einer Mauer in der diverse Buddhastatuen ausgestellt sind.
Außerhalb des Tempels beobachtete ich Menschen, die Holzkäfige kauften. In den Käfigen sitzen kleine Vögelchen. Einen dieser Vögel zu kaufen, um sie anschließend frei zu lassen, solle einem Glück bescheren.
2. Wat Sisaket
Der Wat Sisaket ist der älteste Tempel der Stadt und mit seinen tausenden von Buddhastatuen ein Paradies für Fotografen.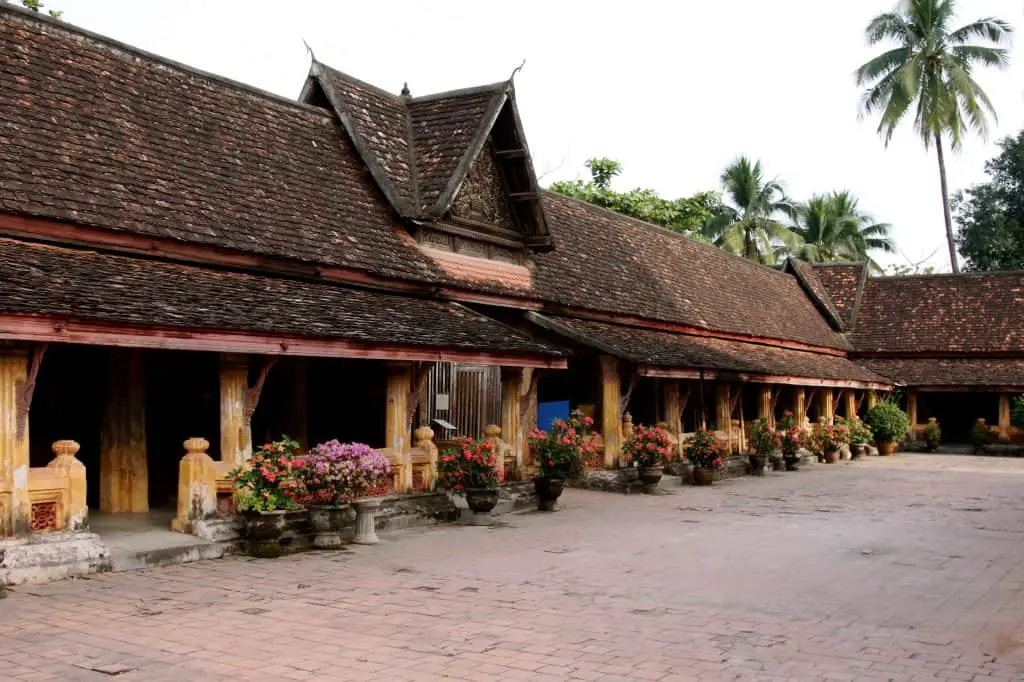 3. Patou Xai – der Arc de Triomphe (Triumpfbogen) von Vientiane
Patou Xai wurde in den 60er Jahren im Gedenken an die gefallenen Helden der laotischen Armee gebaut. Mit seinen 49 Metern Höhe bildet er einen großartigen Ausblick über Vientiane. In den verschiedenen Stockwerken, die per Stiegen erreichbar sind reihen sich Verkaufsstände aneinander, welche allerhand Mitbringsel anbieten.
4. Wat Si Muang
ist der meist besuchte Tempel in Vientiane.  Vielleicht weil es Glück bringen soll, wenn man den Tempel besucht (besonders bei Kinderwunsch). Im Tempel selber befindet sich eine goldene Statue, die einen Geist beherbergt der die Stadt Vientiane beschützt.
5. Wat Phra Keo (Haw Pha Kaew)
befindet sich in der Nähe des Wat Si Saket und ist heute ein Museum mit wunderschönen buddhistischen Skulpturen.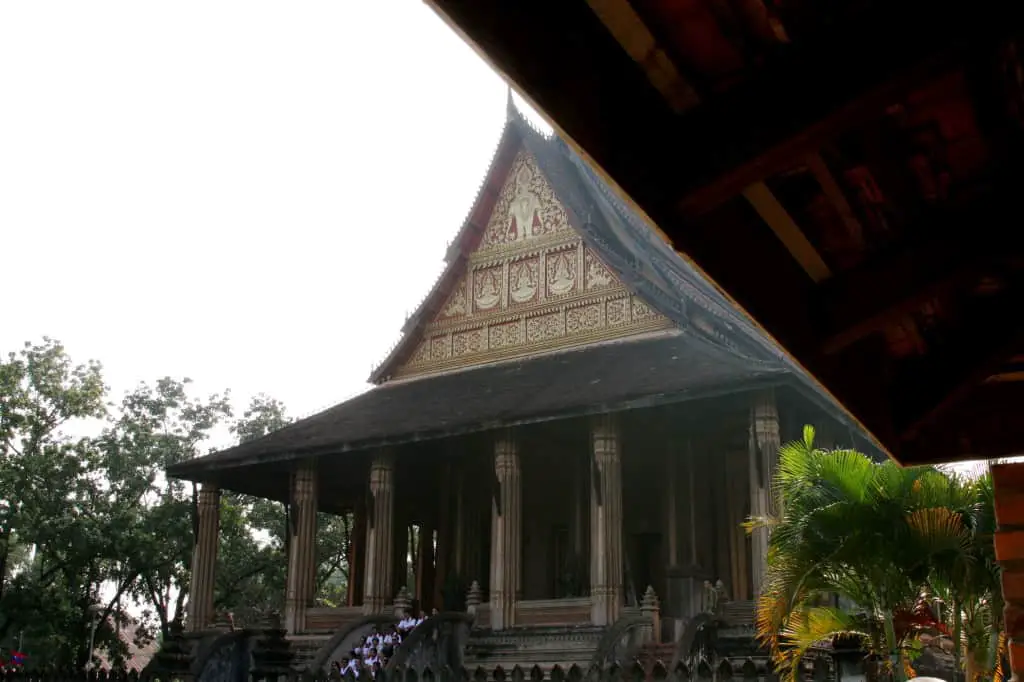 6. Buddha Park Xieng Khuan (Stadt der Geister)
Obwohl der Buddha Park ungefähr 23 Kilometer entfernt von Vientiane liegt habe ich ihn dennoch in meine Liste der Sehenswürdigkeiten aufgenommen. Ich hoffe es wird mir verziehen. 😉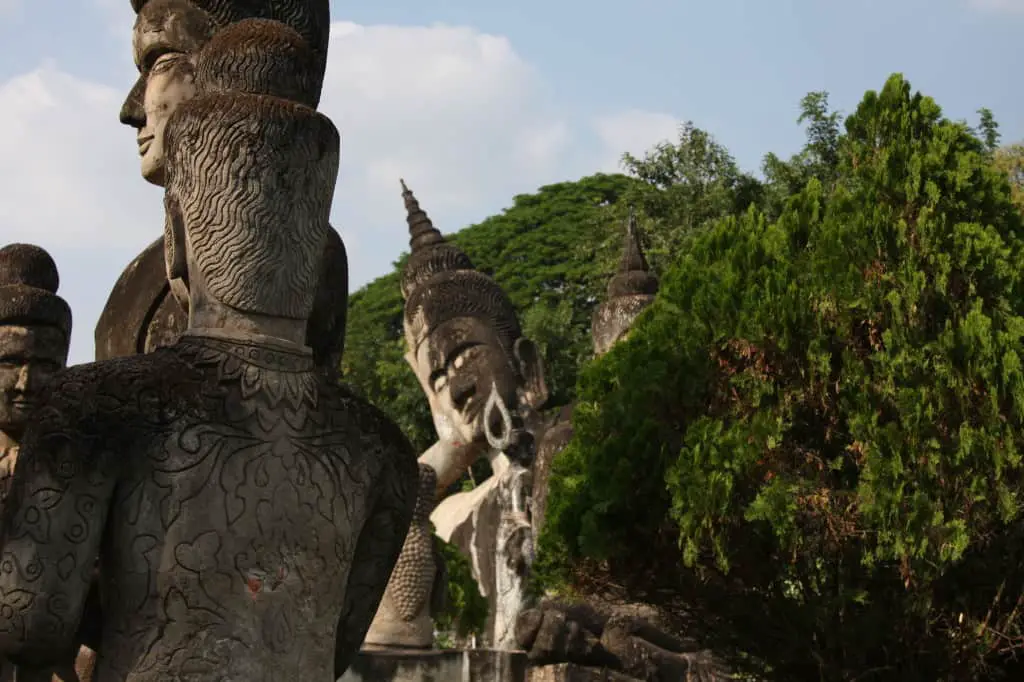 Im Buddha Park, auch bekannt als Xieng Khuan (Stadt der Geister) sind mehr als 200 hinduistische und buddhistische Statuen aus Beton ausgestellt.
Durch den Mund eines Dämons geht es ins Innere eines kürbisförmigen Gebäudes. Teils sehr enge und steile Stiegen führen bis zur Öffnung im oberen Bereich.
Dabei geht es durch die Hölle, die Erde bis hinauf zum Himmel. Oben angekommen eröffnet sich einem eine herrliche Aussicht über den gesamten Buddha Park.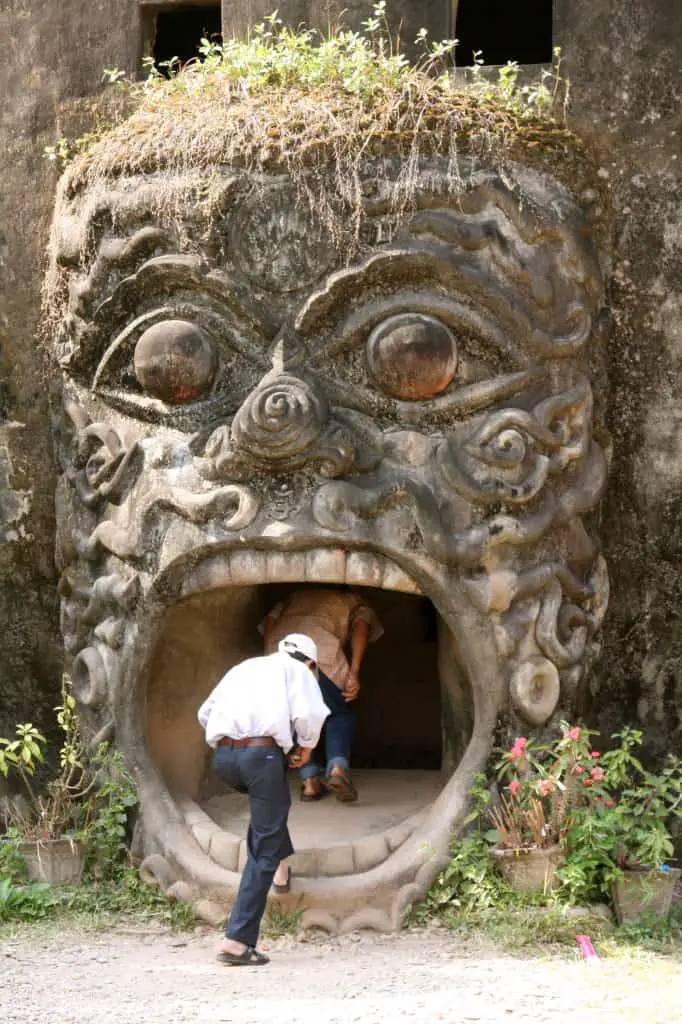 Hinein in den Schlund des Dämons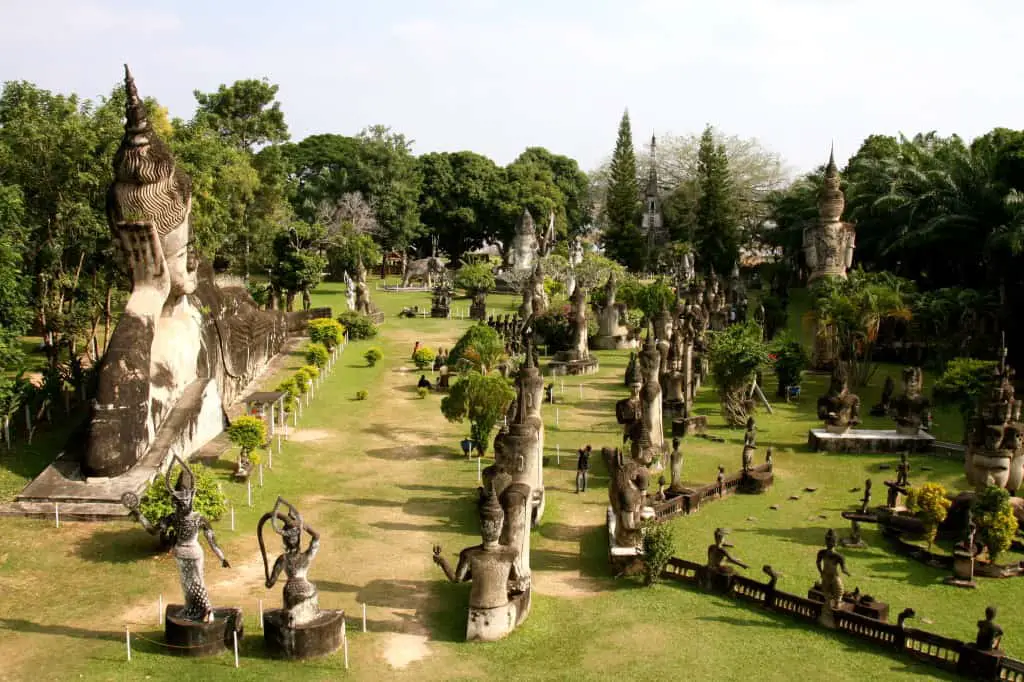 Das könnte dir auch gefallen:
LAOS SEHENSWÜRDIGKEITEN: DIESE 11 HIGHLIGHTS SOLLTEST DU NICHT VERPASSEN
LUANG PRABANG SEHENSWÜRDIGKEITEN – FASZINIERENDE STADT AM UFER DES MEKONG
ENTLANG DES MEKONG – VON HOUEI SAY NACH LUANG PRABANG
Warst du schon in Laos oder möchtest du hin? Erzähl mir von deinen Erfahrungen im Kommentarbereich.
zuletzt aktualisiert am Juni 6, 2022