Being one day in a beautiful city like Bruges in Belgium is not enough but better one day than no day. 😉
Is Bruges worth a day trip and can you experience enough in one day? Yes and yes.
We show you our favorite places to see, a great place to stay and to eat.
We arrived from Ghent (you should definitely check this hidden gem out) in the late afternoon and stayed one day in Bruges.
Good night and good morning
We stayed at the Hotel Marcel in the center of Bruges in short walking distance to the main square and the famous Belfort.
A public parking place is in walking distance which is surprisingly cheap for a city (€ 8,40 for 24 hours).
 The Bruges City Card
If you´d like to see the Picasso exhibition, see Bruges from above from the Belfort, take a boat tour along the medieval part of Bruges and lots more, the Bruges City Card is perfect. Many entries are for free and we got a whole travel guide about Bruges with the City Card (different languages are available).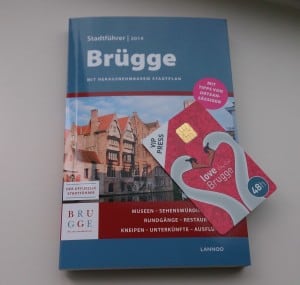 Dinner at the Kok au Vin
We had a four course dinner with wine in the Ezelstraat at the Kok au Vin. It´s a small restaurant with delicious food. We would definitely have dinner there again. They even prepared a vegetarian three course menu for us (even if it´s not listed on the menu).
Cockaigne for Beer and Chocolate Lovers
Bruges is THE city when it comes to chocolate and beer. We walked to the brewery De Halve Maan where we enjoyed the view from the rooftop (highly recommended), learned about beer brewing and tried a strong beer while sitting in old leather chairs.
Another fun thing to do while staying one day in Bruges is enjoying a chocolate tour (Belgian chocolate included). During this tour you can also see and enjoy the old town of Bruges. Great if you like chocolate and want to see a good part of Bruges.
If you are more into french fries (in this case Belgium fries) 🙂 , it´s a good idea to look for them at the main square. You can enjoy them while sitting inside or on a warm day while sitting and enjoying the view below:
Tip: If you´d like to take a boat trip in Bruges (which we highly recommend) try to be there early in the morning. You´ll have a chance to avoid the queues (especially during the high season).
There are many other places to see and things to do in Bruges but if you have only a short amount of time these are our favorites. Just walk around the old city center and you won't miss any of the important sights.
To see the best of Bruges you can check out this tour*.
If you have more time traveling around Belgium you should visit Ghent. It is about 1 hour away from Bruges and as beautiful (and less crowded) as Bruges. You can read more about it by clicking on the link below.
I personally preferred Ghent over Bruges.
You might also like:
BELGIAN BEER AND CHOCOLATE TOURS
A DAY IN GHENT – WORLD CLASS CULTURE AND CUISINE
Thanks to City Bruges for the invitation. The opinions are ours.