Sara Brenes, Florida, is a 17 year young, lovely woman, passionate about educating as many people as possible about the truth about sharks.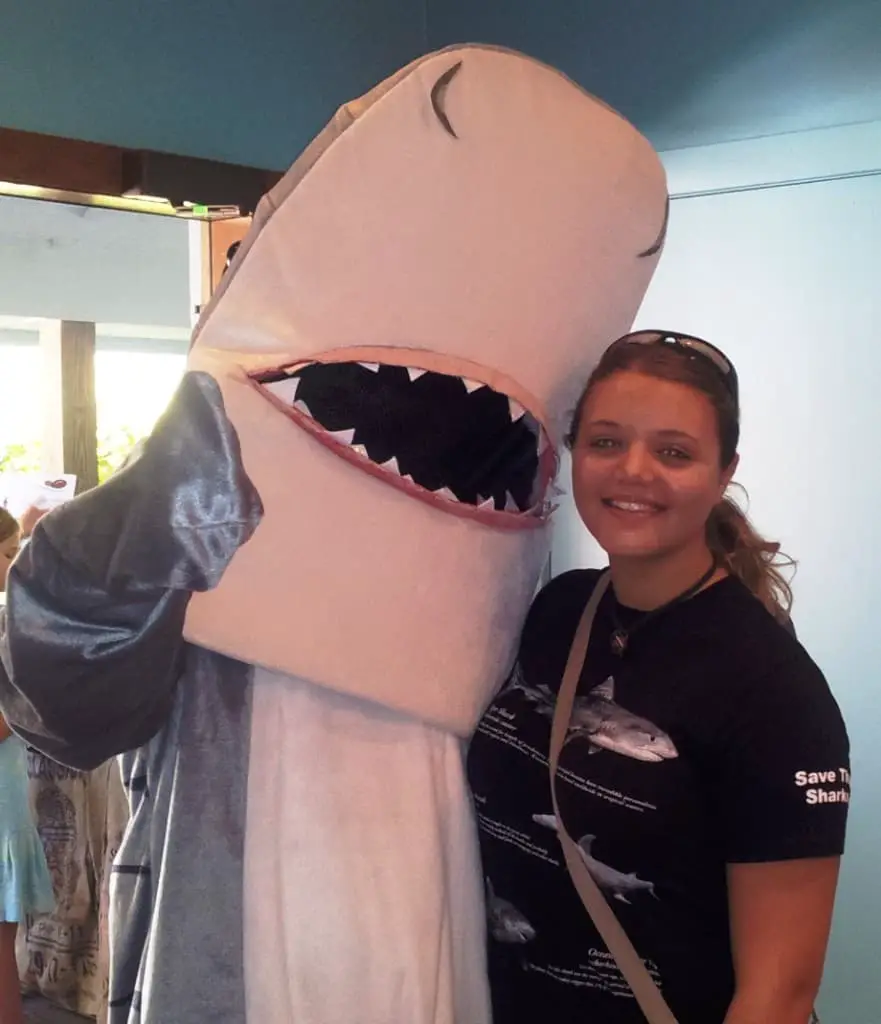 Sharks are so important to the oceans because they play a big role in keeping the oceans ecosystem balanced.
Sara Brenes is the founder of the Shark Whisperer Organization at www.SharkWhisperer.org and was awarded inter alia the Medal of Ambassador of the Planet by the Wyland Foundation and joins now the company of the Dalai Lama, Sir Richard Bronson the former Vice-President Al Gore and others.
Sara was so kind to answer my questions about her experiences with sharks.

Sara holding down a shark for tagging research
When was the first time you swam with a shark and how did you feel right before this experience?
The first shark dive I did was at Captain Slates in Key Largo Florida. I was so excited! I have loved sharks all my life, I don´t know why, but I have just always been fascinated by them. It was with Nurse Sharks. Captain Slate has been feeding them two times a week for over 20 years. I was 14 at the time. I was mesmerized, I felt like they were my babies, like puppies almost, I was not scared at all. I was very calm. I did not want to get out of the water. Actually, the Captain moved on all the other guests to feed the moray eels and the groupers and to see the reefs and the shipwreck and I just stayed with the sharks. When I got back on board, one of the divers came over to me and told me she had been diving all over the world, she was from California, and she had never seen anyone like I was with the sharks. She said she felt that the sharks knew that I loved them and then she said that I was like a "Shark Whisperer". At that time, my mom and I had been trying to figure out a name for my charity for a while, so when she said that I looked over at my mom and said with a big smile on my face – "That´s it!"

whispering to a shark
What did your family think about it when you started swimming with sharks?
My Mom has been very supportive of what I do, even going shark diving with me, she is a diver too. For my sweet 16 I wanted a shark dive instead of a party so we did the Unexso dive in the Bahamas with over fifty Caribbean Reef sharks and I know she was nervous looking over the boat and seeing them all, but she did it, I know she is nervous about it sometimes, but she really supports my passion. My grandparents and other family members are nervous about it too, but they are still very much support what I do and are proud of how hard I work.
Is your heart still pounding heavily when you go into the water or are you comfortable?
My heart has never really pounded heavily doing shark diving. I have always been very calm. Not even seeing the Great Whites in Guadalupe, I was just totally excited! I think I get more nervous when there is a heavy or rough current or I cannot see anything, but not for fear of sharks.
Which one is your favorite shark and why?
Tiger sharks for me are my favorite. I have seen one up close and personal, a 9-foot baby, when I was doing tagging research, but it was not while diving. But I watched this movie called "This is your Ocean, Sharks" and it has this 15-foot tiger shark named Emma and she has so much personality that it has made me fall in love with Tiger sharks. She mostly lives in Tiger Beach in the Bahamas so I really want to go there.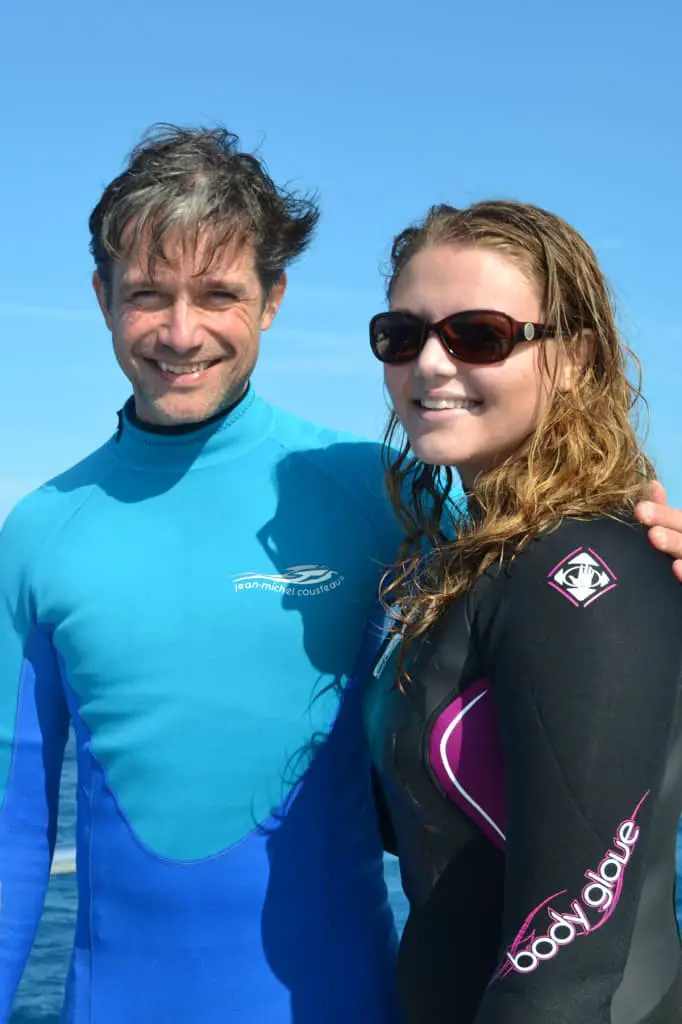 Sara and Fabien Cousteau
Thanks, Sara. If you want to learn more about her Organization or want to Donate you can visit Sara at: SharkWhisperer.org
You might also like:
CAGE DIVING WITH WHITE SHARKS IN AUSTRALIA
zuletzt aktualisiert am Februar 6, 2023