I have this weird obsession about sharks. Thanks I am not the only one.
(Read more about the Shark Whisperer Sara Brenes I interviewed recently).
I am so fascinated by these creatures and the same time intimidated.
Being in London twize so far I HAD TO go to the London Sea Life Aquarium. There was no way for me to stay away. I sat there at least half an hour in front of the shark tank.
The same in Atlanta, visiting the Georgia Aquarium.
I love seeing them passing by and looking them right in the eye knowing they can´t harm me.
Being at the Bahamas having a great day with the Powerboat Adventure Tour (I highly recommend it) I was facing both my fear and curiosity.
We were able to snorkel with sharks. There was this huge lemon shark and a couple of smaller, still large reef sharks. After they were fed we could go into the water. My heart was racing while I was thinking about getting into the water or staying at the beach.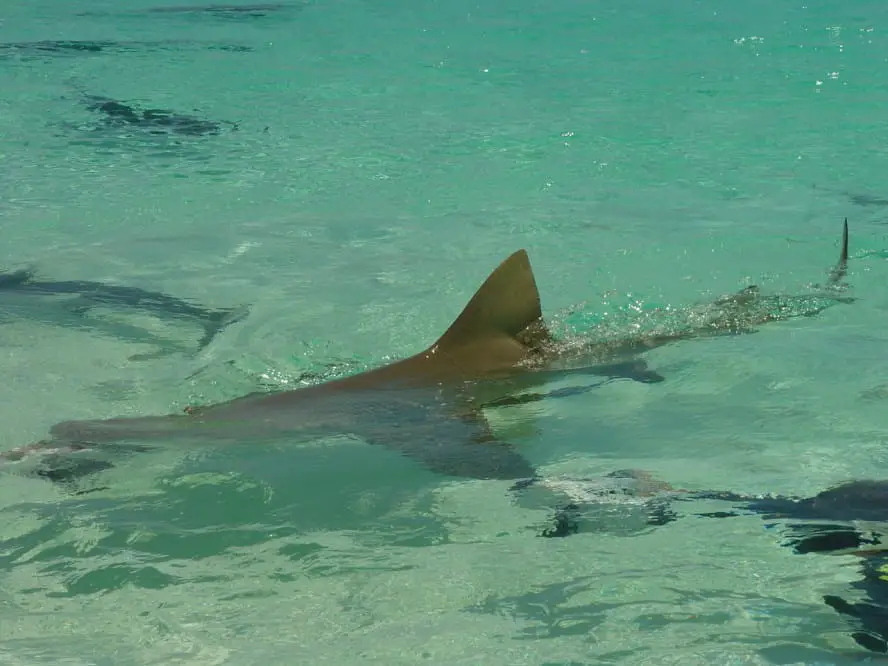 I was ready to face my fear cause I was thinking if I wouldn´t do it I would regret it for the rest of my life.
It´s hard to describe how it felt like. I couldn´t believe I would be so calm. My heart wasn´t racing and my breathing felt normal – I felt calm, relaxed and happy. It was great. The sharks swam by close and it was awesome being in their presence.
When finally a reef shark came really close and looked me right in the eye I wasn´t that brave anymore. I knew there was no glass between us and decided to leave slowly its terrain.
Staying at the Maldives for 9 days I was able to meet those guys again. Not that I was looking especially for them. I saw a white tail shark and a black tail shark at our house reef. They were gone as fast as they showed up.
In the shallow water at the white, soft beach we met a baby shark. He was swimming close to our feet and we watched him a while  (we still have our 10 toes).
On my bucket list in the top range is seeing a white shark. Hopefully this will happen some time. Update 2016: I made my dream come true. I finally saw white sharks. You can read all about this experience here:
CAGE DIVING WITH GREAT WHITE SHARKS IN SOUTH AUSTRALIA
In my interview I talk with the "Shark Whisperer" Sara Brenes about her experiences with sharks.
You might also like: