Discovering something new, going on an adventure, visiting the origin country of my favourite hobby Korean Martial Arts. That was my motivation to travel to South Korea.
To set the plan into reality took some time but in the end I chose autumn because oft the beautiful and colourful "Indian summer" there and booked my flight. Alone. Why not? I was full of excitement and a little worried. Will I get lost? Will I come along even without knowing the language? What if I do something wrong that offends people there? In the end: no matter. Somehow I will survive. Seoul is modern and I´m old enough. With this thoughts and some new courage I had a great time in one of the most beautiful and exciting cities I had the pleasure to visit!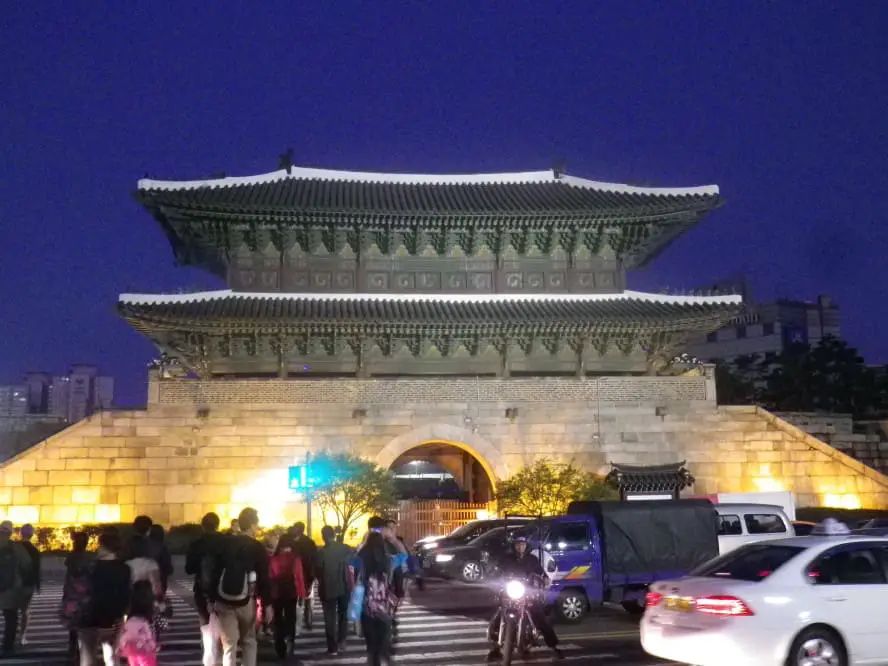 Dongdaemun  Photo by Lisi Ruetz
The city of Seoul is huge, crowded but – except traffic – organized and clean, but not overly acribic. So you really feel right and okay and don´t have the feeling of doing something wrong. There are a lot of possibilities of sightseeing: hop on-hop off-busses, the underground system that is easy to understand, different programs for tourists. Lost in translation? Might be, but not a huge problem in South Korea. The country understands English as a world language, so important signs and so on are written in at least two languages and writings. People try to communicate with everything they got and will help no matter if in Korean or English. They will find a way. Getting lost is hardly possible.
Palace Guard Photo by Lisi Ruetz
Seoul, the city that never sleeps.
So true! Many shops and restaurants stay open during the night. Shopping after midnight? No problem, for example in the shopping district of Myeongdong. It is so crowded there everyday like it is here on December 24th. I saw Koreans go shopping with suitcases. Carrying all the bags of such a shopping trip would be just too exhausting. Koreans don´t like T-Shirts. Unlike us they don´t like sun-tanned skin. So they wear long sleeves and don´t show too much skin at all. Even though that is not because it is morally wrong. Korean girls like to show legs, while they are quite closed up on the upper body.
Cheonggye River   Photo by Lisi Ruetz
So, going on huge shopping tours is no problem in Seoul. You can enjoy the pulse and flair of the city, walk around and inhale the culture and lifestyle. You can enjoy the different city districts with certain topics. Insadong is well-known for its handicraft and the artist shops. Hongdae (the area around Hongik-University) for youthful art, special theme cafés and colourful places and corners. Shopping districts like Myeongdong and Dongdaemun are famous for fashion or hidden treasures in small streets. But what else can you do in Seoul? Lots and lots of things!
Seoul – never sleeping city  Photo by Lisi Ruetz
Some of them I will show you in my next article – even if it is just a small part of what is Seoul all about!
You might also like:
Lisi Ruetz, Author of a German Fantasy book series "Der Schattenkristall" went on a solo trip to Seoul, South Korea this Fall and tells us about her experience in the never sleeping city.