The Travel Bug Infected Empress Elisabeth
Have you heard of Sisi before? In the German speaking area the Empress Elisabeth is famous mostly because of the "Sissi" films with actress Romy Schneider. Her life was shown as romantic but the reality seemed to be different.
"Freedom was my mother, Who, disguised as a cuckoo, Laid me in a stranger´s nest; That´s how this misfortune came to pass."   – Sisi, August 1887 in Kreuth
In Vienna, capital of Austria her presence is everywhere and it´s interesting to follow her footsteps cultural and culinary wise.

You can spend a whole day or more following and experiencing her life.   I am not a museum fan but the Sisi Museum at the Hofburg is definitely a place to go.
Her majestic dresses and her life in the Hofburg is shown.   Even if you are not interested in Sisi you will enjoy walking through the residence of many emperors and empresses of Vienna.
Sisi started her day at 5 o´clock in the morning. She worked out, took a bath afterwards and every three weeks she had her hip long hair washed. It took many hours because her hair was displayed on a washing line to dry in the cool rooms of the Hofburg.                                 No wonder Sisi´s bed was right in front of a fireplace.
During summer she stayed with her husband emperor Franz Joseph at Schloss Schönbrunn, a large castle with a huge garden area in the west of Vienna.
Nibbling like an Empress
Sisi was concerned a lot about her shape. She was 1,72 m tall (about 5,6 feet), her waistline was only (1,64 feet) and she had never more than 52 kg (114,6 pounds). Every day she stepped on the scale to check her weight. She liked eating but when her weight was going up a few gram she put herself on a strict diet.   Her favorite food was sorbet with crystallized violets. The K&K Zuckerbäcker Demel close to the Hofburg supplied her with her favorites.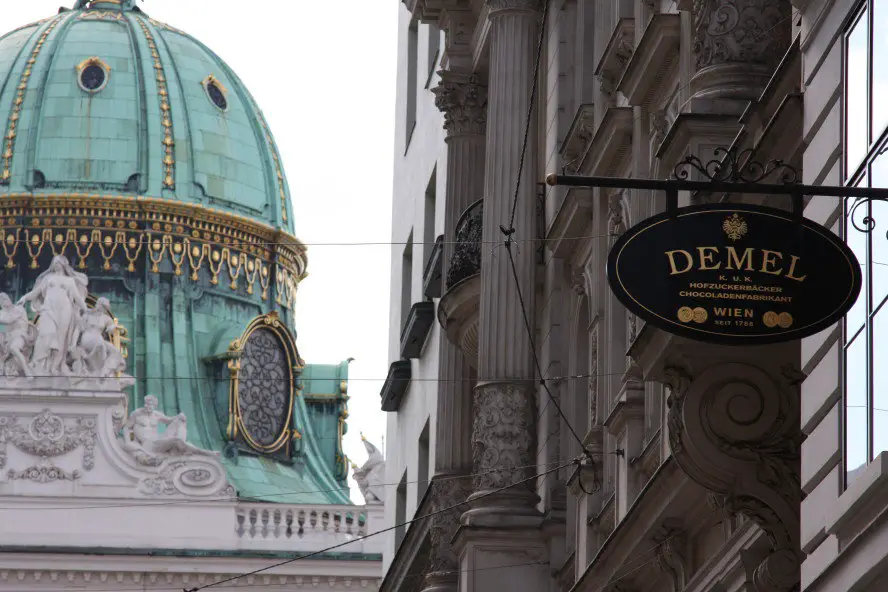 The Demel is still a famous place to go today. It´s in the Kohlmarkt in walking distance to the Hofburg. In the old cellar of the Demel you can see the antique trays where the ice was being held for Sisi.
If you are at the Demel you should take your time for having a coffee and trying a cake while watching the confectioners working on special projects.  The prices aren´t cheap but the whole atmosphere and the taste is worth it. Everything is handmade at the Demel.   But a warning: The cakes feel like having at least 2000 calories a piece. 🙂
After coffee and a cake, like the Cleopatra cake I tried, the shop at the Demel will bring you back to Sisi. Pictures of her and her husband wrapped around a chocolate bar or her favorite crystallized violets.
Modern day Sisi style
If you want to feel like a modern Sisi you can dress up like her. At the Annagasse I found a Sisi boutique. It´s a Pret-a`-Porter shop with designer clothes made in Austria.
Spending the night like a royal
Sisi didn´t have a luxurious bed. Hers was narrow and it reminded me of a bed at a boarding house or at an old hospital. It was portable to take it with her while traveling. I prefer it the modern and comfortable way. I´m sure Sisi would have enjoyed my room at the Hotel Lindner Am Belvedere as much as I did.
The chair in the room is in Sisi style and the view from overlooking Vienna and the Schloss Belvedere is stunning. Sisi would have enjoyed the view from the fitness room at the 7th floor with a view to the Belvedere while working out.
Sisi didn´t like being in Vienna. She had the travel bug (like a lot of us). She even had a tattoo with an anchor showing her love for the sea and today maybe she would be a journalist or a travel blogger because she liked to write (secretly). 😀
"I am a seagull, of no land, I call no shore my home, I am bound to no place, I fly from wave to wave."                                                 – Sisi, Novotser Lieder, 1885
Thanks to Lindner Hotels&Resorts for the invitation. The opinions are ours.
zuletzt aktualisiert am Juli 6, 2023